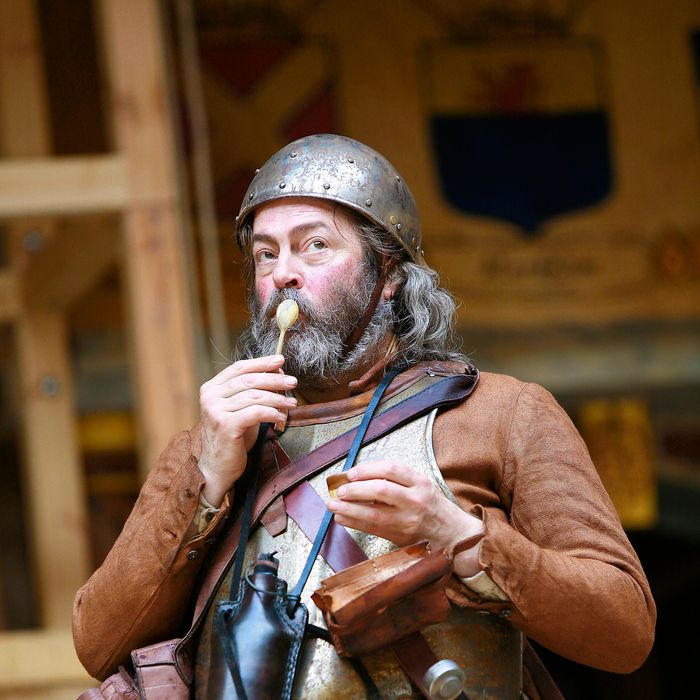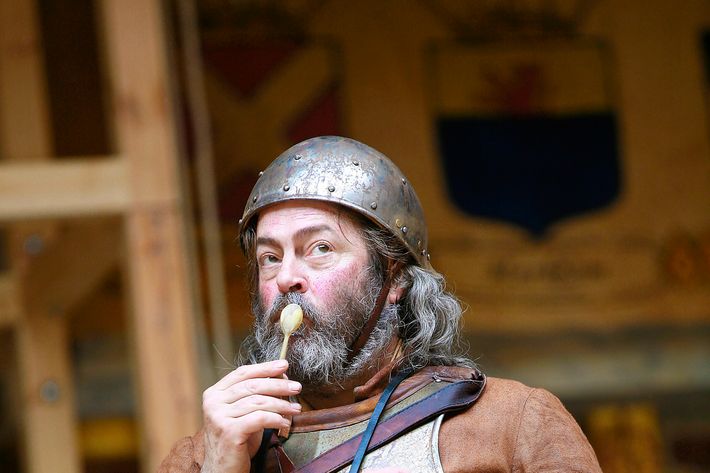 Monday night in summertime, theater's mostly dark, and I'm off to the movies. Faced with an impossible choice — The Smurfs or Cowboys & Aliens? — I'm going rogue: At 6:30 Eastern Standard, you'll find me in Eastcheap, cavorting with Hal and Falstaff at the Boar's Head (a.k.a. the Regal Union Square Stadium 14). That's where we'll all be seeing the broadcast by Shakespeare's Globe company of its award-winning production of Henry IV, Part 1, recorded live at the reconstructed Globe theater in London.
Roger Allam (better known to American audiences as the scheming Magister Illyrio Mopatis from Game of Thrones) won an Olivier for his Falstaff, and I try my best to never miss a good Falstaff. Wrap your brain around the Fat Knight — and his complex love-hate relationship with the ascendant, exigent, inspired, and ever-so-faintly sociopathic Prince Hal — and you'll grasp it all: The tea party, the debt-ceiling circus, the endless wars, and the bottomless, willful ignorance of the Vulgus. Days like this, heat indices like these, it's easy to believe we're in the dog days of modern industrial civilization — an age of perpetual, low-level civil war, when, specieswide, we seem to be questioning our very ability to govern ourselves. Well, there's a Bard for that: Nobody knew degenerative civil conflict like Shakespeare. I highly prescribe the Histories, that collective codex of politics and human nature: They're less obnoxious than Aristotle, less wearily utopian than Thomas Friedman, as bitingly funny (in their way) as Colbert, and not nearly as likely to induce projectile vomiting as cable news and AM radio. And they offer something we can't seem to self-generate anymore: a long view.
"Part One" is tonight. "Part Two" will simulcast into movie theaters on August 18. (And, if you were lucky, you caught the unofficial "Part Three," Henry V, a couple of weeks ago, when the New York Classical Theatre presented its "panoramic," harbor-crossing version of that imperial tub-thumper — 'twas a highly entertaining movable-Renfest that began in Battery Park and climaxed on Governors Island, standing in for France.) Also, it's a quicker commute than dropping down to Washington (which, last time I checked, contained no poetry at all, not counting Joe Biden's koanlike tweets). Plus, there's air-conditioning. If you bring me a flagon of sack and sugar, I'm yours for the evening.