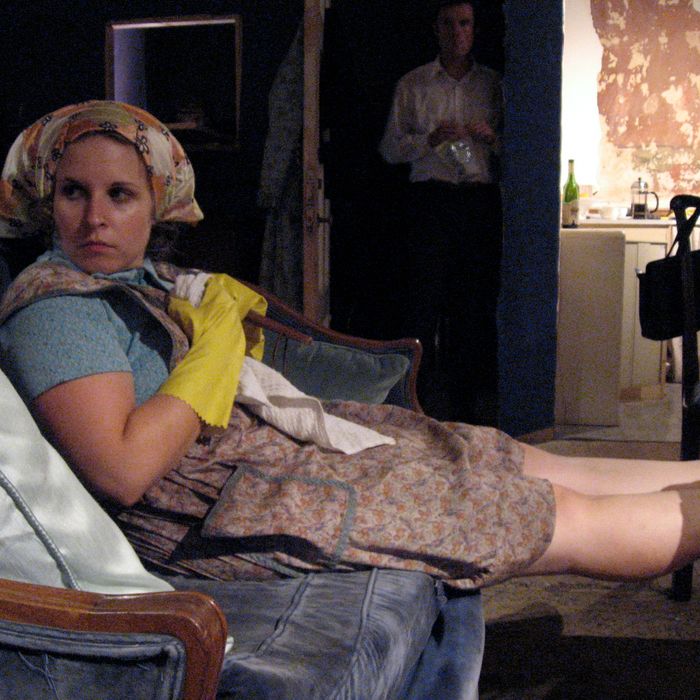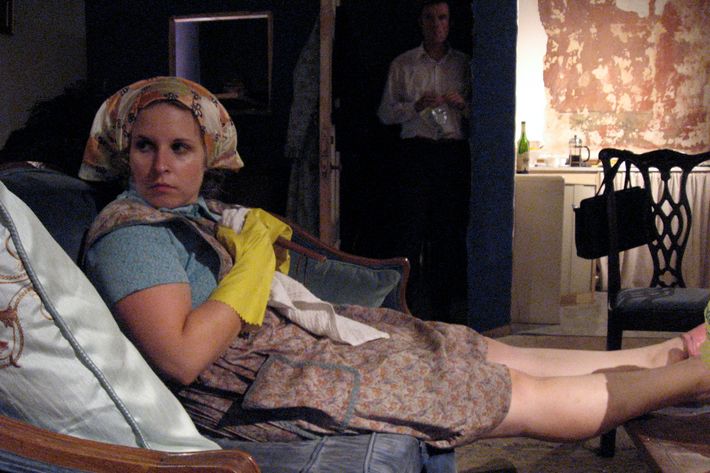 It's been a weird, weird week, right? Earthquakes, impending superstorms, threatened evacuations, the resistible rise of Rick Perry … and, if you're me, an awkward moment of walking in on an old woman sitting on the toilet, muttering to herself. This wasn't an accident; it was a Moment, and a good one, orchestrated by the Woodshed Collective, as part of their new site-specific theater installation, The Tenant. Unfortunately, it was also the high point of an otherwise exhausting, not terribly satisfying evening. In vain, I searched the converted West-Park Presbyterian Church and Parish House — cluttered with the Collective's vision of mid-century(ish) Paris, yet oddly sparse-feeling — for another "toilet moment." I didn't find one.
The Tenant is really a collage of short plays by a host of young comers, including Bekah Brunstetter and Sarah Burgess, organized under a ramshackle adaptation of the same-named 1976 surreal-ish psycho-horror thriller* directed by and starring Roman Polanski. (The film was itself based on a novel by dark satirist Roland Topor. I haven't read it, I'm sorry to say, but my colleague Elisabeth Vincentelli has — and she's got a lot to say about what Woodshed might have learned from it.) The original story thread concerns an arriviste named Trelkovsky (very nicely played here by Michael Crane), a Polish-born newcomer whose very name seems to arouse instant suspicion in his churlish Parisian neighbors. He's a faultlessly polite, endlessly accommodating fellow whose voice rarely exceeds a murmur, yet he's come by his new apartment in an unseemly fashion. The previous tenant threw herself from her own window, and Trelkovsky, on a hot tip, has slipped into her apartment before her body's cold. The unfortunate woman may or may not have been goaded into this by the building's other residents — oddballs, shriekers, and outright monsters, all of them. Is there a conspiracy, or is it all in Trelkovsky's head? The film rather emphatically suggests the latter and restricts our point of view to Trelkovsky's until the final act, when we're invited to humiliate him: Polanski made a self-mocking portrait of the assimilated immigrant, tamping down his mounting anxieties and resentments until they surface in bursts of self-destructive behavior.
Woodshed, on the other hand, seems primarily interested in The Tenant as a narrative substrate, for its haunted-house potential. Lots of rooms, lots of weirdos, lots of drama! We're invited to leave Trelkovsky and explore the space, which includes nearly two dozen rooms full of meaningful bric-a-brac: books in French, open to possibly meaningful passages, unsettlingly half-eaten meals (a rather nice touch), bits of hint-hint Egyptology. (Mummification is one of the primary motifs in Polanski's film; the Woodshedders, in at least one story strain, take the mysticism into far more literal, Lost-y territory.) But unlike The Tenant's forebear and all-too-clear inspiration, the ravishing Macbeth-Hitchcock dance mash-up Sleep No More, all the stuff just feels like set dressing, and the scenelets feel talky and hectoring. We may be free to depart from Trelkovsky's journey into madness, but in doing so, we more or less lose the piece's rudder and raison d'être. (We're kept up to date on his progress with a series of short films that play on old TVs throughout the warren of rooms and open atria — the lights flicker and the music changes to direct our attention — but playmakers are not filmmakers, and the shorts feel like they're doing more heavy lifting than they should.)
The rooms contain various misérables, but they're miserable in pastiche — here's a restless Shepard-y fellow, here's a sexless couple set upon by an Albeean madman, etc. etc. The actors are all game, but they feel like they're acting; they're bound to, delivering so much dense dialogue at so close a range. Sleep No More instantly convinces its audience that they're ghosts; the players seem to pass through us, as if we're not there. The Tenant is a performance trying desperately to ignore its audience while simultaneously begging for its attention. Despite abundant ambient music supplied by none other than Duncan Sheik, there's just no governing atmosphere or mood at the helm of this show, only entrances, exits, and words, words, words. If you take on The Tenant — and good luck getting tickets — I'd recommend sticking with Trelkovsky, modest little mouse that he is.
Unless you speak Korean, you won't understand any of the words in Hero, a "Broadway-style" musical imported from Seoul, where it was an instant megahit. Unless you are Korean, I doubt you'll share the stirring patriotic fervor that undergirds the show. I'm not so fond of my own culture's nationalism; watching two hours of someone else's — played out in song — is just downright strange. Les Miz was the obvious reference point for creators A. Reum Han (book and lyrics) and Sang Joon Oh (music), though the stage design and mise-en-scène are, for the most part, far more spare, more reliant on the judicious allocation of empty space. (A hurtling railway car is Hero's barricade/chandelier/helicopter.) The Valjean is real-life Korean martyr An Chunggun (Chung Sunghwa), whose 1909 assassination of Japanese colonial proconsul Ito Mirobumi (Kim Sunggee) set the stage for the Korean peninsula's eventual independence from imperial Japan. Some historians argue that the killing of Ito actually intensified the Japanese crackdown on and forced assimilation of the Korean people, but that's a matter for another show, maybe one that trades in nuance and chord progressions that occasionally diverge from anthemic, pre-recorded K-pop. If there was any dramatic ambiguity on display, it was lost in translation for this critic: The real star of Hero is the Korean flag, which upstages doughty An more than once. He's not a difficult hero to upstage, unfortunately: He has but one defining moment, which takes place in the aft end of the show, and the foregoing is all drum roll and soul-searching, plus a few Broadway necessaries like the doomed, Eponine-esque love interest (Jeon Mido) and the avuncular tavern-keeper (Jeong Euiuk). (We get a charm song about pork buns about fifteen minutes into the first act — that must be some kind of record … and possibly an indication that there are story problems here.) The rest of the show belongs to Sunggee, whose Ito — Javert one moment, Mengele the next — presents a far more compelling character than stolid, noble, dead-boring Chunggun. Martyrs, from Nathan Hale to Mohammad Atta, are all such bores, especially after they're bronzed.
*Note the tagline: "No one does it to you like Roman Polanski." This was '76, a year before that sentence would take on a creepy new significance, especially for girls under the age of consent.
The Tenant is playing at West-Park Presbyterian Church and Parish House, Amsterdam Avenue at 86th Street.
Hero is playing at the David Koch Theater at Lincoln Center
.