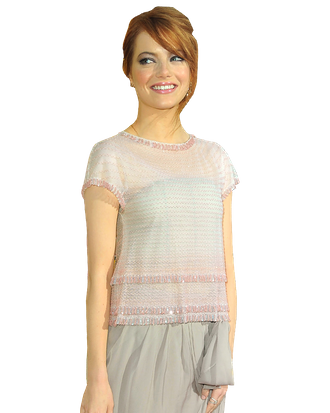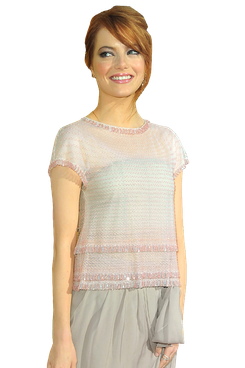 When Emma Stone made her film debut in 2007's Superbad, she felt like an unusual breath of fresh air — a brand-new teen actress who could already boast a fully formed personality. If it took her a few years to find her groove, well, she's certainly found it now. Stone, who landed one high-profile comedy every year since Superbad – 2008's The House Bunny, 2009's Zombieland, and then irrevocably broke out with 2010's Easy A, has been everywhere this summer, charming all the while. She's brought her particular brand of husky-voiced good humor to three roles, a cameo in Friends with Benefits, a romance with Ryan Gosling in Crazy, Stupid, Love, and today's conscientious drama The Help. At only 22, Stone already seems like a full-blown movie star: Can The Help do anything but help her cause? To get a sense of her esteem in Hollywood, we polled industry insiders and asked them one simple question: If Emma Stone were a stock, would you buy, sell, or hold?
Stock History: Let one impressed studio chief we spoke to detail Stone's back story: "She told her mom when she was 15 years old that she was moving to L.A. to become an actress. Her parents believed in her so much that the mom moved her life out here, too, believing it was a matter of time." The Stones ended up moving into short-term furnished rentals already filled with other families dipping a toe into the child-actor waters. "Most of those people come out because their kid is cute and has a few commercials," noted the studio chief. "This was different: Her mom knew she was coming out and wasn't buying a round-trip ticket, because she wasn't coming back."
Stone had some early near-misses with reality and TV stardom, that, in retrospect, kept her movie career on track. At age 15, she entered the unlikely VH1 reality competition In Search of the New Partridge Family and won the role of Laurie Partridge for a potential series remake that thankfully never advanced beyond the pilot stage. Two years later, she auditioned to play the cheerleader on Heroes, and found out that Hayden Panettiere got the part just before she went in to read, a moment she later called "rock bottom."
But those years of relative obscurity worked in her favor, forcing her to try to make it in film, which she has obviously done. Since Superbad Stone has worked steadily, and crucially, in rowdy movies with boy appeal, not standard-issue romantic comedies. She'll try to work the same magic in 2012, when she plays Gwen Stacy to Andrew Garfield's Peter Parker in the down-to-earth reboot The Amazing Spider-Man.
Peers: She's at the head of a pack that includes established stars like Scarlett Johansson (26), Rachel McAdams (32), and Keira Knightley (26), as well as comers like Blake Lively (23), Olivia Wilde (27), and now Rooney Mara (25).
Market Value: Pretty decent. She's had the luck of appearing in several successful comedies, and though Crazy, Stupid, Love wasn't quite the box office sleeper the studio was hoping for, its ensemble nature will protect Stone from any dents. More importantly, she managed to open Easy A all by her lonesome, and its eventual $58 million gross left other female-targeted films in the dust, including Love and Other Drugs, Morning Glory, and the Katherine Heigl vehicles Life as We Know It and Killers. The Help will be the first movie since Easy A she's had to open alone, but even if it doesn't do that well, she's got a safety net: a spider's one.
What Hollywood Thinks: "She's unbelievably versatile," raved the studio chief. "She has dramatic chops and comedic chops. But more, she's got enough tomboy in her that she seems like someone who'd have a good relationship with her brothers. And she's 'relatable' - which means she doesn't look like she wants to fuck your boyfriend."
Added this studio mogul, "I think it says everything about her that she's blonde naturally, but dyes her hair red: In a town where everyone wants to be blonde and be a girl named 'Muffin,' she doesn't want to be ordinary."
"She's right at the top of her age group: She has the Spider-Man franchise now, and she seems to work in both comedy and drama," said one agent we spoke to. "And she has, as they say, that 'approachable' beauty - sort of like Jen Aniston had in the early nineties – and is not intimidating, like, say, Megan Fox."
Stone's relative youth means that "she hasn't had any of the inevitable ups and downs" and even though one may be coming in the oddly-timed release of The Help, she's not likely to be hurt by it.
"Why the hell are they releasing The Help in August?" asks our agent, adding, "It's very peculiar. But even if it gets lost, it probably won't hurt her, because she has so many other slam-dunks in the can. She has to be one of the hottest actors in the business right now."
Of course, that's not to say things can't go off the rails – after all, look what happened to Kirsten Dunst: "For young women it's very, very competitive, more so than for men," explains the agent, "There are so few rugged leading men, but the women, there's a lot of them, and so the town is very unforgiving to women, while someone like Tom Hardy will get shot after shot after shot."
The Analysis: No matter how it does, a serious-issues drama like The Help is going to be an asset for Stone, coming along at just the right time to break her comic typecasting. Her next two projects will help expand the town's perception of her: She just signed on to play the femme fatale caught between Sean Penn and Ryan Gosling in the period picture Gangster Squad, and even her love interest role in Spider-Man gives her room to stretch: When she was first cast in the then-secretive project, everyone assumed she'd be playing the confident, redheaded Mary Jane, in what seemed like a perfect pick. Instead, she's playing gentle, blond Gwen Stacy, subtly tweaking our expectations of her.
"I think she's doing everything right at the moment," raved one top manager. "The Help has a weird release, but I hear it's good, so hopefully it'll stay with us into the fall. And there's Gangster Squad, which is an interesting project. She has breadth. Maybe the next step is to engineer her own success and develop something for herself, attach herself as a producer, because any studio would make a movie with her now."
The studio chief disagreed somewhat: "I don't think she needs to develop her own stuff; I think that's a different talent and one I'm not sure that she has. But she can make it just be being selective. She makes the smart choices and goes after them like nobody else; I mean, she went after Easy A like no one has ever gone after a role before."
He added, "She has the 'c' word. With Sharon Stone, it means something else, but with Emma Stone, it means 'charisma.' There's something so charismatic about her."
The Bottom Line: And it'd be a shame to waste that charisma in supporting parts. Stone is smart to pick great ensembles to work with, and we're looking forward to Spider-Man and Gangster Squad, but let's hope she can find some 2013 projects where she gets to be the star, and not just the love interest.
Buy/Sell/Hold: Strongest Possible BUY.