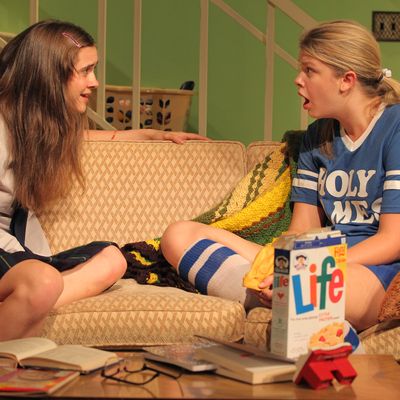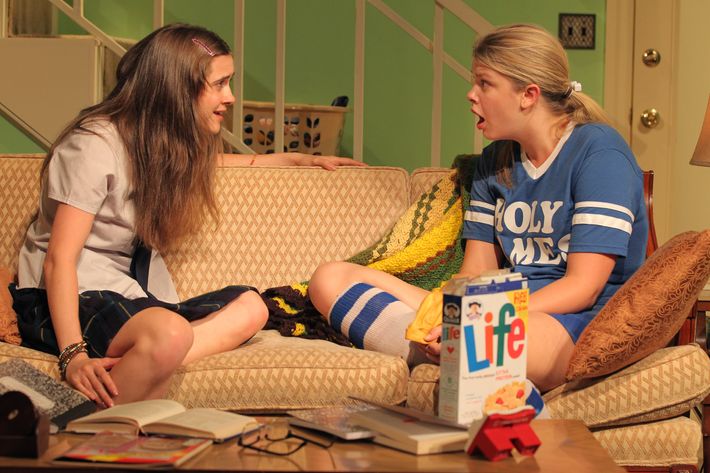 Hot August nights! And time for a little theater — a bit of speed-bagging to get you back in fighting trim for the upcoming fall season. Follies, The Select — the kickoff events of 2011–12 are right around the corner. If you're like me, your attentive-sitting posture has probably eroded a bit over the summer. Time for some conditioning.
Start with The Talls, a funny, tender, seventies-set coming-of-ager by newcomer Anna Kerrigan. Structured as a just-this-side-of-screwball sleepover with the Clarkes, a fractious clan of upwardly mobile (and vertically unchallenged) California Catholics, Kerrigan's story centers on 17-year-old Isabelle (Shannon Esper, relaxed and fluid), a budding neo-hippie in a post-hippie world and surrogate mother to her surly brother Christian (assertive, note-perfect new talent Michael Oberholtzer), her wet-noodle sister Catherine (Lauren Holmes), and the twitchy baby of the family, Nicholas (Timothee Chalamet), who displays a touch of the ol' Asperger's, along with a healthy pubescent voyeurism. John (Peter Rini), the Clarke patriarch, is about to declare his candidacy for Oakland city comptroller, and this brings a hungry young campaign manager named Russell (Gerard Canonico) snaking into the densely crucifixed precincts of Clarkedom.
Russell is foreshortened, politically, spiritually, and stature-wise: An ex-Yippie sympathizer turned steely political realist and hapless sexual opportunist, he's quite a contrast to Isabelle's elongated, tenuous idealism. Director Carolyn Cantor, in top form and in charge of every spit-polished moment in the show, sells the sight gag of their physical contrast perfectly and then never milks it again. She doesn't need to. We know from the jump that these two will collide, that it will be disastrous and hilarious, and that nothing too terribly terrible will happen — just that old, all-important Letting Go. Kerrigan isn't breaking any new ground here — this is the latchkey generation revisited, with subtle and unsubtle footnotes — but she is telling the truth, which is more than can be said for most dawn-of-adulthood stories.
I'm not certain that Telling the Truth is on the Pesach menu over at Charles Busch's Olive and the Bitter Herbs, a potato gun of one-liners, familiar caricatures, and happenstance theater magic aimed squarely at the Upper East Side crowd of a certain demo that flocked to The Tale of the Allergist's Wife. It's centered awkwardly and a little clumsily on a seder hosted by the title character (Marcia Jean Kurtz), a beyond cantankerous aging actress known exclusively for her role in an iconic eighties ad campaign. (Bowing to the late, great Clara "Where's the Beef?" Peller, Busch has made Olive's catchphrase "Gimme the sausage!") This being Busch, one premise and genre aren't nearly enough, so Olive also has a maybe-magical living-room mirror, haunted by the spirit of a female impersonator named Howard. (This might be the first play where a drag queen gets to play God without ever stepping onstage.) Even the smallest promise of urban magic is enough to draw in Olive's neighbors and associates, all of them portraits of comic desperation: The couple next door (Dan Butler and David Garrison) is looking to jump-start a moribund marriage; her younger minder Wendy (Julie Halston) is looking for communion with her dead brother, who might be the man in the mirror; and the Santa-bearded Sylvan (Richard Masur) is just looking for someone to love and eat pickled herring with. Busch's big zingers still zing; he knows the rhythms of mid-century New York comedy like a practiced dance step worn into the parquet floor. But I'm not sure he realizes just what he's created in Olive: She's so toxic, so viciously self-involved, it's arguable she doesn't deserve redemption at the hands of her Creator (Busch, or God, or whoever).
That she receives it anyway — rather hurriedly and cursorily, in the play's clumsy final moments — speaks more to the sentimentality of the author and presumed audience than it does to good storytelling. Busch wants to poke fun at the we-are-all-connected bathos that permeates popular culture right now, but he clearly wants to partake of it, too. He palpably wants us to love this unlovable heroine, whose hemlockian bitterness creates a kind of super-gravitational black hole around which troubled people congregate and bond. In trying to make us adore her in spite of herself, he doesn't so much tell a story as bully us along with punch lines: Great swaths of Olive feel like they were written according to a preexisting laugh track grafted from The Golden Girls. It adds up to two hours of rather small people being rather small with each other, sniping and jabbing. Why is this nastiness different than all other nastiness? Because it's funny? That doesn't necessarily make it entertaining.
Whether you're entertained by HotelMotel, a site-specific double bill now playing at the Gershwin Hotel, depends largely on your serotonin levels and your interest in the sight, sound, and smell of actors at extremely close range and in various states of undress. (Three penises in one night — for me, that's a personal record. Your mileage may vary.) Fewer than two dozen audience members are allowed into the Gershwin's rear common room, and the prearranged seating places them nearly in bed with the companies of both one-acts, the goofy, outré sex-therapy apocalypse Pink Knees on Pale Skin by Derek Ahonen and Adam Rapp's 2001 Animals and Plants. Pink Knees is a jack-legged mess of a play, part sex-therapy procedural (the high point of which is a masterful tutorial in cunnilingus, enacted with great flair and brutal un-self-consciousness by Byron Anthony and Anna Stromberg), part family tragedy. Ahonen, artistic director of The Amoralists (known below 14th Street for their search-and-destroy attitude toward onstage taboos), is at the helm, and he knows how to infuse a stage with dread and danger (which, for the purposes of this show, equate to eroticism). But underneath the stunt there¹s not a lot of play–not sex-play, not play-play. Ahonen's characters seem drawn from two sources: old-fashioned pornography and newfangled couples therapy, and neither he nor his characters seem aware of this. The result is a black comedy that never quite clicks, a Caryl Churchillian sex farce that never quite connects, and moody drama that never feels truly moody or truly dramatic. Amoralists regular Jordan Tisdale has the toughest role, as the studded-out husband of the therapist, Dr. Bauer (Sarah Lemp, channeling Ilsa the Wicked Warden). He performs admirably, meeting the exploitation inherent in the part head-on and winding up the most natural presence onstage, against all odds.
Rapp directed Animals himself, and it's the best and worst of what he does: A briskly bleak Shepard-indebted depressive's holiday set in a motel room in Boone, North Carolina, the play boxes us in with a couple of itinerant ecstasy deliverymen from the big city: the morally and mentally paralyzed simpleton Dantly (William Apps) and the fidgety, dapper lady-killer Burris (Matthew Pilieci). There's money in a bag and a gun in the room, and we know where this is going. Rapp isn't really trying to surprise us. In typical fashion, he seeks only release, and he finds it, loudly. (If in-your-face nudity and firearms discharged at extremely close range aren't your idea of an intimate evening at the theater, I suggest you book another show.) I've always found Rapp's early work a little adolescent; even his Hallway Trilogy, probably his best work to date, seems to devolve from multilayered pan-historical social complexity into yet another Rappian teenage suicide dream. But not unlike fellow compulsivist Brian De Palma, there's always a sick fun to be had in the Rappverse, if you're prepped and ready to take him not so seriously. Get ready, though, for the distinctive scent of musky testicles, both in the writing and in the air.

The Talls is at Second Stage Uptown though August 27.
Olive and the Bitter Herbs is at 59E59 through September 3.
HotelMotel is playing at the Gershwin Hotel through August 29.