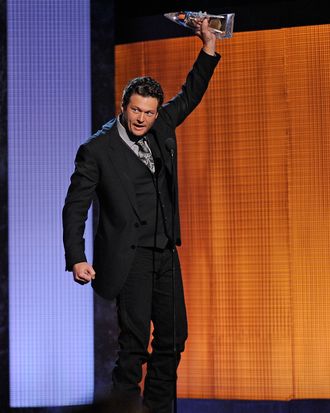 Photo: Frederick Breedon/2010 Frederick Breedon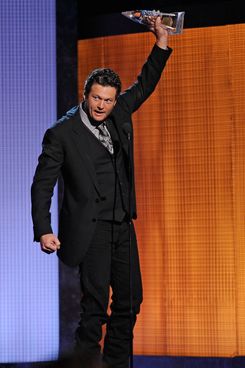 As Blake Shelton's breakout success on NBC's The Voice and Scotty McCreery's victory on American Idol this spring underlined, country music remains a red-hot force in pop culture. So perhaps this next bit of news shouldn't be a major shocker: Vulture hears a three-way bidding war of sorts has broken out for the rights to the Country Music Association Awards, which has called ABC home for the past five years. At stake is one of the longest-running kudo franchises in TV history, as well as one of the most popular.
Even though last year's ratings fell to a record low, the CMAs still lure between 16 and 17 million viewers on average, putting them on par with the Golden Globes in terms of popularity (and higher rated than the American Music Awards and a couple of other country honors, such as the Academy of Country Music Awards). The show also does very well with younger viewers, which explains why the Alphabet has been pushing hard to keep the awards and why CBS has been making a concerted effort to get the franchise back (the CMAs aired on the Eye for 34 years before former ABC chief Steve McPherson engineered an expensive deal stealing them away in 2005). In recent weeks, however, the dealmaking has grown even more complicated as NBC has stepped into the game, offering what our spies indicate is an extraordinarily lucrative offer to land the kudos. The Peacock play makes sense: NBC is light on big awards shows (the Golden Globes is its biggest jewel), and Comcast seems to have given new NBC boss Bob Greenblatt a virtual blank check as he tries to resurrect the long-flailing network. Plus, with Shelton turning into one of NBC's biggest stars, having the premiere country music awards show could result in plenty of great cross-promotion. On the other hand, CBS could make a strong case to the folks in Nashville that its heartland audience makes it the best home for a franchise whose ratings on ABC never matched the tune-in the show got when it was on the Eye. What's more, CBS is the No. 1 network in overall viewership and owns a slew of country radio stations that could be used to reboot the awards. In any case, look for a decision soon: Vulture's sources say that, following a new round of meetings with network suits, CMA officials could announce a new long-term deal by month's end.