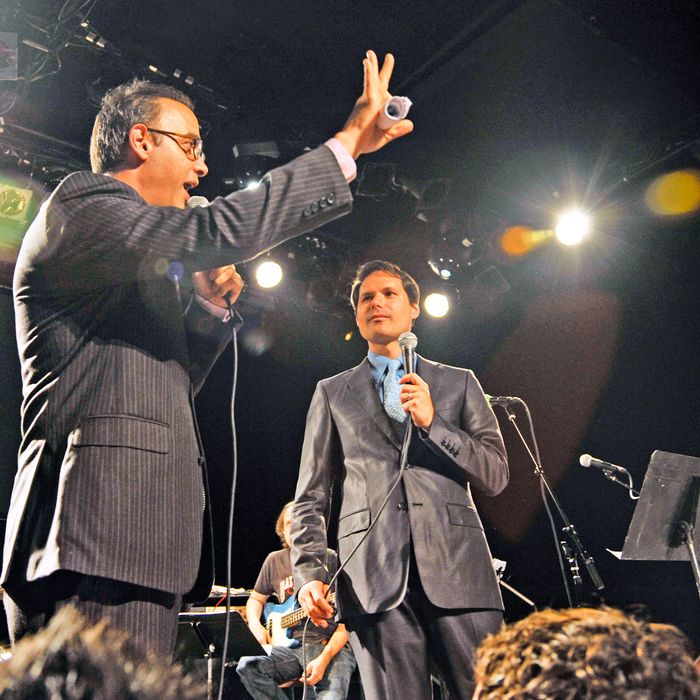 Photo: Ryan McCune/? Patrick McMullan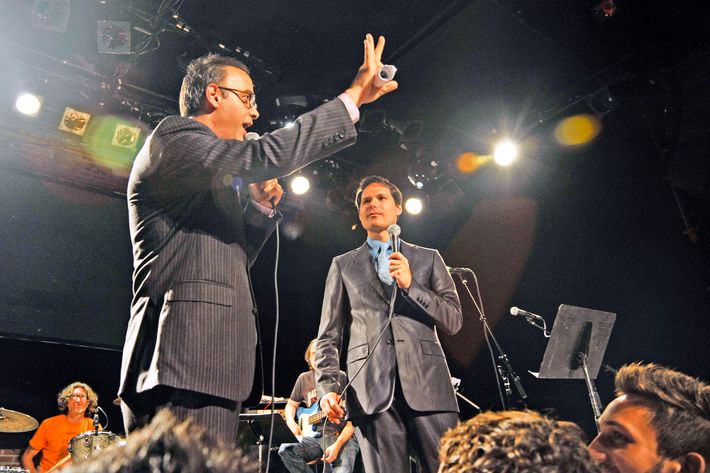 Last night at the Music Hall of Williamsburg in Brooklyn, the principals behind Wet Hot American Summer — director David Wain, co-writer Michael Showalter, and co-star Michael Ian Black, a.k.a. comedy troupe Stella — celebrated the comedy cult classic's tenth anniversary. (Events have been going on for a while; it's why rumors of a sequel have suddenly popped up). On hand: multiple members of the ensemble cast, including Janeane Garofalo, Ken Marino, A.D. Miles, Jon Benjamin, and the kid who played Caped Boy. Not present: Paul Rudd, Amy Poehler, Bradley Cooper, and various other people that were also in the movie but are now too famous to go to Brooklyn, although they were represented in various videos and that was funny as well. To the highlights!

• Janeane Garofalo came out in character as camp director Beth and explained that, after a short stint in the high-stakes world of comptrolling, she'd recently moved into producing a line of clothing for the imminent rapture. She claimed to be wearing a modified pillowcase, and did not seem to be joking. Then there was a volunteer-based sweater-fondling contest.
• Ken Marino and Marisa Ryan came out in character as Victor and Abby, respectively. Marino was rocking the same cutoff T-shirt/jean-shorts/Jewfro-wig outfit and just about pulled it off. Ryan pretended to be pregnant. Then Ken sang Loggins & Messina's "Danny's Song."
• Former child actors Gideon Jacobs (who played Aaron, the precocious youngster who has a thing with Molly Shannon's arts and crafts educator) and Gabriel Millman (who played Caped Boy, the boy with the cape) came out, but not in character. They've managed to stay amazingly well-adjusted despite their early brush with history. Then Judah Friedlander — as Ron, Molly Shannon's husband in the movie — chased Aaron off the stage.
• Michael Showalter did a brief set as Catskills comedian Alan Shemper. He explained that it's been so hot recently he's "most of the time, I'm uncomfortable" and that he's so old "even the cavemen were like, this guy's fucking old" and "oh my God the debt ceiling … how about give me a ceiling? I need a ceiling! My house, there's a crack in the ceiling." He pretty much slayed.
• A.D. Miles — who played Gary and is now the head writer for Late Night With Jimmy Fallon — showed up in a dapper white suit to conduct an Inside the Actors Studio–style Q&A with a talking Can of Black Beans, the actor who played the talking Can of Vegetables in the movie. Archer's Jon Benjamin was voicing Can offstage (as he did in the movie) and had some excellent banter about attending Howard University on a food-services scholarship and how it turns out meth is the real gateway drug. Also, he pretended to blow himself.
• Audition footage for Bradley Cooper and the not-cast Naomi Watts (she gave Katie's "Andy is, like, cut. From marble" speech) was shown, and Amy Poehler sent in an in-character bit as talent show producer/choreographer Suzie. The best clip, though, was Paul Rudd's. Presumably shot in his trailer on the set of the Knocked Up spinoff, it was a re-creation of the cafeteria scene with Judd Apatow ("Wet Hot American Summer … did I produce that?") as Garofalo and Paul Rudd as, you know, Paul Rudd.
Anyway, great work, everyone. Now go make that sequel!