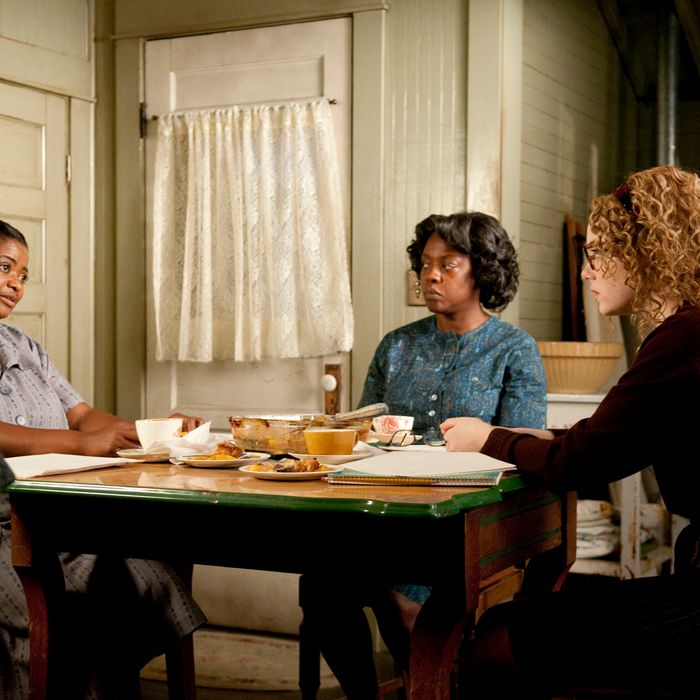 Photo: Dale Robinette/?DreamWorks II Distribution Co., LLC. ?All Rights Reserved.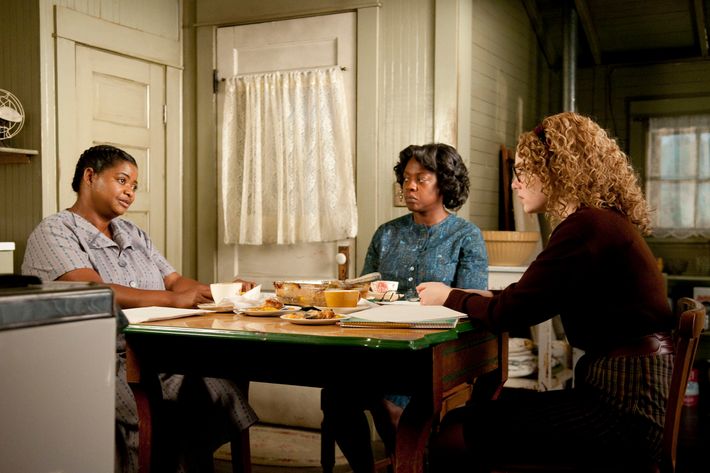 This Weekend's Winners: Rise of the Planet of the Apes (an estimated $27.5 million) and The Help ($25.5 million)
This Weekend's Losers: Final Destination 5 ($18.4 million); 30 Minutes or Less (less than $13 million); and Glee: The 3D Concert Movie ($5.7 million)
How It All Went Down: These may be the dog days of summer, but the primates are still very much running the show: In its second weekend, Fox's Apes made a Caesar salad out of the garden-variety horror sequel Final Destination 5, and then went cannibal, dining on fellow Fox release Glee: The 3D Concert Movie. The simians even managed to hold off the adaptation of Kathryn Stockett's best-selling novel The Help.
Apes' win against Final Destination 5 was impressive, for if ever there were a film tailor-made to exploit 3-D in all its gruesome glory, this was certainly it: Avatar second unit director Steve Quale was hired to direct, ensuring that every impalement and disembowelment was as three-dimensionally appalling as humanly possible. Those who did go overwhelming saw it in 3-D (75 percent), but this was only the third-best outing for the Final Destination franchise.
Conversely, if there was a picture less suited to 3-D than Glee, we can't think of one. Nor, apparently, could anyone who wasn't a Glee devotee: The final haul was an estimated $5.7 million despite screening at over 2,000 locations.
The Apes real challenge was The Help, which three out of four critics had already embraced (despite some contentious racial politics). It's true that many distribution execs questioned Disney's strategy of releasing a film geared toward older women (the single-hardest demographic to coax into theaters) in the midst of a highly competitive August melee. But Disney marketing had a secret weapon in women's book clubs, which had been screening the film nationally for weeks already to build buzz, and which again turned out in force for a special midweek debut. Since Wednesday night, nearly two thirds (60 percent) of its audience was over age 35, and almost three quarters (74 percent) were female. That brought The Help's total to $35.4 million since Wednesday.
And a final note, about Senna, Asif Kapadia's doc about the selfsame Brazilian Formula One driver that's being released by the tiny Producers Distribution Agency (the same shingle that got all that mileage out of Exit Through the Gift Shop): It had an admittedly very small debut — just two theaters — but it had an amazing per screen average ($33K), which means between that and the top-flight critical reviews, it'll likely do very, very well over the next couple of months.