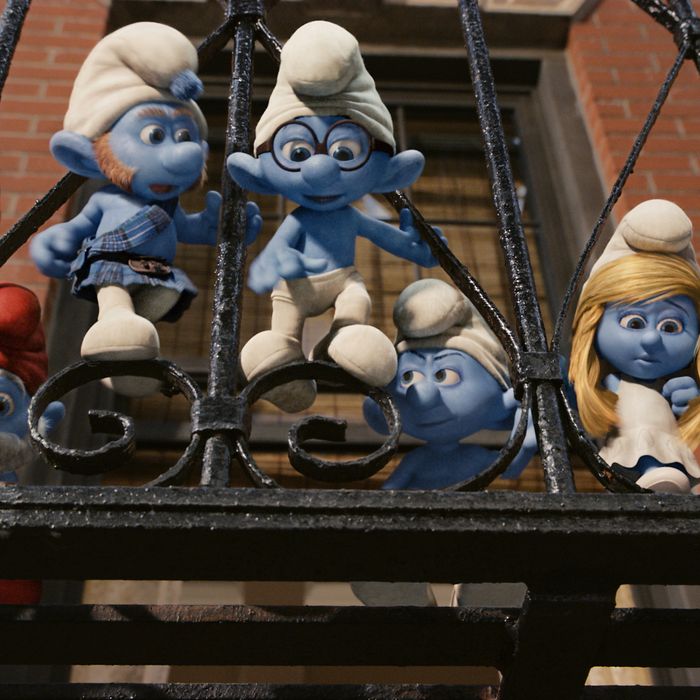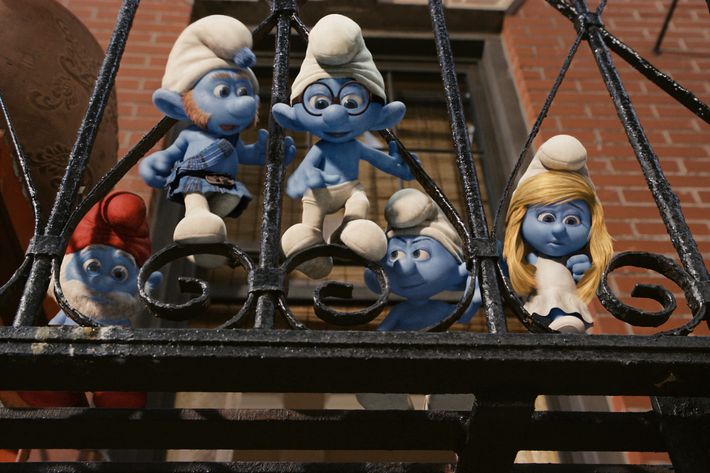 This Weekend's Winner: Sony's The Smurfs, with an estimated $36.2 million
This Weekend's Loser: Universal and DreamWorks' Cowboys & Aliens, with an estimated $36.2 million. For optimists: That's better than Super 8! Pessimists: That's worse than District 9!
How It All Went Down: These little blue men were supposed to be passed hors d'oeuvre, but wound up eating Cowboys & Aliens' lunch. What the smurf happened?
Replete with actual movie stars, big-shot producers, a hot director, and Steven Spielberg as its rabbinic executive producer, Cowboys should have rounded up far more grosses than it did — and at a cost of nearly $200 million, it needed to. The fact that the widely panned Smurfs appears to have tied for first playing in 350 fewer theaters only adds to the pain.
The problems for Cowboys stemmed not just from its more limited appeal (it attracted largely older crowds — 63 percent were age 30 or over, and it tracked especially weak with younger women), but from it's lack of any 3-D premiums to help plump its grosses. Smurfs, by comparison, got 45 percent of its grosses from pricier 3-D tickets. While that means the majority of it's audience — two thirds parents and their under-12 progeny, who, as with Alvin & the Chipmunks, were more turned on by a known, safe quantity, than turned off by bad reviews — avoided the more expensive tickets, enough still threw down the extra cash to help boost the film into contention for the top spot.
Compounding matters was blockbuster competition — both Captain America and Harry Potter dropped considerably but were able to take in around $25 million and $22 million respectively — and interference on the older end of the spectrum, which was especially keen for the Steve Carell comedy Crazy, Stupid, Love. Most critics (three out of four of 'em, anyway) found it more lovable than stupid, driving older females right into Ryan Gosling's rippling arms: Two thirds of Crazy's crowds were female, and then nearly three quarters (71 percent) were 25 or older, pushing it to finish fifth with a respectable $19.3 million.
In the end, lower-cost and lower-stakes productions meant that Cowboys, mounted with players like Mssrs. Ford, Spielberg, Howard, Grazer, and Favreau, who all get a part of the gross, discovered the hard way that if you're riding a high horse, there's no way to get down gracefully.