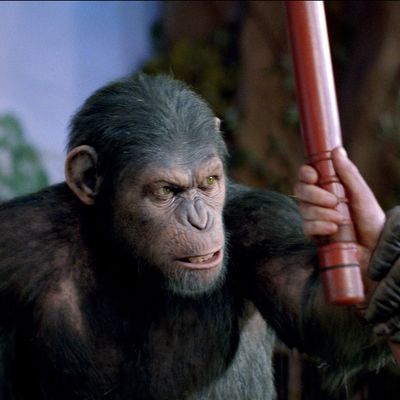 Photo: WETA/TM and ? 2011 Twentieth Century Fox Film Corporation. ?All rights reserved. ?Not for sale or duplication.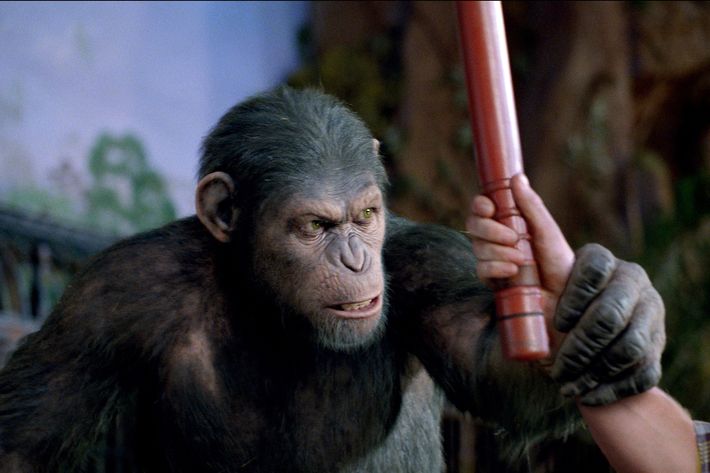 This Weekend's Winner: Rise of the Planet of the Apes, No. 1 with an estimated $54 million, about $20 million more than was predicted
This Weekend's Loser: The Change-Up, debuting at No. 4 with a flaccid $13.5 million
How It All Went Down: After director Tim Burton's unfortunate and unsatisfying remake of Planet of the Apes a decade ago, conventional wisdom held that there should be no more monkeying about with Pierre Boulle's famous novel. So when News Corporation COO Peter Chernin launched his production company and gave an opposable thumbs-up to Apes, Tobey Maguire wanted to change the script, seemingly every top director in town passed on the job, and James Franco distanced himself from it a bit in Playboy even after it was filmed.

But if a decade after the mediocre Burton remake there may not have been many Apes fans around, there were in abundance — and here, studio execs, please feel free to take note, as always — people who like to see a good movie. With nearly eight out of ten critics in agreement (Franco's prediction that they would be coming to get him has turned out to be false), Apes is, indeed, a good movie, and it has not only the reviews but the positive word of mouth to prove it. Even though most folks were old enough to remember Burton's version (and some even the films before that one: nearly 60 percent of audiences were over the age of 25), positive viva voce kept Apes from declining from Friday to Saturday. If director Rupert Wyatt wasn't the studio's first choice to direct Apes, or even its fifth, he certainly appears to have been the best.
Meanwhile, Woe! Woe onto Ryan Reynolds! For after starring in the disastrous $200 million non-opener The Green Lantern, he suffered another whiff this weekend with The Change-Up. Already critically lambasted, the $52 million film wasn't helped by a misguided outdoor advertising campaign, targeted at guys, which seemed to say, "Are you married with kids? Why, you're pathetic!" Unsurprisingly, making fun of men plays better with women, who made up nearly 60 percent of the audience, which was split evenly between those over and under 30.
Finally, while Cowboys & Aliens plunged a whopping 57 percent after its tepid opening, Joe Cornish's lo-fi alien schlock-buster Attack the Block opened on just eight screens but nonetheless managed to beam up a $130,000 gross, or an impressive $16,250 per screen average — a Screen Gem, indeed!