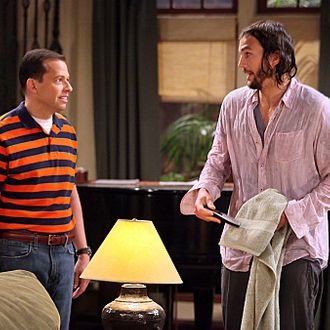 Photo: DANNY FELD/?2011 Warner Bros. Television. All Rights Reserved.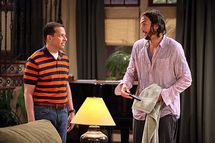 Boom! Monday night's season premiere of Two and a Half Men drew 27.7 million rubberneckers (or, if you prefer, viewers) and scored a massive 10.3 rating among adults 18 to 49, according to preliminary Nielsen data. We're pretty certain that's the biggest audience in Men history, and likely the best numbers for a TV sitcom since the 2005 finale of Everybody Loves Raymond drew around 32 million. More recently, last May's American Idol finale attracted a bigger overall audience (over 29 million viewers) but a smaller demo score (9.2 rating). We'll have more on Monday's other premieres later this morning, but for now, feel free to drop your own "winning" or "tiger blood" references in the comments below.
Watch the eulogy scene, where Charlie's death is described as an exploding meat balloon.