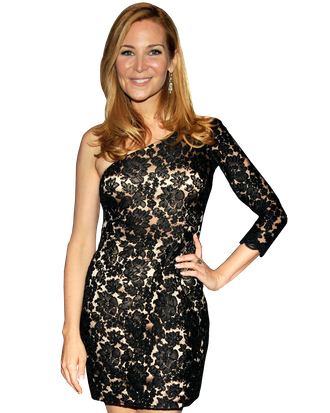 Ten years after Kissing Jessica Stein, Jennifer Westfeldt is poised for a major comeback with her New York comedy and directorial debut Friends With Kids, which just premiered to raves at the Toronto International Film Festival. In the film, Westfeldt and Adam Scott play two single Manhattan yuppies who watch their best-friend couples (Maya Rudolph and Chris O'Dowd, Kristen Wiig and Jon Hamm) become miserable new parents. To avoid the bickering marital trauma triggered by newborns, the two friends decide to get pregnant and share custody like a divorced couple — with disastrous results. Vulture spoke to Westfeldt about working with her longtime boyfriend, Jon Hamm, writing raunchy lines, and her real-life dealings with friends with kids.
This is such a New York movie.
I seem to only write New York stories because it's the only thing that inspires or interests me. I have yet to write anything that takes place anywhere else.
Did you start the script around the same time you were acting in Notes From the Underbelly?
That's a good question. I think that I wrote the first chunk right after, and maybe it was my version of dealing with that topic because we were steeped in it for a while. But it was also just in reaction to so many babies. I felt like the things flying on the screen in the movie was our life: baby, baby, baby, 1-year-old birthday, everything, everything. And you're just the childless people standing there with the balloon. They're like, "Which one's yours?" You start to feel like pariahs.
What do you think changes?
You notice your friends disappear for a while and you never see them and you can never have one-on-one time with them and when you do, it's usually involving kids. You just start to feel out of sync. Jon and I have gone through that with a lot of people. They sort of go away for a year or two, then they suddenly reappear and it's interesting to see how the friendship dynamic changes, and how the romantic relationship changes, at least for a time.
And, as your film shows, everyone moves to Brooklyn.
All of our friends with kids have moved to Brooklyn. All of them. Except for the Slatterys. They stay, but everyone else is in Brooklyn: all of them, all of them, all of them. We shot in Fort Greene and I had such real-estate envy. I was like, "Okay, I get it." But I'm only living in Manhattan. That's just my thing.
It seems like there are quite a few films recently about nontraditional family arrangements, because there's really not just one way to raise a kid anymore.
We all wait so long now that everybody is so picky. Everybody knows themselves. They've all been through therapy. We have every version [of a family] in our lives: We've got the lesbian couple who got sperm from a friend who's sort of the uncle in their lives. We've had women having babies on their own. I keep hearing [about] this, especially from men who say women have come up to them and said, "Would you? I know those genes could be good. No pressure." It's funny.
Was it challenging working with your boyfriend?*
Jon? He's a dream to work with, he's a dream to be with. That's not challenging.
I'm so conditioned by Mad Men that I flinched when he picked up a glass of scotch. And he does get ugly …
Jon Hamm drinking can never lead to good things. But I also just think his character is such a slow burner in this one; I think everyone's sort of waiting for that darkness to come out. And I love seeing Adam and Jon square off, because I think they're two such wonderful actors and we've all known each other for so long.
At the post-premiere Q&A, you said that you and Adam have been friends for years, and that he was the first person to read the script with you.
He read it first, as we were printing copies of the script, making pasta and pouring wine, and highlighting for all these great actors who came over to read it. We were thrilled that the guys at Parks and Rec were so great to just help us figure out the timing and flying him back and forth. We were shooting in the dead of winter, that horrible winter, and he got stuck and couldn't do the EW cover because planes were grounded. He's just perfection.
How did you decide to direct the film?
This is my directorial debut. We searched for a director, and Jake Kasdan actually was going to direct it. And I wanted Jake to direct it. And during the process of wondering whether everybody's dates would line up, Jake was working on Bad Teacher and he just kept circling back to me and saying, "Not to diminish my enthusiasm, but why aren't you directing this?" He and [producer] John Sloss both really believed it was my story to tell and that I knew how to tell it and convinced me. Jake became an amazing producer on this, and became my eyes and ears on set while I was onscreen.
Unlike a lot of films about parents, it's very dirty. I loved the line, "She gave me a fucking blow job on the Taconic — now look at us!"
It's so funny: I was working on the TV version, and I was literally like, I am stumped. I do not know what we can do for the TV airline version for "She gave me a fucking blow job on the Taconic." So, yeah, a lot of blue language.
Jon and Kristen are reunited after their hilarious scene in Bridesmaids. They're so good together.
Jonny's done SNL three times now, so Kristen's been in our lives, and I just feel like their chemistry's fantastic. I know Kristen really wanted to do something that was different than she's done and I think it was more dramatic and less comedic than what she's done before. She's working on another film now that will show that more dramatic side of her.
So, do you and Jon want to have kids?
It's funny — we're certainly not opposed. I guess, it's definitely … Our lives have been so crazy the past few years. We've been working on separate coasts a lot. I was doing a play; Jon was doing Mad Men. I think you have to be ready to be in one place if you're going to embark on that. We'll see what the future brings.
[SPOILER ALERT]: The film has a phenomenal line. Your "You had me at a hello" is "Fuck the shit out of me." How'd you write that?
I wrote it early and I never changed it. I felt like this was a story about two people who completely, deeply love each other as friends, and connect in every way but one. So it wasn't germane to just say, "I love you." We had to have something visceral and guttural and passionate, because that was the missing link in this relationship.
*This post has been corrected to identify Hamm as Westfeldt's boyfriend.