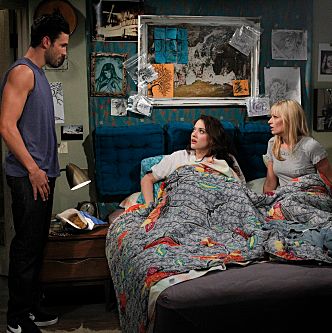 Photo: SONJA FLEMMING/?2011 CBS BROADCASTING INC. All Rights Reserved.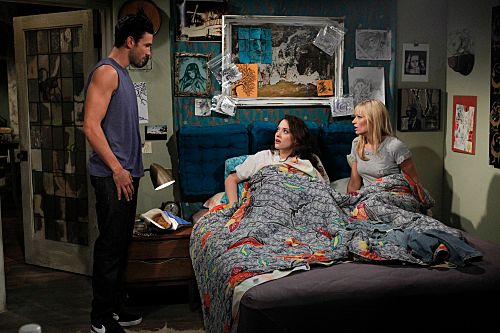 When we first got the screener of 2 Broke Girls over at Vulture HQ, one of our staffers joked that this was a show that was going to inspire a lot of fan fiction. Two attractive women with excellent, spiky chemistry and a pony in one TV show? Heavy-breathing Sapphic fan fiction has sprung from less, much less. But in the pilot, this was all deep subtext. In that first outing, brunette Max (the wiseass played by Kat Dennings) and the blonde Caroline (the former rich girl played by Beth Behrs) made for more of an Odd Couple than a couple couple. But then came last night's episode, in which subtext became manifest. Are Max and Caroline the fall's new will-they-won't-they couple?
Last night, things got drastically unsubtle, in a hurry. The episode involved two scenes of Caroline crawling into bed with Max, one that ended with the pair being solicited for a threesome by Max's ex-boyfriend. Then there was a running joke about Caroline having accidentally heard Max orgasming, complete with Caroline imitating the orgasm. When Max's ex suggests that Caroline and Max might be fooling around, Max says, "If I was a lesbian, she's exactly the last les I'd be in," which is precisely the kind of strongly worded denial that the leads in a romantic comedy always make right before they fall in love.
More than their chemistry (which they really have!) or the aforementioned plot developments, Max and Caroline also have the romantic-comedy rules working in favor of their coupledom. Romantic-comedy rules state that two people who first hate each other, will always eventually fall in love. This isn't logical and it isn't true, but it is the rule, one that has been observed in everything from The Philadelphia Story to Cheers to Moonlighting to The Proposal. Max and Caroline, with their sharp banter, feigned dislike, and inexplicable inability to stop bothering one another, are behaving like every other romantic-comedy couple in history. Why shouldn't the romantic-comedy rules apply to them? Because they're both girls? Isn't it well past time we lived in a world of equality, where all characters, no matter their sexual inclination, were subject to the clichés of genre convention?
Of course, 2 Broke Girls is on CBS, and while it's possible to imagine the show developing an entirely different trajectory on cable — over the course of six seasons and many men, these two young women realize they are perfect, not for some dude with a nice six-pack, but each other! — it seems unlikely to transform into something overtly homosexual on a network. Still, showrunner and co-creator Michael Patrick King is no stranger to making coded jokes about sexual orientation (see the long-lived theory that Sex and the City is actually about gay men), so they will likely remain one of the sitcom's regular features. (At least they're better than the racially insensitive jokes about Asians that proliferated last night.) You just watch, come some May sweeps, Max and Caroline kissing will be a big ratings stunt.