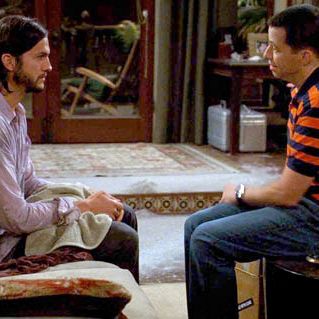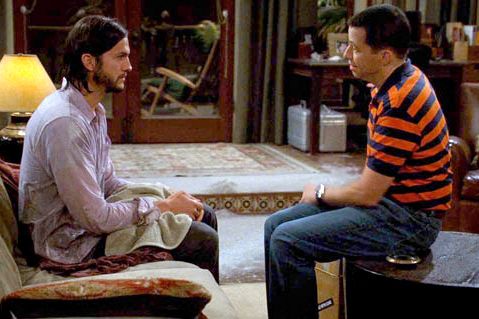 In the run-up to the relaunch of the Charlie Sheen–free Two and Half Men, his replacement Ashton Kutcher promised, "It's going to offend people just as much as every episode has offended people." For a few minutes, last night's Two and a Half Men flirted with a different formula than the one that's made it both hugely successful and critically derided — less raunch, more tears — but it only lasted a few minutes, proving Kutcher right. Two and a Half Men without Charlie Sheen will soldier on, only moderately less sleazy than before.
The episode began at Charlie Harper's funeral: Having finally cheated on one girl too many, he's been pushed in front of a Paris metro by his stalker turned wife Rose. At least he "didn't suffer. His body just exploded like a balloon full of meat." Given Sheen's antagonistic relationship with the cast, crew, and writers, the scene was surprisingly respectful — which is to say, not respectful at all but for a few kindhearted lines from Jon Cryer. "I'm Charlie's brother, Alan," Cryer began, "This is a very sad day for all of us," only to be immediately interrupted by Jenny McCarthy, one of the dozens of actresses on hand who have previously played one of Charlie's girlfriends, saying, "Speak for yourself!" The rest of the funeral was more of the same: Cryer says something with a double meaning that could apply as easily to Charlie Sheen as Charlie Harper ("I understand some of you have 'mixed feelings,'" "Charlie lived life on his own terms, and never apologized for who he was.") and one of the funeralgoers undercuts it, with, say, a joke about all the venereal diseases he'd passed on.
Still, the writers are to be commended for swallowing some of their bitterness. Post-funeral, after Alan learns he has to sell the house, John Stamos (once rumored to be taking over for Sheen) and Dharma and Greg stop by to check it out. (Dharma & Greg was also a Chuck Lorre show. Their cameo suggested the pair have become bitter and unhappy: Even if Chuck Lorre likes you, he won't write you a happy ending.) Alan sits with an urn full of Charlie's ashes and says, "I wanted to tell you I love you, and I miss you, and I'll always be grateful to you for you taking Jake and me in." (Speaking of Jake: Angus T. Jones was in this episode minimally, mostly only to fart. His chemistry with Kutcher remains a big question mark.) The relative poignancy is short-lived. There's a sitcom variation on Chekhov's rule about the gun: It goes something like, "cremated ashes at the beginning of a scene will end up on the floor by the end of it." When Kutcher finally appears, knocking on the window, Cryer throws Charlie's ashes into the air: Kutcher enters the house and walks all over the remains of Charlie Harper.
Initially, Kutcher's character, Internet billionaire Walden Schmidt, is not anything like Charlie. He's lovelorn, faithful, wiry, and shaggy-haired. He's so heartbroken his wife has left him that he's suicidal. Sure, he has a habit of removing his clothes to showcase his "elephant"-size penis, but, unlike Charlie, he's not a womanizer or a cad — at least not for the first ten minutes. Kutcher is a far less sleazy presence than Sheen, and his willingness to play the dolt, honed all those years on That '70s Show, helps him put over lines that would be dripping with self-satisfaction in other hands. When Cryer tells him people drink not for the taste but to feel "tall, good-looking, and smart," Kutcher replies, "I am tall, good-looking, and smart" without making it seem a boast. Without Charlie around, Alan takes it upon himself to step into the sketchy void, taking the depressive Walden under his wing. The two head to a bar, where Alan encourages Walden to hit on a woman. Unlike Charlie, he fumbles, telling them how sad he is about his wife and bursting into tears. It is at this point that the Two and Half Men of old reasserted itself: The women, dumb and easy as they are, find Walden's breakdown irresistible. They end up going home with him and having a three-way. Alan, standing in the living room listening to Kutcher scream directives at his two partners, looks around and says, "This is depressingly familiar." Exactly.
Watch Kutcher's entrance to the show.