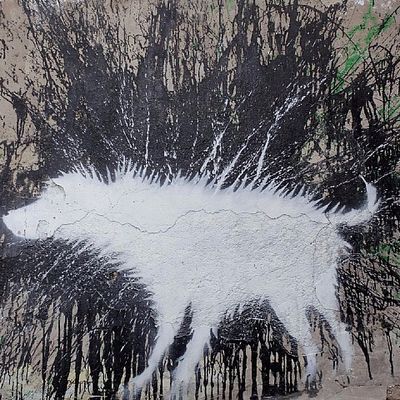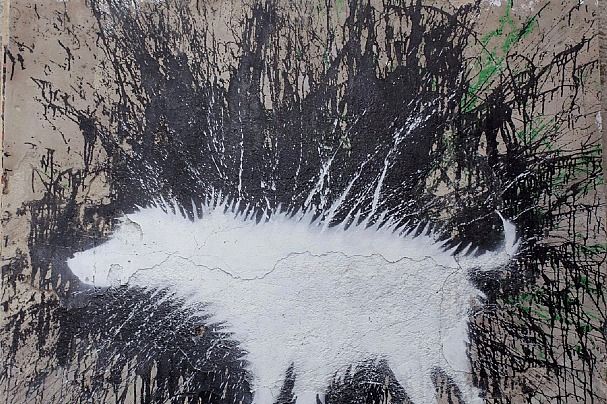 How did a Hamptons art gallery come to show several Banksy works, including two pieces originally stenciled in Palestine? It's not completely clear, actually, but Wet Dog, which originally appeared on a bus stop, and Stop and Search, which originally appeared on the wall of a butcher shop, are now among the works for sale at the Keszler Gallery. None of the harvested pieces in the show have been certified by Pest Control, Banksy's authentication office, though the firm does not authenticate works that have been removed from their original locations. According to ArtNet, a rep for the U.K.'s Bankrobber Gallery, which partnered with Keszler to bring the works out of the Middle East, says a Palestinian entrepreneur originally removed the paintings, and that the galleries stepped in only after discovering that the works were sitting in a stone mason's backyard for years.
Keszler and Bankrobber put together this entrancing yet troubling promotional video all about hauling two iconic pieces of street art away from the street:
Keszler and Bankrobber say that this show presents a unique and important opportunity both to preserve these pieces and give people a chance to view the paintings. Yes, for a mere $425,000, you too can own a decontextualized installation, once meant to reflect the absurdity and pain of systemic unrest, and now expertly cleaned up and for sale in the Hamptons.
Did a Hamptons Art Dealer Steal Banksy Works From the West Bank? [Gawker]
GALLERIES DEFEND CONTROVERSIAL BANKSY SHOW [Artnet]