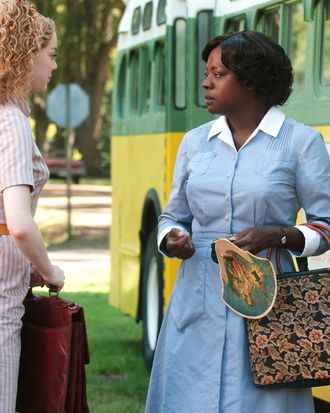 Photo: Dale Robinette/?DreamWorks II Distribution Co., LLC. ?All Rights Reserved.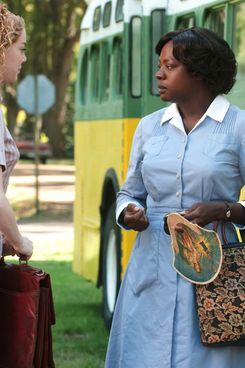 This Weekend's Winners: The Help ($21 million over four Labor-free days) and newcomer The Debt ($12.6 million over the same) proved that the summer still has some lingering heat, even if the box office is cooling fast.
This Weekend's Losers: Apollo 18 ($10.7 million) and Shark Night 3D ($10.6 million); the horror, the horror!
How It All Went Down: It was Labor Day, but as usual, The Help didn't get the day off. A good thing, too, because the box office needed all the help it could get from this indefatigable word-of-mouth hit: Over the holiday, total weekend grosses were not just lower than the three previous Labor Days, but also among the lowest of the last fifteen years.
That's thanks largely to stinkers like Apollo 18 (Moon rocks: They're alive! Aiiigh!) and Shark Night 3D, which — risible premise aside (Rednecks! They're using sharks to make Joe Francis–style snuff films! Aiiigh!) — clearly wasn't helped by a title that even its director despised. In the end, sharks might be bigger than piranhas, but last summer's Piranha 3D had the bigger bite.
The one bright spot of the weekend was The Debt, which benefited from Focus Features' bold gamble to open wide on 1,900 screens and go directly to the oldsters on one of their rare weekends off: Some 70 percent of the Debt audience was over 40.
Finally, as if its critical drubbing wasn't reproof enough, Disney's attempt to reignite the Cars sequel was met with the sound of crickets: Despite Cars 2's rerelease in more than 2,000 theaters, it made just $1.6 million. "Git-R-Done!" and over with, please.