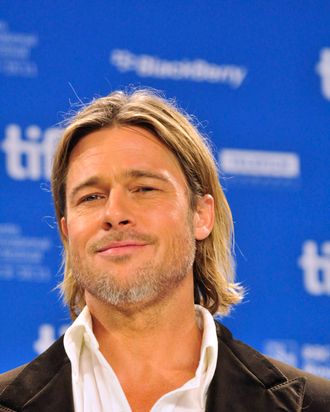 Photo: Splash News/? www.splashnews.com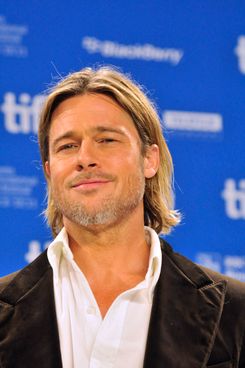 Paramount Pictures is over the moon — and while that's so-so news for Doug Liman, it's great news for Warner Bros. Pictures. Insiders tell Vulture that Paramount has given up on making Liman's planned space heist movie, Luna, after co-financier Skydance bailed out of the $100+ million project, which had attracted Andrew Garfield, Zoe Saldana and Chris Evans. Now that Liman's moon movie is grounded, we hear exclusively that Warner Bros. has made an offer to Brad Pitt in the hopes of landing him for All You Need is Kill, another Liman-directed project that had been put on hold due to Luna's supposed green light.
All You Need is Kill is an adaptation of the manga comic by Hiroshi Sakurazaka that Warner Bros. acquired for seven figures in the spring of last year. Screenwriter Dante Harper's adaptation of it tells the story of a young Army recruit who, despite being killed in the first day of intergalactic alien invasion of Earth, is continually resurrected Groundhog Day–style to the day before he was killed.
For months, the problem with the movie was its third act: Eventually, it begins to play like a big-screen version of Halo, where the protagonist dispatches aliens in the same rote way as a twelve year old who's played too much X-Box 360. We're told, however, that a new draft of the Kill script has resolved this to the studio's satisfaction — and now it wants to enlist Pitt.
The star of Moneyball, however, has a dilemma. Warner Bros. also wants him to star in The Mission, a Peter Landesman script about a U.S. Navy Seal's six-year-long rescue effort to free fifteen U.S. hostages from FARC rebels. We hear that David O. Russell — who, lest we forget, made Three Kingsfor Warner Bros. all those years ago — seems to want to make it his next picture, after Silver Lining Playbook, and is deep into negotiations with the studio to direct. Either way, whichever ever project Pitt chooses — assuming he chooses one — Warner Bros. won't be complaining.