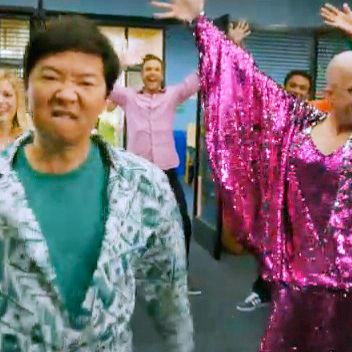 NBC recently dropped a new full-length promo for the third season of Community, and it made fans here a little giddy seeing all the Greendale gang back in action (and singing! and dancing! and John Goodman–ing!). And yet, as we watched it, our glass kept wildly fluctuating between half full and half empty. The joy that came from seeing that Community seems to be returning with its trademark random, esoteric sensibility also filled us with a sense of foreboding: It's that very sensibility that has likely kept its ratings so low, and makes every renewal so sweaty-palmed. We'd like to hope that this is the year that carefully constructed plotlines involving blanket forts and homages to My Dinner With Andre make for a mainstream breakthrough, but that seems unlikely. And you know what they do with low-rated, critically acclaimed TV series with passionate followings after they reach their third seasons, don't you? THEY KILL THEM! (R.I.P., Arrested Development, Deadwood, Veronica Mars, Roswell, Once and Again, Parker Lewis Can't Lose, Star Trek.) So do we need to start thinking of this season of Community as its Logan's Run year, with Jeff, Shirley, Abed, and the rest of the gang doomed for "renewal" come May? Or are we just being paranoid?
It certainly seems as if Community creator Dan Harmon knows he is entering dangerous territory. He's bulked up the cast with new additions John Goodman and Michael K. Williams, and while neither man has the allure of, say, Heather Locklear joining a show in the nineties, their arrivals indicate Harmon is trying hard to expand his show's base. The new promo also features a Glee-like spectacular in which the cast sings/promises, "We're gonna be more fun and be less weird than the first two years combined!" But then again, Harmon has been cracking jokes about his show's ratings deficiencies from almost the moment it premiered. And while it's very easy to get all gloomy about the fate of Community, there are actually many reasons to be hopeful.
For one thing, while its audience is indeed quite molecular (a meager 4.5 million viewers, which is what Lone Star had, and it was canceled after two episodes), the show's 2.0 average rating among viewers 18 to 49 is, relatively speaking, not completely awful. It's a tad higher than Chuck (which made it to a fourth season!) and only 30 percent below the 2.6 rating for Thursday night stablemates Parks and Rec and 30 Rock (entering seasons four and six!). Community also airs at 8 p.m., which means it doesn't have the benefit of a network lead-in and is automatically handicapped by lower overall network viewership at the start of prime time. Its audience is also very loyal and stable, things that count a lot for networks.
And there are two other factors going for Community. First, it's co-produced by NBC and Sony; the latter is a studio known for fighting to keep its shows on the air (see: 'Til Death, which lasted four seasons thanks to the studio's persistence). Both NBC and Sony have an incentive to keep Community alive for at least four seasons in order to reap the substantial revenue that comes with syndication. Meanwhile, Community has survived this long in part because NBC simply doesn't have much going on in the hit department, making the loyal and stable following of Community that much more attractive (this is how Chuck lasted as long as it did). New boss Bob Greenblatt is obviously hopeful that things will turn around this season, but even if he gets two or three big hits this year, he's still going to have plenty of holes in his schedule. Sure, if those three hits happen to be new comedies Whitney, Up All Night, and Free Agents, and if The Office and Parks and Rec both have banner seasons, then perhaps we'll start worrying about Community. For now, however, we're going to just be grateful that at least 22 more half-hours of comedy goodness are coming our way Thursdays at 8 p.m. starting September 22. Let's all be there!