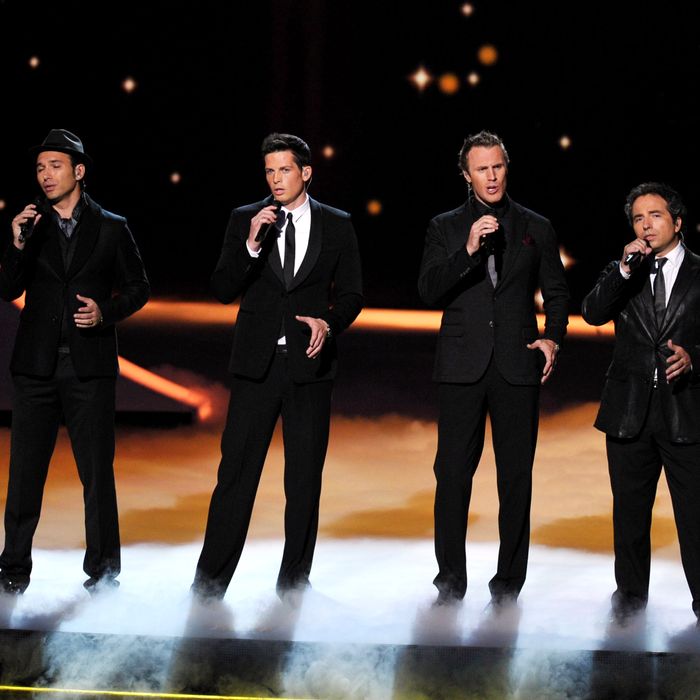 Photo: John Shearer/2011 WireImage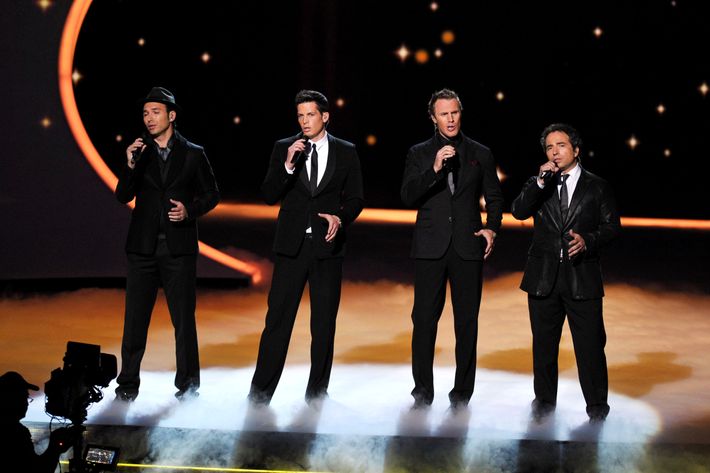 So, how about that In Memoriam tribute at the Emmys last night? The show was rolling along just fine — a little monotonous, maybe, with the Modern Family sweep, but Jane Lynch was charming the crowd, and the pretaped bits were amusing enough (Creed buys meth from Jesse Pinkman! Roger Sterling stares into a phone!). Then suddenly the lights went down, the first chords of the lovely but woefully overused "Hallejujah" filled the auditorium, and four men (one in a leather jacket) took the stage to sing a mind-bogglingly cheesy cover. There was actually smoke rising from the stage. We are still totally mystified as to how this segment made it into the show, but we have done some research about the four singers in question: They are the Canadian Tenors, they are not Il Volo, and they were on Oprah once. Some more facts:
• The four gentlemen who performed for you last night were Victor Micallef, Clinton Murray, Remigio Pereira, and Fraser Walters. (Remigio was the one in the leather.)
• They are not the original members of the Canadian Tenors; those would be Philip Grant, Paul Ouellette, and Ken Lavigne, who started the group in 2003 as a Three Tenors–style trio. Miccallef, Pereira, and Walters rebooted the group in 2005 with a fourth tenor (the Pete Best member), and Murray joined them in 2009.
• "Hallelujah" is their signature song, which maybe explains how they ended up on the Emmys: A producer wanted the Leonard Cohen version, but then watched the Entourage finale and realized that pop quartet groups are very in. Sorry, Il Volo, you should have practiced your emotional pop staples.
• They love Celine Dion, as you can see from this Oprah appearance. (Fast-forward to 3:21 for the admittedly cute surprise part of the duet. We do feel bad for the Canadian Tenors — they seem like perfectly nice Josh Groban types who got stuck in a bad situation.)
• We probably won't be hearing too much from them in the future. Poor guys.