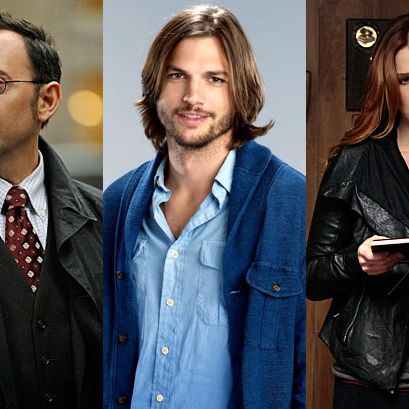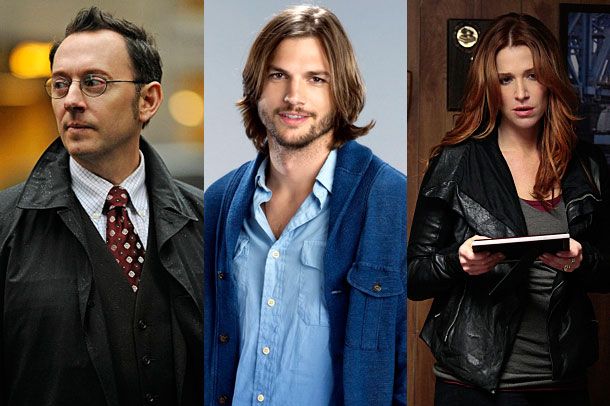 This week we're taking a long look at all the networks as they head into the new season, to gauge their odds of either staying on top or getting out of the basement. We've covered NBC and the CW, and now it's time for CBS, the perennial No. 1 network in total viewers. Can its new procedurals grab the torch from its aging franchises? Will Ashton Kutcher be able to keep the Monday night comedy block as strong as Charlie Sheen did? Let's make like an ophthalmologist and check out the Eye. (That joke won Most Ham-handed Play on Words in 2009 and 2010. Come on, threepeat!)
Preseason standing: CBS never misses a chance to tout itself on air as the No. 1 network, and with good reason: It's way ahead of everyone else in terms of overall eyeballs. It averaged over 11.5 million viewers last season, the eighth time in the past nine years it's ended up in first. What's more, the Eye averages nearly 2 million more viewers than the No. 2 network in viewers (Fox) and has an audience more than 50 percent bigger than NBC's (7 million). But CBS has challenges: It's still a distant second to Fox in terms of viewers under 50, and its biggest hits have been on the air for more than five years (which means they're not likely to increase their ratings).
Primary goal: Finding the next CSI. Mock CBS all you will for its abundance of procedural crime dramas, but the fact is, folks love to see bad guys get caught. And while the Eye still has procedurals with plenty of Nielsen pep (NCIS, Criminal Minds), and its three CSI series are still doing decent numbers, it needs to freshen its roster with another slugger. Last season's Hawaii Five-O did well enough to merit a second season, but it wasn't the home run the network might have hoped for given the brand name. With Unforgettable (Poppy Montgomery as a detective with a photographic memory) and Person of Interest (Lost's Michael Emerson dispatches former special agent Jim "Son of God" Caviezel to head off crimes before they happen), CBS is hoping it has found shows with enough of a "wow" factor to bring back viewers who love whodunits but had grown overly familiar with the Eye's aging army of heroes with badges. And resurgent TV fave Ted Danson stepping into CSI could make that show seem new again, too.
Most promising new show: When they announced the addition of Person of Interest last May, CBS officials were quick to tout the fact that it was the highest-testing pilot ever in CBS's audience research history. That's why the show is replacing CSI Thursdays at nine (CSI moves to Wednesday at ten), and why there's a good chance it will be a hit. But we actually think Unforgettable (once known by the incredibly awesome title The Rememberer) could end up with a bigger upside for the Eye. Neither Parenthood nor Body of Proof are particularly tough competition, and Unforgettable just feels like a down-the-middle CBS hit.
Veterans on the bubble: CSI: Miami and CSI:NY flirted with cancellation the past couple of seasons, and they'll remain on probation this year. Rules of Engagement survives on Saturdays just to accumulate enough episodes for syndication. Two and a Half Men seems likely to last at least two more seasons, unless viewers completely reject Ashton Kutcher, in which case, its high price tag could put it in danger next May.
How they'll finish: Odds are CBS will end up No. 1 in viewers again. A second-place finish in adults 18 to 49 also seems likely, unless ABC or NBC have big turnarounds.
Related: Can The Voice Help Get NBC Out of the Basement This Year?
With Gossip Girl Aging, Can Sarah Michelle Gellar Save the CW?