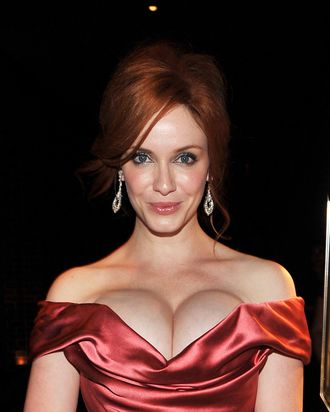 Photo: Stephen Lovekin/2011 Getty Images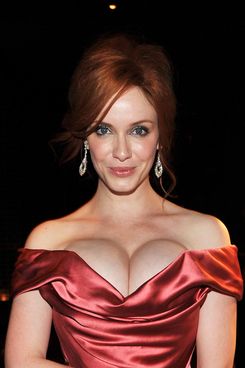 I Don't Know How She Does It is about all the responsibilities that a modern-day working woman has to juggle, and nobody knows that sort of thing better than Christina Hendricks, who's been busy promoting her co-starring roles in I Don't Know How and Drive, which are both out this Friday. She's also got plenty more on her plate since the fifth season of Mad Men just started shooting, and Hendricks segued to that immediately after finishing up a part in the comedy Struck by Lightning, which was scripted by Glee's Chris Colfer. Luckily, Vulture found some time to chat with Hendricks last night at the I Don't Know How premiere, where she filled us in on her sweet Emmy plans.
The director of I Don't Know How She Does It said that he cast you in this role because he knew you could bring a real warmth to it.
It's certainly different from what I do most of the year, which is play Joan on Mad Men, and it's a romantic comedy, and she's the best friend, and it has this sense of humor throughout. And it was nice and refreshing to do modern day, so it was a no-brainer for me.
Did you have any idea this would come out the same weekend as Drive? They're such different roles.
Completely different movies, completely different characters, yes. I had no idea. I finished Mad Men, and maybe within the month I finished Drive, and then a month went by, and then I did this. To be honest, the real reason I did Drive was because of Nicolas Winding Refn, the director. I had seen Bronson and I was floored by it, and I said, "I want to work with this guy. I don't care what it is." And this is a smaller role, but I just wanted to be part of what he was doing, and it's an instrumental role, and I think it's really different than anything else I've ever done, and an opportunity to work with Ryan [Gosling] … there were so many reasons to do it. And I love that I actually have these coming out on the same night, on the opposite end of the spectrum of movies, both enjoyable in completely different ways.
A lot of people are talking about the atmosphere and the music for Drive.
I know, isn't it good? When we were shooting, Ryan would run bands by me: "Do you like this? Do you like this?" But I didn't hear the full soundtrack until later, and then I immediately downloaded all the songs. Actually, I've just moved into a house, so it's my unpacking music.
Nicolas is a big fan of yours as well. He really wants you for Wonder Woman. Would you do it?
Sure! I grew up on the TV show, and I had Wonder Woman Underoos, and my brother had a Wonder Woman doll — sorry, Aaron, you're exposed. [Giggles.] And Nicolas said, when we were on set, "I want you to be Wonder Woman." And I think he is such an extraordinary and exceptional director, that if he asked me to do it, I would do it in a heartbeat.
Funny enough, when Joss Whedon was going to direct Wonder Woman, you were one of the people he was considering … so you've got two directors who think you're right for the role.
I'd like to think that Joss would have cast me! I also loved working with Joss [on Firefly]. I'm excited to see what he does with The Avengers. Hopefully the stars would align [for Wonder Woman]. It would be really fun. It would be cool, wouldn't it? I'd get to kick ass.
The original Wonder Woman comics were all about sexual metaphors, because William Moulton Marston, the guy who created her, was trying to make Wonder Woman a combo of his wife and his lover, and the lasso representing their BDSM and whatnot.
Ah! Right. That makes sense now.
Would you want your Wonder Woman to be that kind of dark, sexually liberated character? Bring back the bondage?
Well, I would certainly do what Nicolas wanted to do, and I can only guess what his version would be, but as I grew up with and am now married to a comic book fan, I think it's important to be true to the original comic books, because I know that the fans love every detail and it's very important to them. So I think it would be cool to do that. I look forward to learning more about it, actually. I should probably start reading them, so that if someone were to ask me [to be in the movie], I would be fully prepared. [Grins.]
And you're doing Struck by Lightning now?
I actually already finished it. Chris [Colfer] wrote this really great script, I think it's really cool, he's so talented. My character is completely different than this character, completely different from the Drive character; she comes across as judging and prissy and a little bit sheltered, and ends up having to deal with things she wasn't expecting in her life. I was really honored and proud to be a part of it. Chris is doing some really great stuff, so I was honored to be in his first movie. He can do anything. He's amazing.
Looking forward to the Emmys?
Yeah, I am! I'm actually bringing a date. I'm an ambassador for the Make-A-Wish Foundation, and one of the children, his wish was to go to the Emmys, so he's going to be my date, along with my husband, and my dad and his girlfriend. So we're going to have a really fun night and it's going to be really exciting. I'm really excited for him to experience that.
How old is he?
He's 19. You got to assume that if you want to go to the Emmys, you're probably a little bit older, and Make-A-Wish goes up to that age, so yeah. I'm really excited.