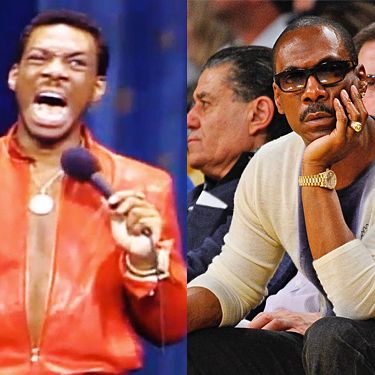 Photo: HBO, Kevork Djansezian/Getty Images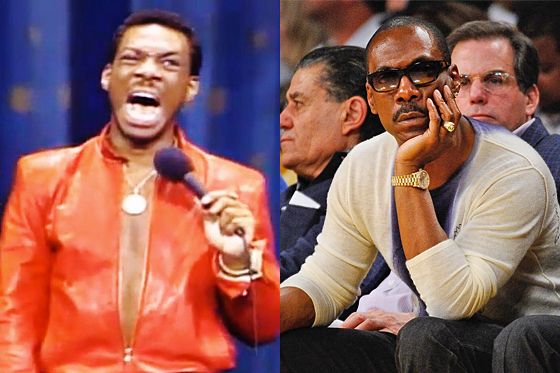 Back in their Saturday Night Live days, Eddie Murphy and Joe Piscopo brought dueling Jerry Lewis impressions to bear on the show's famous "Two Faces of Jerry" sketch, which juxtaposed the wild and comic version of Jerry (played by Murphy) with the serious, telethon-hosting Jerry (played by Piscopo). The comic tension behind the joke was how someone as loose and crazy as Jerry Lewis could become so buttoned-down, and it illuminates the question we're asking now that Murphy has been chosen to host the Oscars: Are we going to get the high-energy Eddie of yore, or the sleepy talk-show guest of today?
So can he get them back? The trailer for Tower Heist indicates that there's still a flame of "old Eddie" energy flickering inside Murphy; if Brett Ratner was the first director to coax it out of the star in years, perhaps he'll be able to draw a vigorous performance from Murphy after all. But how surprising can we expect Murphy to be at the super-staid Oscars, and after years of speaking shyly, who can even say what's on the modern Murphy's mind? (Actresses Glenn Close and Janet McTeer are potential nominees for crossing genders in the upcoming Albert Nobbs; if Murphy were really daring, he'd go there and use that peg to acknowledge the elephant in the room.) Sure, James Franco set a low-energy precedent last year that will make even the most sedate version of Murphy look like Anne Hathaway, but if Murphy is serious about using the Oscars as a career comeback, he needs to prove to us that he still gives a fuck.
Though we all remember the volatile Murphy who stalked the stage in Delirious and Raw, he hasn't done stand-up comedy since the eighties, and since then, he's become a safer, more remote presence onscreen, hiding in family films and under loads of prosthetic makeup. After his 1997 "Good Samaritan" incident with a transvestite prostitute, Murphy retreated further, granting few interviews to the press other than his obligatory late-night chat-show stops, which he sailed through with the lowest-energy anecdotes possible. His role in Dreamgirls was a welcome change, but when he lost the Best Supporting Actor Oscar that year (and stormed out of the ceremony), it seemed to thwart any nascent ambitions he had of stretching onscreen. After making four Shrek films, he even admitted to Vulture last year, "I've lost a lot of my cool and edge, I think."