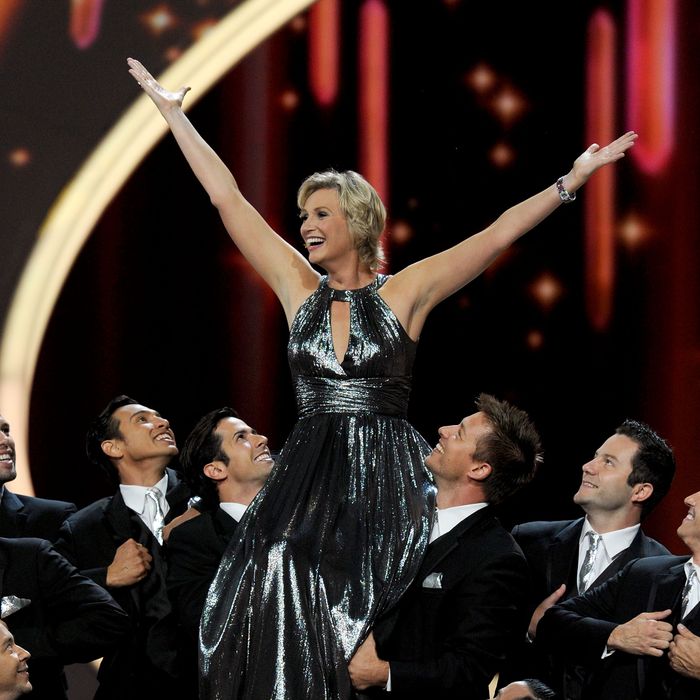 Photo: Kevin Winter/2011 Getty Images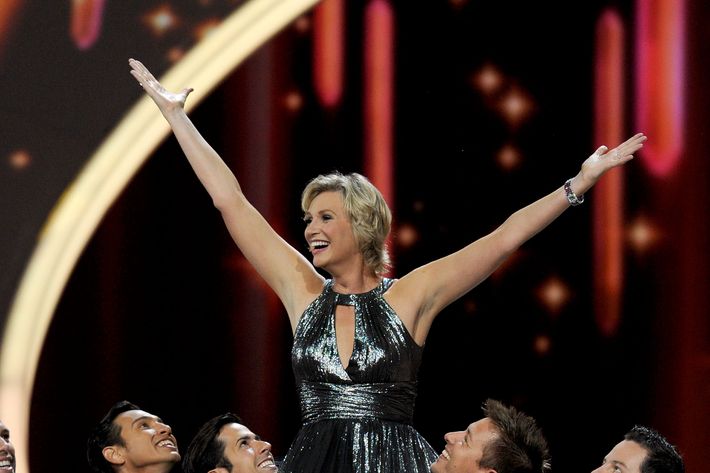 The Emmys just finished up, and if it wasn't as good as last year's Jimmy Fallon-hosted spectacular, it did continue a trend upheld by the recent Tonys and Grammys, of being much, much better than this past Oscars. Eddie Murphy, the gauntlet has been thrown! The good in tonight's show included some surprising victories (Kyle Chandler! Peter Dinklage!), some well-deserved victories (Margo Martindale! Mad Men!), Jane Lynch's excellent hosting tone (sharp, but not too sour), and a wonderful Amy Poehler bit. But the bad included an absurd In Memoriam sequence, Charlie Sheen, and boredom. Let's revisit the good and the bad.
1. The Good…: Unlike Ricky Gervais in his controversial turn at the Golden Globes, Jane Lynch can put over a dig without seeming mercenary. Thankfully avoiding her Sue Sylvester persona almost all night, Lynch got her jabs in, but her delivery was so bubbly, her smile so big, that the knife didn't even hurt. Her evening got off to a bit of an odd start, with Leonard Nimoy saying to her " To men you're womanish, to women you're mannish," but she didn't seem mannish, especially in her awesome, very silver dress. Probably the quintessential Lynch line of the night, and a hilarious one at that, was "A lot of people are curious why I'm a lesbian. Ladies and gentleman… the cast of Entourage." Even Mark Wahlberg laughed. See, goes in easy.
The Bad: We liked Ricky Gervais's performance at the Golden Globes — better to be mean than to be boring — but his bit tonight, a pre-taped segment in which Fox "cut" any jokes that would be offensive, would have been a lot funnier if… Fox hadn't really cut an Alec Baldwin joke from the show because it would be offensive to Fox (or, more accurately, Rupert Murdoch). Self-deprecation tips over into self-promotion pretty quickly. Also bad: Charlie Sheen coming out on stage to say the following to the Two and a Half Men cast and crew: "From the bottom of my heart, I wish you nothing but the best for this upcoming season. We spent eight wonderful years together, and I know you will continue to make great television." After all the Tiger Blood and Warlocking — a crash course in how Charlie Sheen thinks he's smarter and more interesting than everyone in the universe — this sort of well-wishing does not ring true, no matter how hard Jon Cryer and Jimmy Fallon applaud. At least Jim Parsons, whom Sheen presented an Emmy to, noted how weird this all was.
Here's Sheen:

2. The Good…
The drama wins. Halfway through the telecast and the closest thing to a surprise was that one Modern Family actress had won over another, and that the Emmys gave Melissa McCarthy an award for her work in a movie. All the usual suspects, from Modern Family to Amazing Race to Jon Stewart, were cleaning up. And then at 9:30 on the dot, Jason Katims and Friday Night Lights won the Best Drama Writing Emmy. Then came victory for the supremely deserving Margo Martindale of Justified. Then Peter Dinklage won. And then came Kyle Chandler's win. If we had to give an Emmy to only Mr. or Mrs. Coach, we would have picked Mrs. Coach, if only because there is no way that Connie Britton would have forgotten to thank Chandler in her speech, but Chandler's win was still spectacular (and he did try to work in a belated thank you, but the orchestra would not allow such redos). And because of Katims' win, someone got to say "Clear Eyes, Full Hearts, Can't Lose" during a telecast. Amazing. Even better, when it came to the biggest award of the night, Best Drama, the voters didn't punish Mad Men too hard, and gave it the Emmy it deserves. In these categories, the voters got everything right (well, except for Mrs. Coach. There was always next year for Margulies.)
The Bad
The comedy wins. Modern Family ran the table. While we're happy for Ty Burrell, who gave a wonderful speech, this is very dull. How much more interesting would it have been if Louie had gotten a writing award? That's exactly the sort of unexpected event that happened in the drama categories. (The one unimpeachably great moment in the Modern Family domination; Steve Levitan's wife's perfectly timed eye-rolls.)
3. The Good…: The pre-taped bits, which you can see below, were all very solid. The opening number, in which Lynch went from TV show set to TV show set, took a while to ramp up, with Lynch first checking in on a number of shows that don't deserve all that much attention (ahem, Entourage). But by the time Lynch crashed onto Mad Men and hit on Peggy, only to have Don command her to leave the room, we were sold. (Mad Men, come back already!) The other taped bit, on the set of The Office, also had some brilliant moments, namely Breaking Bad's Jesse Pinkman showing up to bring Creed his crystal meth: whoever thought of that knows both shows extremely well. Also wonderful in that segment: Amy Poehler speaking Dothraki, and Kim Kardashian struggling to pronounce the word "work." (That's right, we gave Kim Kardashian a compliment.)
Here's the Mad Men part of the opening number"

And Jesse dealing to Creed:

Even the Jersey Shore spoof wasn't so bad: Snooki was a Harvard student before Jane Lynch's reality TV impresario discovered her! But you couldn't tell from the audience, which brings us to…
The Bad
Maybe it was just a transmission problem, but all night it seemed like the audience wasn't laughing. We've complained about laugh tracks before, and we don't mean to suggest that the audience or the producers should fake laughter, but at an awards show, energy matters. Watching at home, the crowd seemed flat, and that dampened the whole night.
4. The Good…
The Lonely Island medley, complete with Maya Rudolph faux singng, the three guys humping Will Macy, Michael Bolton in a Pirates of the Caribbean outfit, John Stamos and Ed Helms dressed as Andy Samberg and Justin Timberlake, and Akon sans autotune (not pretty) was bananas, but not in a bad way. Sure it was ragged and not exceptionally timely, but it sure wasn't boring.
The Bad
All the other musical elements. We feel so bad for Zachary Levi, Cobie Smulders, Taraji P. Henson, Kate Flannery, Wilmer Valderamma, and Joel McHale, the six actors who were part of the "Emmytones." They did their job with energy and dedication, and it is not their fault their bits of doo-wop were a total flop (again, the crowd didn't help; they hated the Emmytones from the start). They were, at least, not as bad as the Canadian Tenors, the bizarre a Capella group who sang "Hallelujah" during the In Memoriam segment, completely undermining the seriousness of the occasion. If you ever wondered what the cast of a Zoolander knockoff about an aging boy band would look like, well, you have your answer. How did they get this gig? Who do they know? And were they at all responsible for the strange Muzak renditions of songs like "Moves Like Jagger," "Valerie," and "Seven Nation Army" that played right before the commercial breaks?
5. The Good…
As previously stated, the comedy portion of the show was slightly lackluster, but then Amy Poehler made it onstage. As soon as her name was announced in the Best Actress category, Poehler leapt from her seat and ran up the stairs, planting herself stage left and doing her best "I can't believe I'm here" Miss America face. Her fellow nominees — Melissa McCarthy, Edie Falco, Martha Plimpton, Laura Linney, and Tina Fey — joined her one by one, and the resultant Beauty Pageant reenactment (they held hands, even!) brought the crowd to its feet. But just as charming was the reaction to Melissa McCarthy's win: As soon as her name was read, the other five women surrounded her in what looked like a genuinely enthusiastic group hug. (Amy Poheler was jumping up and down, we think.) Someone stuck a tiara on McCarthy's head, and she gave her whole speech while clutching a giant bouquet of red roses. (Poehler's rep said the schtick was jointly dreamed up by Amy and Plimpton.) It was delightful, as was the McCarthy-Poheler presenting segment later in the evening. Can we get these two a couple more scenes together? Preferably not on Mike and Molly?
The Bad
This show remains too damn long: before the surprise victories in the drama categories began, exactly half way through the show, it was seriously dragging. We love Downton Abbey and Kate Winslet, and it's it's nice to have a category for movie stars — Winslet was very excited about her win! Three quarters of the way to an EGOT! — but without the mini-series awards the show could get down to two hours. That would be better.
Related: The Best Frozen Moments from this Year's Emmys
And the Emmy Winners Are…
Fug Girls: Red Carpet Hits and Misses at the 2011 Emmys