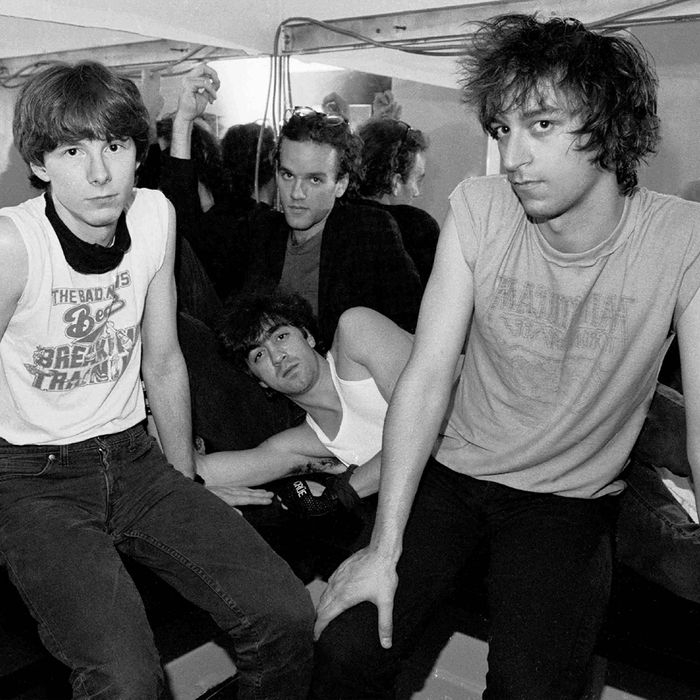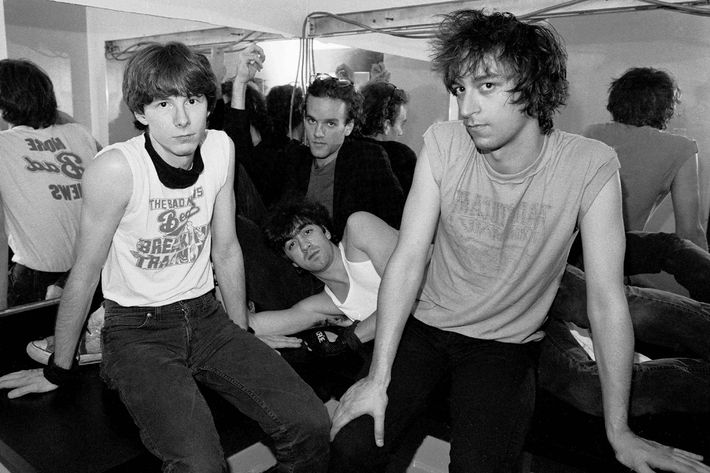 Shortly after the three remaining members of R.E.M. announced that the group was closing shop, it occurred to me that they were probably the first rock band I ever loved — almost certainly the first I ever loved while they were still making records. And shortly after being asked to come up with a master ranking of their albums, I was surprised to realize I'd never done that before. Not that I can remember, anyway. Mostly because it is really, really hard. Take the first decade of the band's career: Once you've singled out 1985's Fables of the Reconstruction as slightly less terrific than the others, you're left with seven full albums that all seem like perfectly valid choices for the best of the bunch. Plus an EP, Chronic Town, so good that it's tempting to call it their best LP, length be damned. If the point of making music-nerd lists is to spark fun, vigorous arguments — you know, What kind of insane person thinks that record is better than this one? — then listing R.E.M. albums might be pointless: You don't get disagreement, just envy. (You have Document at No. 1? Now I wish I did, too.)
The second half of R.E.M.'s career gets hard to rank, too, though for the opposite reason: Everything seems equally fair-to-middling. It's hard to remember which album was which. (It's like trying to remember a retired parent's schedule: You don't know everything they spend their day on, but you're glad they're staying busy.) Look back over the shape of R.E.M.'s discography, though, and this begins to look like an incredibly cool thing. Consider: They started off as a mysterious college-town band, an arty post-punk group that nevertheless played with house-party hustle. They released an album a year, toured constantly, grew more and more popular, and even managed, for a moment, to be an arena-size version of that same mysterious act from the beginning. At the very moment when they got sick of their routine and decided to change things up — string arrangements, a guest rap, their guitarist deciding to tackle the mandolin instead, all the things that usually mark a rock band about to go sour — they became hugely successful, and released two of their most beautiful albums. So think of it this way: Those mildly forgettable albums toward the end are just the other side of the curve. For a long time, they made the music they wanted to, and ever-growing numbers of people wanted to hear it; then, for a long time, they made the music they wanted to, and ever-shrinking numbers of people got excited about it.
They landed, essentially, and have now taxied to a stop. And — leaving alone that a lot of their landing music was absolutely worth making — that turns out to be a remarkably dignified way to conduct a career.
1. Green (1988)
The country's flagship college-rock band stands at the brink of real, mainstream popularity. There's a sense that they should learn to be actual rock stars. So here's the most amazing feat they ever pulled: For a moment, they did become workable stars, only in the most gloriously, creatively sideways manner available. (See: Michael Stipe, doing a shirtless Iggy Pop impression, repeatedly saying "Hi" to that big new audience, in a 1989 pop song called … "Pop Song 89.") Plus, around that, some of the band's best ballads and what seems like an early blueprint for Out of Time.
2. Chronic Town EP (1982) and Murmur (1983)
One hates to be the sort of person who thinks a rock band's first releases have some inner purity that can never be competed with. But R.E.M. sprang into being with the most distinct, enchanting, and fully formed aesthetic of any rock band I know. On Chronic Town especially, they have a grace that makes their music feel like it couldn't possibly have been written — maybe unearthed in a mine or just naturally exhaled, but not written.
3. Out of Time (1991)
"Country Feedback," one of this album's most memorable songs, was just a hasty, partly improvised, one-take demo recording. Which seems to indicate that everyone involved in making this record was just … on.
4. Document (1987)
The high point and flagship of American college rock (unless you're a Replacements partisan) — now with distinct political sensibilities!
5. Life's Rich Pageant (1986)
The high point and flagship of what R.E.M.'s first decade sounded like? At this point, they were beloved enough to relax and follow creative whims, but not so well established that they needed to make any major changes — which, for a good band, tends to result in home runs.
6. Automatic for the People (1992)
You'd think most acts, having had a huge mainstream breakthrough like Out of Time, would step back and stress about the next record. R.E.M. had another terrific album out in just over a year, filled with some of their best sentimental songs — even the instrumental sounds like a balm for homesickness.
7. Reckoning (1984)
8. Accelerate (2008)
It's funny how R.E.M. occasionally "returns" to making muscly rock albums, considering they were never in that line of work to begin with. It's more like they take the occasional noise vacation — and the loosened-up stompers on Accelerate have a sense of happy relief to them that's probably the most charming part of the band's 21st-century catalogue.
9. New Adventures in Hi-Fi (1996)
10. Fables of the Reconstruction (1985)
At first, the band seemed "mysterious" in the gorgeous way, but they soon enough proved they could take mystery in darker, squirmier directions — "Feeling Gravity's Pull," the lead track on Fables, sounds remarkably like a Bauhaus B-side.
11. Monster (1994)
12. Collapse Into Now (2011)
Now, here's an album that suddenly makes more sense, from the title on down: One great last run through the band's core, classic sounds, with lyrics that read like amiable sum-ups of a life in music.
13. Up (1998)
The band's first record without drummer Bill Berry, who was unshowily responsible for half the grace and fluid movement in their songs. It sounds a bit like someone stepping off the moving walkway at an airport and swaying a bit while they adjust to solid ground.
14. Reveal (2001)
15. Around the Sun (2004)
Even the band members say they were kind of bored while making this one. You can tell. So why make the album? Because that, it seems, is the approach that always made R.E.M. so terrific — they were always moving, always recording, whether conditions were right or not, whether results were spectacular or not. What's amazing is just how often the results were spectacular. While Berry was in the band, they released ten albums in thirteen years. By my count, seven of those ten albums are in contention for being the best. It would take a lot of time, thought, and careful wording to explain precisely what all that music meant, what it offered, and why it resonated with people — but the one thing you can say with certainty, within a few days of their split, is that for a long time, they were just always, consistently, reliably, remarkably really good.