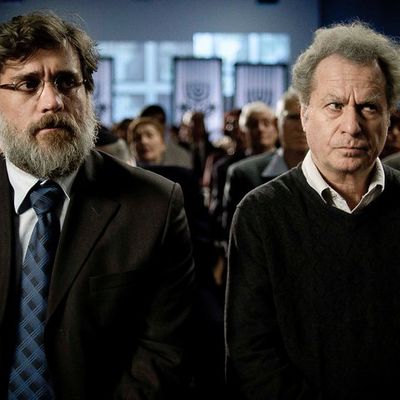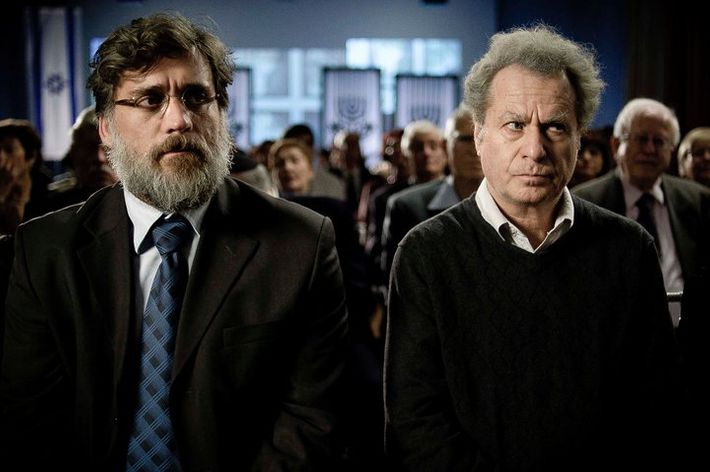 Each film festival has its own distinct character: Sundance is for edgy independent fare, Cannes is for artsy prestige cinema, and Toronto is for future Oscar winners (the audience award has predicted Best Picture five years running). But if film festivals all have one thing in common — besides, you know, movies and famous people — it's the pharmaceutical-convention-type way they bring people together and the potential for love connections therein. Everyone knows of the common festival hookup; we saw one red-faced single actor leaving the Ritz Carlton (this year's Toronto Film Festival hot spot) with what looked like just that the other night. But the festival marriage is another story. Which is why we were so thrilled to hear about the one that came out of the Cannes sale of the Israeli dark comedy Footnote, which is now receiving raves at Toronto.
The film is in Hebrew and set in the incredibly insular world of Talmudic scholarship, where a bitter, repeatedly overlooked father and his more populist son, both professors at Jerusalem's Hebrew University, are in competition with each other for the Israeli equivalent of the Nobel Prize. In other words, it's a foreign film about an arcane corner of academia — not exactly a guaranteed Stateside hit. But as EW's Lisa Schwarzbaum wrote in her rave at Cannes, "there is no dramatic subject more titanic, more fraught, more Biblically elemental, more hilariously heartbreaking (or is it heartbreakingly hilarious?) and (in [director Joseph] Cedar's talented hand, more cinematic than the relationship between an elderly father and his grown son." Soon after the first screening in France, Sony Pictures Classics snatched up Footnote.
It was during the frenzied bidding process at Cannes in mid-May that Footnote's sales agent, Maya Amsellem, 39, of Westend Films LLC, met Lior Ashkenazi, 42, who plays the grown son in the film. To play an academic, Ashkenazi had grown an impressive salt-and-pepper beard and gained weight, but by Cannes he was back to his usual trimmer, clean-shaven, and very handsome self. The kind of manly man actor they only seem to grow in Australia, Ashkenazi is known in Israel alternatively as their Cary Grant or their Brad Pitt. So when he called and texted Amsellem a few times when they got back to Tel Aviv after the festival, she blew him off a little. As she told us at an SPC dinner in Toronto that celebrated the company's twentieth year, "I didn't believe him." Finally, she agreed to lunch. Lunch turned into dinner. And after that, she says, "it was nonstop" attention, calling and texting, asking her out again. They fell quickly in love, and had been through enough relationships (Ashkenazi was married to actress Shira Farberm, with whom he has a daughter, and also had a long relationship with playwright and screenwriter Sigal Avin) to realize they had something good. Ten days later, Amsellem recalls, "He said, 'I want you to be my wife.'" The ring came two weeks after that. The wedding will be on December 26. Ashkenazi is back in Israel working on a play. This writer gave Amsellem her heartiest "mazel tov" and then immediately asked if the agent could introduce her to any of Lior's friends.