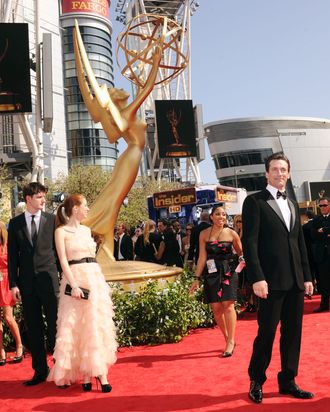 Photo: Jason Merritt/2010 Getty Images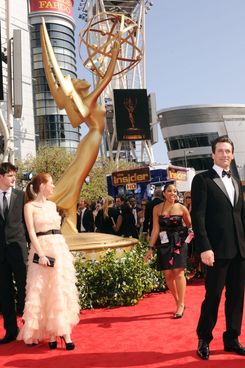 For some, the end of summer is marked by Labor Day, the first day of school, or the advent of the pumpkin latte at Starbucks. For us, fall begins with the Emmys, and the sight of Ryan Seacrest back on the red carpet giving Giuliana Rancic hell while trying not to get whacked in the face by one of Christina Hendricks' boobs. So please pull up a bowl of Doritos and join us as we live-blog the whole dog-and-pony show – and cross your fingers that everyone makes it out unscathed. (You can see all the night's looks at Vulture's red carpet slideshow, and join the bloggers as they live blog the ceremony!)
6:00 p.m.: And here we go. Ryan introduces the Glam Cam once again, and he appears to think that it's going to be the one thing that makes tonight "magical." Yes: We're all here for E!'s proprietary technology. We wonder: is it just our TV, or did Ryan neglect to shave this evening?
6:02 p.m.: Chris Colfer is the first person in the house. He looks handsome as usual, and he and Ryan have matching hair – they're both veering into pompadour territory. Chris gets a minor dig in at Ryan Murphy, noting that he's "very good at spilling things we're not allowed to say." As he chats, we see Jayma Mays, in nude lace. SNORE.
6:05 p.m.: Giuliana talks to Nina Dobrev, in a red Donna Karen that she seems to be sewn into. Nina seems perplexed when Giuliana says she's been compared to Blake Lively, making the move from TV into film – probably because no one has never compared the two of them, other than noting that they are both pretty girls on CW shows. G then wonders why Nina and Ian Somerhalder aren't walking the red carpet together, and Nina basically confirms without confirming that the two of them are dating. JUST ADMIT IT, GIRL.
6:07 p.m.: There is a brunette woman in blue on the Glam Cam, and we have no idea who it is. She looks nice, but she could be an E! staffer for all we know.
6:11 p.m.: Jane Lynch has arrived – we can't really see her whole outfit, but from the waist up, she looks divine. Ryan, on the other hand, is talking to Cat Deeley, who is sporting Blake Lively's hair and a beaded nude-ish Monique Lhuillier dress. Are we not so over the nude? We are. WEAR COLOR.
6:13 p.m.: Lea Michele must have heard us, as she is ALSO wearing red – this time Marchesa, of course – and it's, you know, resoundingly fine. Her hair is super basic, just bangs and blown straight, the way you'd expect to see her hair if she was going to a business meeting. Ryan kicks her off stage to talk to Taraji P Henson who is also wearing a neutral. She's funny, though. Ryan wishes her a happy birthday, and she says, "Thank you. I just turned 18."
6:16 p.m.: G has Sarah Hyland, who's wearing Christian Siriano, which makes sense, as we saw her at his show this week. She says they collaborated on the dress, so it's "one of a kind." She also says she's wearing "Lorraine jewelry," which we assume means Lorraine Schwartz? This may be the last time Lorraine loans Sarah anything. Then, sadly, Sarah apologizes for making fun of Lea Michele's red carpet posing on Fashion Police, because apparently she's getting flack for it from the Gleeks. Which is insane. Honey, you didn't say she was an evil she-beast from hell, you just joked that she over-serves it on the red carpet, which she does. You can come take a seat next to us.
6:25 p.m.: Jane Lynch in the house! She's wearing … can't tell if it's burgundy or dark pink or what, but it's not bad – if slightly low-hanging – and she says it's her first of four. Ryan says she seems calm, but we think she's babbling a little. Although we're happy she had a cookie last night. Cookies should be the new colonic.
6:26 p.m.: Ariel Winter from Modern Family looks like she borrowed a gown from a much older co-star. SHE is adorable, and she is also like fourteen, so we wish she'd have a bit more fun before delving into the world of Mature Lady Halter Gowns. (Hers is nude or white, hard to tell.)
6:27 p.m.: G.Ranc has Rainn Wilson. His sideburns look like hourglasses. We wish sand would pour through them and Macdonald Carey's voice would pop up and tell us they're like the days of our lives. THAT would be a trick. Rainn appears to be taking a page from Nigel Barker and trying to smize the camera his answer about whether Dwight Schrute takes over the Dunder Mifflin (Sabre) Scranton office. He does get points for the night's first Dame Judi Dench reference. Please let it be the first of many. G manages to get a sincere answer from him out of what TV casts he admires, and she looks like she doesn't know how to deal with it.
6:29 p.m.: Paula Abdul and Ryan are reunited at least. Ryan pretends he can't choke out the name of X-Factor, which is sort of funny. Paula is wearing a pretty blue shade, but of course, her ex-boss Nigel Lythgoe of Idol steals her thunder by coming up behind her and she looks kind of like she wants to puke on his tux, although perhaps we are extrapolating. Paula can't seem to put a sentence together, which bodes simultaneously poorly and well for her new show. E! pans down the dress and for a second it looks black, but in the end we do think it's navy. Seacrest asks how many times she hits Cowell in the first hour of X-Factor and Lythgoe says, "Not enough," and then asks if she hits him in the nuts. Paula slurs something about how she had fun. We totally missed her.
6:31 p.m.: A distant shot of Minka Kelly reveals she's either wearing black or navy, and long lacy sleeves that look like tattoos. Please God. Commercials ahoy.
6:34 p.m.: Kaley Cuoco has on a black strapless dress with a lacy bit that ties up over her shoulder. her nails are multicolored. Romona Keveza did the dress – it's… fine? – and she brings up her date, which is her father, whom she apparently invited by telling him he needed to get a new suit. Rachael Taylor arrives, from the new Charlie's Angels, and she might be in white? Zzz.
6:36 p.m.: Lea Michele gets the Glam Cam treatment. Kelly tells a story that she asked Marchesa for some gowns and they said no, that they were only dressing one person this year, and that person is apparently Lea Michele. Was it worth it? Unclear – right now Lea just sort of blends into the rest of the red. They cut to Nina Dobrev struggling to walk up the Glam Cam stairs in her dress – that skirt, which has a lot of fancy large pleats on it, seems like a bit of a burden. Michele can't walk either. Walking is so last year.
6:37 p.m.: Giuliana tries to kiss the Gleeks' bums further by taking special care to note that Lea Michele is the best red carpet poser in the history of posing. Since when do the Gleeks run the world? Or even E? Darren Criss pops up next to Giuliana, in glasses and a suit – John Varvatos – and he looks perfectly fine. Jake Krakowski gets out of her car in, surprise, silver or white. Where is the green, people? Also, we almost just wrote Jane Kaczmarek, which is a totally different issue, and also, where did she go? Finally, Angela Kinsey is in – surprise AGAIN – red.
6:39 p.m.: Margulies alert. Her bodice either has giant holes or giant gems on the front. We can't tell, and so we can't decide if a call to Proactiv is in order. Commercial break! Time to refuel with pretzels.
6:43 p.m.: And we're back, with the new Charlie's Angels. Rachael is all, "Ryan, you're so handsome in real life." We kind of like her now, she seems totally goofy and her blonde bob is cute. Minka looks like she's on her way to something really, really serious and it doesn't help that she never gets to talk. Rachael Taylor talks the entire time – the other two seems sort of snitty about this, but we think Racheal seems kind of hilarious and great. Maybe Minka is just depressed about her break-up. She certainly looks it.
6:45 p.m.:Next, Ryan and Kathy Griffin banter: She asks if he's "still banging the dancer" and wonders how the hell he pulled that off. She suggests he did it by "standing on [his] money." This might be ARGH. She just kissed him on the lips and then stormed off. That was actually sort of funny. Juliana Margulies comes up and helps wipe the lipstick off. She is wearing Armani Prive and the bodice has huge, huge HUGE clear beads on it that make it look like it might be made of swiss cheese. She tells us that she found the dress last night at nine pm and then wails that she and her husband had to fly coach last night. "That should be everyone's problem," she quickly amends.
6:48 p.m.: Christina Hendricks is wearing Joanna Johannson (we have no idea if that's spelled right, as we've never heard of this person before). It's sort of aggressively okay – a grey, beaded thing. Let us put it this way: she has looked way worse.
6:53 p.m.: Seacrest has Tracy Morgan/Jordan and his fiance, and Tracy gives him the most enthusiastic squeeze. He…acts like Tracy Morgan/Jordan. In other words, at any moment, he could walk over to a bird and start having a heart to heart with it.
6:55 p.m.: OH PADMA. The slit on her dress is so high that we nearly saw her ladybits when she stuck her leg out to show us her shoe. The bodice on her dress somehow makes her look topless and she sort of sounds as if she is stoned. "It's like….having….a nightgown on," she drawls to Giuliana of her Armani dress.
6:57 p.m.: Aubrey Plaza is in white, again. Her face looks pretty, but she's worn white for like six weeks straight. Do a color, love. Next to her, Retta looks bright and fun in yellow, and then Christine Baranski looks swell in a super simple yet not boring black (we think) sheath dress. We love us some Baranski. She seems like a fun broad.
6:59 p.m.: This segment with Jimmy Fallon - as much as we like him – took so long that we actually got a shot of Seth Meyers looking bored in the middle of it, while he waited to chat up Giuliana.
7:57 p.m.: And with that, we're done! Thanks for hanging out with us, and please stick around here at Vulture to follow the live-blog of the ceremony. They'll also be live-tweeting commentary at @Vulture, and Vulture's Josef Adalian will be tweeting from inside the ceremony at @tvmojoe. Enjoy!
7:03 p.m.: Joel McHale is wearing a baby blue tux jacket, which makes him look like he's about to sub for Lawrence Welk.
7:05 p.m.: We have had several segments of men talking to Ryan and Giuliana, which is fine – we love men! – but where are the LADIES? WE NEED TO SEE OUTFITS. We like Jesse Tyler Ferguson – who's talking to G – very much, but COME ON.
7:07 p.m.: Finally, a gown! Evan Rachel Wood in black sparkles and cap sleeves. She looks nice if – like everyone else – sort of boring. Also in black: Michelle Forbes, who looks surprisingly great (she is often a hot mess).
7:08 p.m.: We love Melissa McCarthy so much, but we wish someone could have gotten her a better dress. The purple one she's wearing has long sleeves, and looks too big for her and has weird seams and OH DEAD LORD, she just explained that she designed it herself. We both gasped when we learned this. Maybe…buy one next time? We still love you.
7:09 p.m.: Elisabeth Moss in….beige. Yes. Again. More beige. She is also in Marchesa, despite the fact that Kelly Osborne told us that they told her (follow that?) they were only dressing one person. Either Elisabeth Moss BOUGHT this dress, or they lied. Scandale!
7:12 p.m.: We love Duckie as much as the last next girls, but we are not paying any attention to Jon Cryer. Where is Jon Hamm? Where is he?
7:16 p.m.: Heidi Klum is in beige strapless, but only after two seconds, we cut to Zooey Deschanel with a half-beehive and a coral/pink/something dress that is exactly as you'd imagine: Strapless, poofy skirt, red or orange sash. We love that it's a color. It has pockets, which she jams her hands into, but she saves it by announcing she's going to use them for donuts. Julie Bowen pops up and announces that she is a Deschanel stalker. Seacrest kicks out Zooey for Bowen.
7:18 p.m.: Bowen and Deschanel proceed to chit-chat for a long time, leaving Seacrest to wait. She is wearing a patterned Oscar de la Renta and she looks pretty good in it. She announces that one of her twins projectile vomited on her when she was trying to hustle them out of the house. And then she dropped her phone in the toilet. Drama! Sounds like a Modern Family episode waiting to happen.
7:20 p.m.: Aziz Ansari drops by, and in the light his tux looks either gray or navy – for sure lighter than Ryan's, anyway. Interesting. The video cuts to Naya Rivera, in black, and she looks sort of classy! Read between those lines if you dare. Ian Somerhalder looks sponsored by Dep hair gel.
7:26 p.m.: Gwyneth is here, but E! can't get a good enough shot of her yet to confirm our suspicion that we can see midriff. Maria Bello is in something white and metallic and slinky – get in line, Maria – but she looks great in it, so that's something. Rob Lowe is in aviator sunglasses, and we just accidentally called him Rob Lover, which probably says a lot.
7:27 p.m.: Ryan shuttles off Betty White, and gives Will Arnett the mic while he helps Betty off the stairs. Aw. Will interviews Amy Poehler, who is in a metallic blue dress. Gwyneth and her abs are in the wings. Arnett ignores her and calls his wife Gary Poehler. She says she's wearing Peter Som and he goes, "Peter Sellers, wow." Ha. Gotta love a Peter Sellers reference. Also love that Gwyneth has to wait while they do shtick. Ryan tries to tell them that, basically, they need to go away so he can talk to Gwyneth, and they amusingly ignore him.
7:30 p.m.: Semi-awkward cheek kisses from Poehler/Arnett to Gwyneth. We are really not sure about the dress. "My dress is a little see-through, I'm realizing," she says of her Pucci. Ryan lies, "Our cameras won't catch that," as the cameras totally catch that. The dress is trying very, very hard. Or perhaps she is, in it. The midriff is sort of dopey.
7:31 p.m.: Sofia Vergara is in orange, yay, and she looks splendid. She's in Vera Wang, and it fits like a tangerine glove. Next up is Rob Lowe – there is goes, Rob Lover AGAIN, sigh – and he brought his whole family. He jokes about losing at Fantasy Football, so "I'm a loser before the Emmys even began," and we sympathize. Ryan asks Rob whether the Kardashian wedding – which happened near him – was insane. He likens the helicopters to Apocalypse Now. Well, it was apocalypse something, that's for sure.
7:34 p.m.: Seal's shirt is open to his navel, practically, which we assume is from the weather. Heidi ALSO looks like she's wearing Marchesa, but it is in fact Christian Siriano, and it is NOT GOOD. It looks like she stepped into a coral reef. Or a beige reef. Har. Ryan feigns interest in what Seal is doing while the video cuts to the crowd. They can't find anyone else interesting – oh, wait, there's Chris Noth, looking crabby with his widow's peak. Cheer up, Chris, your show is awesome. Connie Britton is also in red, and Topher Grace is there. We didn't know we missed him until just now.
7:39 p.m.: Krasinski suggests E! invest in a bow tie cam, but we don't hear anything else because we are busy admiring Archie Panjabi. We aren't sure about her dress, but we ARE sure that we love the deep teal color. Ryan pulls up Dianna Agron, who looks like an old lady in a purple satin dress with a sort of unflatteringly draped neck.
7:42 p.m.: JON HAMM THANK GOD. He's in Tom Ford, and his hair is somewhat distractingly poufy. We prefer him to look totally like Don Draper all the time. Giuliana actually admits that she is going to pretend that his girlfriend Jennifer Westfeldt isn't even there. While they chat, we spy a glimpse of Kate Winslet, in – shocker! - red. She has her bitchface on – as does Minka Kelly, whom we see again posing with the other two Angels. The body language there is not friendly, no matter what they say. Which shouldn't even matter – not everyone likes all their coworkers, but why even go there?
7:49p.m.: Kate Winslet actually talks to Seacrest, and we think she has a better body than her dress is revealing. She also claims it - a red Elie Saab – is terribly comfortable. "This dress is terribly comfortable" is the new "I eat whatever I want and just have great genes."
7:51 p.m.: Julianne Hough is wearing a sort of weird Carolina Herrera, with a strange mid-section, and no make-up at all. She at least needs more of a lip. She is sort of charming when she admits that she was "a hater" about the remake of Footloose, which we appreciate. We don't appreciate how much G is kissing her ass. She's just dating Ryan, babe, she's not the VP of E!
7:53 p.m.: Kristen Wiig is wearing brown/bronze ombre, which is a nice change from all the nude/black/red. At this point, someone could show up in florescent green and we'd be all, "at least it's a color!!!!" We've just been worn down.
7:57 p.m.: And with that, we're done! Thanks for hanging out with us, and please stick around here at Vulture to follow the live-blog of the ceremony. They'll also be live-tweeting commentary at @Vulture, and Vulture's Josef Adalian will be tweeting from inside the ceremony at @tvmojoe. Enjoy!
And you can see all the looks we pulled apart at Vulture's complete red carpet slideshow!