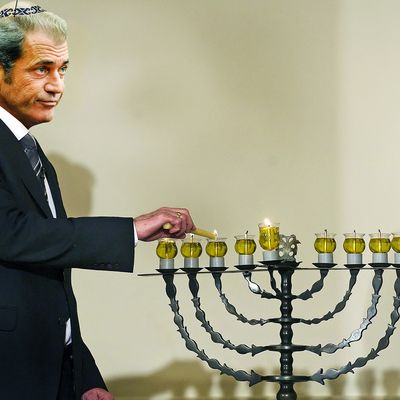 Photo: Mary-Louise Price; Photos: Kevork Djansezian/Getty Images (Gibson), JIM WATSON/AFP/Getty Images (menorah)/2008 AFP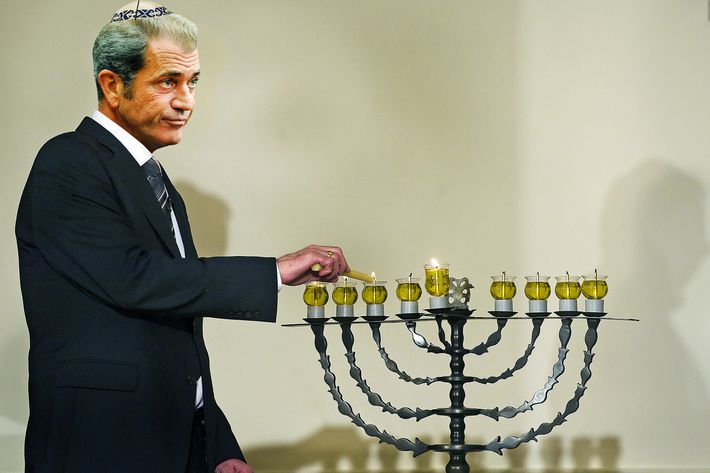 Mel Gibson, who has been known to launch into an anti-Semitic tirade in his time, has picked his next project: a biopic of heroic Jew and Hanukkah giver Judah Maccabee. This remarkable piece of truth that is so much stranger than fiction — why do you even try fiction, why do you even try! — has already inspired actor Josh Malina to joke on Twitter that this is like hiring John Galliano to direct Yentl. And one of our commenters joked that Mel working on a film about the Maccabees is like hiring Chris Brown to play Tina Turner in a remake of What's Love Got to Do With It. So! Let's actually turn this thing into a game, in the form of "Mel Gibson directing the story of Judah Maccabee is like ______ doing ____."

Here are some suggestions to get you started:
Mel Gibson directing the story of Judah Maccabee is like …
Madonna starring in The Hydrangea Story!
The Gallagher Brothers providing couples' counseling!
Kanye West directing the Taylor Swift biopic!
Tom Cruise starring as Sigmund Freud!
R. Kelly managing a Brownie troop!
Tracy Morgan starring in The Normal Heart!
Mel Brooks redoing Triumph of the Will! (Note: This example offensive only to Nazis.)
Your turn!