Photo: Christopher Polk/2011 Getty Images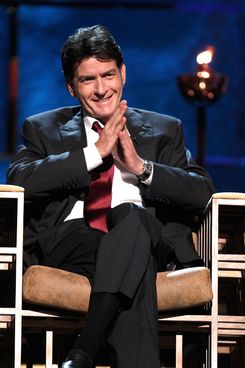 Last night the Crazy-Warlock-and-Tiger-Blood Train pulled into Comedy Central, which hosted the Charlie Sheen Roast. Now, what happens when you have a room full of crazies making fun of another crazy to his face, you ask? The best way to find out is either by tuning in on September 19 — un-coincidentally scheduled for the same night as Sheen-replacement Ashton Kutcher's debut on Two and a Half Men — or checking out a few juicy bits culled from the Hollywood Reporter's takeaway from the event.
Weirdest Outfit: Jeffrey Ross — who has roasted everyone from Pam Anderson to Donald Trump to Bob Saget — arrived decked out as walking-joke ex-dictator Muammar Qaddafi in a stunning robin's-egg-blue suit and military cap (complete with green and gold baton). Then again, Sheen did show up in a suit jacket and tie, which is rather startling.
Most Sheen-esque Red Carpet Ever: Take a guess what was lining every celebrity's favorite way to arrive at a party. That's right, half-naked — well, right breast exposed — goddesses in white body paint. How fitting.
Best Opening Line: "Friends, roasters, enablers … Lend Mike Tyson your ears." —Jeffrey Ross.
"Too Soon" Joke?: Roastmaster and Family Guy creator and voice Seth MacFarlane opened his gambit by reading a prewritten obituary for Sheen, that he then added had originally been written for recently deceased British pop singer Amy Winehouse and had only needed three simple edits: changing the gender and location of death, while cutting out the phrase "a talent who will be missed."
Conspicuously Absent Element: Any footage of Two and a Half Men, the anodyne CBS daytime comedy that so inflated Sheen's pockets (and ego). Probably for the best.
Jackass: That's right, Steve-O was in attendance and since he's not particularly funny he had to put his best talent on show: slamming his face into Mike Tyson's fist and in the process giving himself two black eyes and a broken nose. (Steve-O later tweeted this picture of his morning-after face.)
Biggest Flop: Apparently Private Practice headliner and Grey's Anatomy alum Kate Walsh. Odd choice. Did anyone else think she was a comedian?
Next Biggest Flop: Mike Tyson. The man needs a translator into English, for Pete's sake!
Obligatory Charlie Sheen Grandstanding:
Once again, I have come out unscathed. You can't hurt me. Hell, I can't even hurt me. Drugs couldn't kill me, sex couldn't kill me, the press couldn't kill me. Two and a Half Men couldn't kill me. Did you really think your little jokes were gonna hurt me? I'm done with the 'winning,' because I've already won. This roast may be over, but I'm Charlie Sheen, and in here burns an eternal fire. I just have to remember to keep it away from a crack pipe.
WARNING: The Charlie Sheen Roast is for immature and depraved audiences only. It may cause substance abuse and/or serious psychotic breaks in viewers this side of too-debauched-to-perceive-reality.
Charlie Sheen Roast: 10 Things Seen and Heard at the Comedy Central Event (Video) [THR]
Related: The Charlie Sheen Glossary: 'Winning,' Warlocks, and More