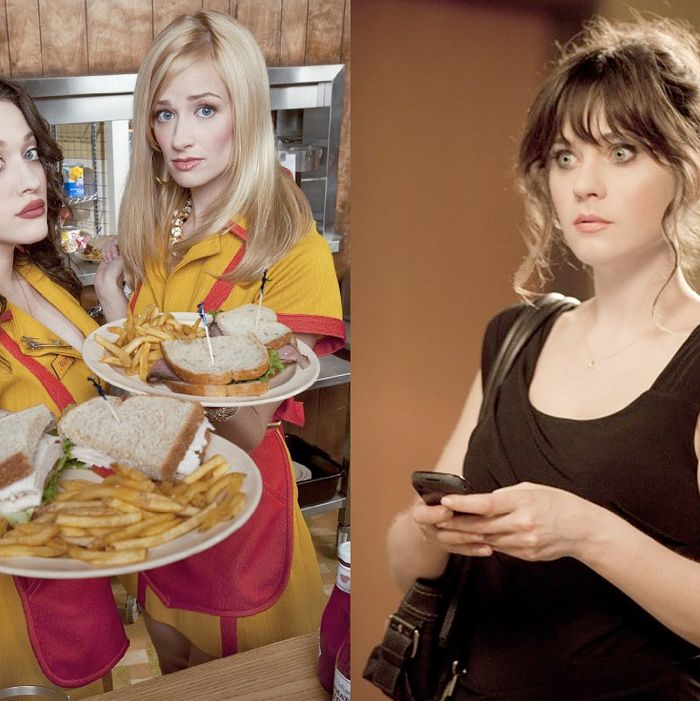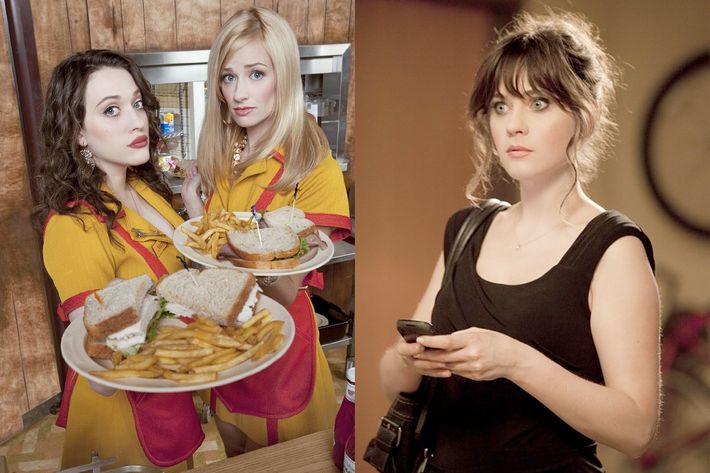 When looking at the viable successes of new TV shows about to debut, it's easy to compare Fox's New Girl (Tuesdays at 9 p.m.) to CBS's Two Broke Girls (Mondays at 8:30 p.m.). Obviously, it works on a purely literal level, as both have "Girl" in the title (the mind reels at the potential for hacky "girlfight" or "girl-on-girl action" headlines!). But besides the G-word, they have other more substantive things in common: Both sharp-tongued comedies are aiming for a young female audience, and they both have of-the-moment pedigrees (2 Broke Girls stars Thor and Nick and Norah's Infinite Playlist's Kat Dennings and is created by pilot "It" girl Whitney Cummings and Sex and the City's Michael Patrick King, while New Girl has hipster poster girl Zooey Deschanel). However, for two shows that seemingly have so much in common, they are having wildly different performances on the Anticipation Index, Vulture's exclusive tool to measure buzz through blog and Twitter chatter. While New Girl has been hovering around the top of the list, Broke Girls has been trailing way behind. Is it just the thrill of the New?
Both have been given endless on-air publicity as of late (and billboards and bus ads, too). But as of Monday, New Girl was in the No. 11 spot on the Index overall and trending upwards, whereas 2 Broke Girls hadn't even cracked the top 100. It popped up yesterday at No. 62, up from 109, after starlet Kat Dennings (who plays one broke girl — the streetwise one) gave retweeted interviews to the Hollywood Reporter and Collider, and New York Times writer David Itzkoff name-checked her as one of his "six actresses not in search of TV work." (That list also included Cummings and Deschanel, but Dennings was front and center.) But a sudden volley of press has nothing on Fox's decision to make the New Girl pilot available for free streaming last week; that sent the show rocketing up to 4th from 28th on the Index, around which it's stayed ever since.
Marketing and press (such as Deschanel's cover story in this week's New York) are only half the story, however. The real key to the New Girl supremacy is on Twitter. While Broke Girls is inspiring some messages (e.g. @KGunni: "Me: And there's a new show called 'Two Broke Girls.' Jo: [panicked and upset] They stole our lives!!!?!"), it's Deschanel's active tweeting to her nearly 600,000 followers through @therealzooeyd that is spreading most of the buzz. Not only is she an active booster for her own show, retweeting from Fox's official account @NewGirlonFox (13,804 followers) and the ambiguously official proxy based on her character's name, @ItsJessTweets (8,171 followers), she's constantly tweeting at her fans, posting cute thoughts, and generally using the thing as God and Silicon Valley intended. Dennings, a.k.a. @OfficialKat, has a not unimpressive but still dwarfed 93,000-odd followers and tweets to friends like Jane Fonda and Ronan Farrow (son of Mia), but she's not nearly as emphatic a plugger as Deschanel. (Dennings also has a blog, but she hasn't updated it since February. Sure, she's busy making a TV show, but she's missing a valuable outlet here.)
Part of the reason social media is such a "thing" is that it allows people to feel like they're connected to stars and productions. (Deschanel's rapid tweeting from her New Girl premiere party made many of her followers feel like they were her pal who unfortunately just couldn't make it to the event themselves.) Dennings's sardonic demeanor doesn't scream "hugs," virtual or otherwise, which is great for those who may find Deschanel's brand of geniality cloying. But while those people may identify with 2 Broke Girls, they can't talk to it. They can talk to the New Girl. We'll find out next week which is more important.