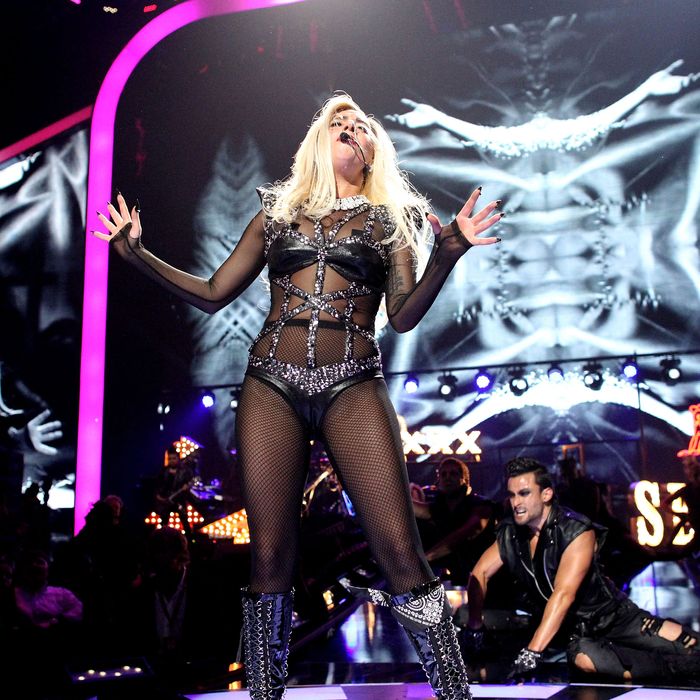 Photo: Christopher Polk/2011 Getty Images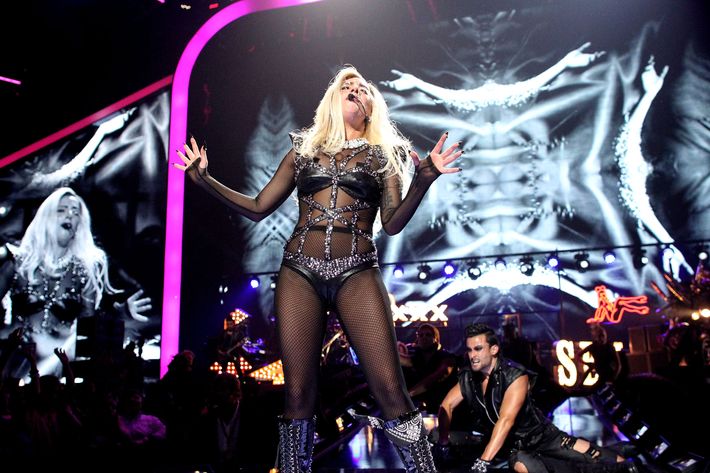 Remember the "radio," that old-timey device which, prior to iPods and Spotify, people utilized to help pass the time while stuck in traffic, riding mass transportation, or sitting outside on a nice summer day? The folks at Clear Channel Communications, currently stuck with over 800 Edsels radio stations, want to convince folks under 25, in particular, that radio not only still exists, but that it's hip, fun, and available online via their new iHeartRadio app. And in order to promote the latest version, they threw a massive two-night concert this weekend in Las Vegas called, of course, the iHeartRadio Music Festival. With more than a dozen acts such as Lady Gaga, Jay-Z, Coldplay, Steven Tyler, and Kenny Chesney performing, the lineup was enormously eclectic (no doubt to remind you of the diversity of sounds available via the app) and not particularly ambitious (much like your typical commercial radio station). Clear Channel modestly billed the whole thing "the music event of a lifetime," which, of course, it wasn't. That doesn't mean it wasn't a successful concert.
Friday: Bruno Mars, Coldplay, Jay-Z
The weekend's opening act was the always desperate to please Black Eyed Peas, who fully understood their mission: get asses shaking and fists pumping, stat. "Boom Boom Pow," the 2009 composition that spent three months atop Billboard's singles chart, did just that; follow-up songs such as "The Time (Dirty Bit)") and "I Gotta Feeling" kept the audience on its feet for the rest of the set. Kelly Clarkson hit the stage next, the first of many American Idol shout-outs to predictably pop up over the weekend (this includes Ryan Seacrest, who hosts a couple different Clear Channel syndicated shows as part of his 124 various jobs). Clarkson pumped through her girl-done-wrong anthems ("Since U Been Gone," "My Life Would Suck Without You") and admirably made room for one of the event's few ballads, a pretty take on "Because of You."
Friday's third act was Bruno Mars, who isn't letting go of the old-school soul revue persona that's served him so well the past eighteen months or so. He did the whole slicked back hair and sixties shiny suits thing, belting out chart toppers like "Grenade," "Just the Way You Are," and "Nothing on You." But he also offered the first cover of the evening, reprising the take on Amy Winehouse's "Valerie" he debuted last month at the Video Music Awards. It worked, unlike much of the set offered up by the next performer, Carrie Underwood. Perhaps we were just distracted by her apparently new bangs, or the fact that she performed a couple of songs we honestly had never heard before ("I Know You Won't"), or the moment when she talked about how she "would have killed to have been at a concert like this a few years ago" (but what, is now too jaded to be impressed by a collection of some of music's biggest names?). Whatever the reason, Underwood just left us cold, one of the few failures of the weekend.
Many in the pop-loving crowd probably had similar feelings toward Jane's Addiction, who aren't exactly radio staples (and never have been, but for a couple of big hits). Yet the band still brought the rock, transporting those who remember radio back to their college days with a fierce version of "Been Caught Stealin'." Also, it was nice to see the family friendly vibe poked about with the group's handcuffed strippers, who grooved in the background as the boys belted. The night ended with three monster acts: Coldplay, Alicia Keys, and Jay-Z. Coldplay was their grandiose, U2-esque self, wailing hits old ("Clocks"), less old ("Viva La Vida"), and new ("Every Teardrop is a Waterfall"). They also did a cover, but once again, it was of Winehouse: Chris Martin sang a few notes of "Rehab" as an intro, perhaps too predictably, into "Fix You." It was nice, though Martin's wild gyrations had some worried he was going to hurt himself. At least he was never boring, which Keys almost was during her brief set. It wasn't just the fact that she did a song or two that wasn't a "Top 40" hit. Okay, maybe it was: When you only have twenty minutes to wow a crowd, do you really want to be pulling out songs nobody knows? Or, if you're sick of your own catalogue, why not use your amazing pipes to blow everyone away with a cover?
Jay-Z, the night's closer, proved himself far savvier. Even if you had never bought a Jay-Z album in your life, you probably knew just about everything that came out of his mouth: "99 Problems," "Big Pimpin'," "I Just Wanna Love You," "On to the Next One," and on and on. His was easily the best performance of night one; it also gave Keys the chance to redeem herself when she inevitably joined him during "Empire State of Mind." Most of iHeartRadio was filled with perfectly pleasant musical moments, performances you were happy to enjoy but probably wouldn't feel the need to tell your grandkids about. However, seeing Hova and Keys do this song together brought chills and provided the weekend's highlight.
Saturday: Nicki Minaj, David Guetta, Lady Gaga
Night two began with Steven Tyler, who opened the show with what would be his sole Aerosmith tune: "Sweet Emotion," with Jeff Beck and Sting serving as backup. It was fine, but we actually were more pumped when Tyler covered the Kinks' "You Really Got Me" and busted out Sly and the Family Stone's "Thank You (Falettinme Be Mice Elf Agin)." Unfortunately, we were also forced to hear Tyler waste four minutes needlessly crooning this year's solo hit "Feels So Good"; on the plus side, he brought together the warring factions of Fox's musical series together for the song by offering up Randy Jackson on guitar and X Factor judge Nicole Scherzinger on backup vocals. (Scherzinger returned a bit later in the night, a last-second replacement for an ailing John Mayer; it's hard to remember a word she sang.)
Next up was rapper Nicki Minaj, who thundered through hits such as "Super Bass" and "Moment for Life." She also seemed to have not gotten the all-ages memo, singing some of her radio-unfriendly "Shit It On Em" and causing the parents in the house to cringe when she commanded the legion of teen girls present to put up their "No. 2's." She was followed by Rascal Flatts, who had the considerable (judging by applause volume) country-loving contingent happy on their feet right away. Full disclosure: This writer got snacks during the beginning of their set, though returned in time to hear their pop-friendly cover of "Life Is a Highway." It was during the opening of this song that one man excitedly high-fived everyone around him because, yes, This Was His Jam. Good for you, sir. Since we're discussing the crowd, we should mention that the audience of around 12,000 fans (many of them contest winners) was a very Vegas-y bunch (read: drunk off their collective asses) who all seemed very appreciative to be where they were. They also seemed genuinely blown away by an eight-minute D.J. set by Jersey Shore's Pauly D, who spent much of his stage time commanding the audience to fist pump. Suddenly, the MGM Grand Gardens Arena was transformed into mid-forties Germany, the crowd violently fist-pumping as if their lives depended upon it. Scary stuff.
After Minaj did her thing, yet another Idol vet, Jennifer Lopez, thundered on to the stage, descending from a giant platform and ordering us all to "Get Right" (she even had a glittery cane to enforce her dictate). That was followed by a mix of new old hits ("I'm Real," "Let's Get Loud," "Jenny From the Block"), as well as the recently released "Papi." (She did not drive out in a Fiat, as she does in her TV commercials/video for the song. Her product placement has limits, people, and it ends at a paid gig for corporate radio.) Her set ended with what we believe music critics like to call a "club banger," her 2011 smash with Pitbull "On the Floor." The audience responded to J. Lo with some of the loudest applause and obvious adoration of any of the acts during the weekend; suddenly, we understood why it took so long for Fox to wrap up a deal with Lopez to return to Idol next January. By comparison, pity Sublime with Rome (Ramirez): Most of the largely under 35 crowd had no idea who they were, something not helped by the fact that they opened their set with newer songs like "Panic." There was better reaction to radio hits such as "What I Got" and "Santeria," but overall, the group's inclusion in the weekend was probably a mistake (the Red Hot Chili Peppers could've filled the punky-ska-ish slot much better).
The mood in the arena improved greatly when dance titan David Guetta hit the stage. Even though he was basically just playing records for the crowd, they were club monsters ("When Love Takes Over," recent release "Little Bad Girl") that had folks trying to dance between the seats. Usher joined Guetta for his final number, new single "Without You." Guetta would've made a perfect temperature-raiser to lead into the night's closing act, Lady Gaga, but instead he was followed by country superstar Kenny Chesney. Even if his music was directed at an entirely different section of the audience than was just cheering for Guetta, his stage presence couldn't be denied: He had an easy banter with the crowd and his celebrate-the-moments-of-your life litany of singles were boot stompers that worked even if you weren't familiar with them.
After the longest set-change of the two nights — more than twenty minutes, by our clock — her Gaga-ness finally took the stage a bit after 11:30 p.m. Las Vegas time Saturday. While some of the folks in the audience were a bit beat after four solid hours of music, most at the concert were on Vegas Standard Time, which meant the night was just beginning. Gaga did not disappoint those who had waited for her, performing pretty much every hit she's had (and there are a lot!) in what was easily the longest set of iHeartRadio (about an hour). This was not just another best-of set, however; Gaga actually got to give a full-fledged concert. That meant doing covers ("Stand by Me," "King of Pain" with guest Sting), coming back for encores, letting her band groove for a few minutes on their own. She also dared to briefly stop the party, dedicating the ballad "Hair" (from her latest release) to Jamey Rodemeyer, the Buffalo teen who killed himself earlier this month after relentless bullying. It was as powerful as it seems.
In the same way scanning through a whole bunch of radio stations during a long road trip can be lots of fun, the iHeartRadio fest actually delivered an enjoyable two evenings of music, allowing those who attended (or watched online) the chance to sample a broad spectrum of superstar artists in a relatively compressed amount of time. In that sense, it repped the best of what Top 40 radio used to be, before computerized playlists perfected the science of tailoring music to various psychographic groups. And the fact that everything moved quickly — most sets were 20 to 25 minutes, a rotating stage meant an average wait time of five minutes between artists — meant that Carrie Underwood devotees didn't get too fidgety waiting for Bruno Mars to finish up. More than a few times, performers mentioned that they were looking forward to returning "next year," perhaps indicating that Clear Channel is planning to make iHeartRadio a regular event. This would not be a bad thing.