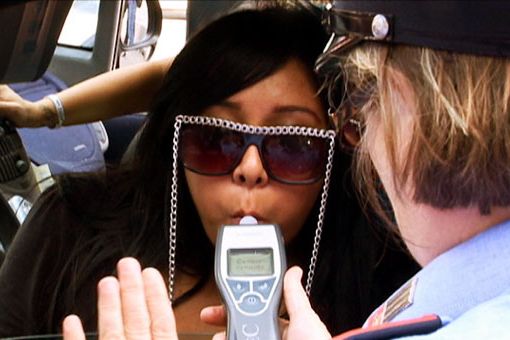 We must admit that when Snooki first said "cuca" last night ("my cuca will come out"), we forgot what that meant. In the context of Jersey Shore and Snooki's life, it could mean a variety of things at once: poop, vagina, sadness … Is Cuca one of those words like Smurf or shalom? No, it just means vagina. Anyway, Snooki's and Deena's cuci (yep, we've pluralized it) were on full display in a particularly filthy dozen:

1. AMERICAN HAND JOBS BILL
With 9.2 percent unemployment, Snooki complaining about how much she hates her fake job of folding pizza boxes for ten minutes a week went over well. And if Ron screaming about pizza at you through a megaphone won't get you hungry, then nothing will. Anyway, JWOWW and Snooki are taking a well-deserved break over a vile-looking pizza garbage omelette when they say that the gang's going to the beach town of Riccione for the weekend! They pronounce it "Rick Cho Hole," of course, which makes it sound like a very unfortunate party game played by seventh graders in Seaside.
2. SO WHAT IS RICCIONE, YOU ASK?
Is it Madonna's real last name? A San Francisco Treat? The girl from Mermaids? The pizzeria owner says Riccione's a place where he "lost many pieces of brain," so we're guessing it's the scene of an awful traffic accident. Whatever it is, the girls need to shop for a trip to it. As Snooki haggles with the shop owner, she pleads "we're hardworking citizens!" They are neither.
3. PACKING UP THE CAR
After a tense chat with Jionni, where she only cuca'd (yep, we verbed it!) the camera thrice, they all commiserate outside in their uniforms, over smokes, which has a disquieting Prisoner of Cell Block H feel to it. More disquieting? While packing for their trip, Deena holds a rigid pair of blue underpants aloft and asks aloud, "Are those period underwears?" And no, she didn't mean "period underwears" as in undergarments from another time, like the 1800s. Sadly, she meant what you think she meant. And she showed her work. Anyway, "Team Cuca," as the girls referred to their self-titled worst Survivor tribe name of all time, and the guys lugged their bags down to the two rented Fiats below. Predictably, it's a lot of stuff for a 24-hour jaunt. "Eight bags, two Fiats," complains Pauly, "you do the math!" We did — it's four bags per car, genius.
4. SEASIDE + EUROS = RICCIONE
Snooki has it right when she refers to Riccione as an "island or a border continent"; whatever it is, it looks eerily similar to the Shore, down to The Situation doppelgänger they see. The gals get ready to go … shopping … by oiling up their undercarriages. They all sort of look and sound like Mike Myers's Linda Richman character, while JWOWW has a hint of Brigitte Bardon't. The girls quickly make their way to a bar and drink a liquid that can best be described as a combination of Windex, lighter fluid, and the stuff they use to test absorbancy in Stayfree commercials. An Italian John C. Reilly type scolds them. Snooki and Deena get pretty hammered pretty quickly and things start to get good.
5. DANCE DANCE REVULSION
The rest of the episode is rated NC-35. The guys and girls reunite in time to watch Snooki and Deena dance in a way that makes Ronnie look like Rudolf Nuryev. Deena manages to dance so violently and erratically that her underpants fall off. Who does that??? Babies? Little dogs in costumes? People with no legs? It's a ghastly sight.
6. "I PISSED ON MYSELF"
This is what my soul says out loud whenever I make it watch Jersey Shore. It's also what Snooki says/does repeatedly in Riccione. Pop quiz: What's grosser — watching Snooki/Deena dance, or watching them eat? We got to see both! The gang was upset that a still-drunk Team Meatball was late to dinner, and watching them eat seafood is something won't forget anytime soon. After dinner, they all pile in to some more tiny Fiats and head to the club. The girls' Fiat is a hellish clown car filled with slurred-speech Brenda Vaccaros. Once at the club, Sitch wasted no time in making out with an Italian she-he by simply saying "kiss, kiss, kiss, kiss."
7. THE LINE THAT MAKES US WISH WE WERE DOING RECAPS OF NCIS INSTEAD
"All I know is … Deena needs a wax" —JWOWW 9/16/11. Yeah, so at the club, Deana forgot to wear underwears and repeatedly flashed the entire club. It should be a wake-up call when Jenni is the voice of reason, the Sally Jenni Raphael of the group. But our FAVORITE line of the night had to be "I saw your vagina reflecting in the window." If you think that's gross, now imagine James Blunt singing it, or the guy who sang "So You Had a Bad Day." What was his name? Daniel Twatter? Anyway, we're not sure if Nielsen keeps track of such things, but this episode must have set some sort of ratings record for VSPMs — vagina shots per minute. By the way, we have to take our kid to preschool in 30 minutes, just thought we'd throw that out there.
8. QUICK AND FUN SCIENCE EXPERIMENT!
If you have a minute, go to your kitchen and find two oranges. Tangerines or deflated balloons filled with dog chowder will do, too. Take the oranges/tagnerines/chowder-filled balloons and either glue, tape, or staple some bathtub drain hair to them. Next, dip them in schnapps or John Goodman's bum. Finally, have these things you've made pretend to lick each other — and there you have it! You've successfully re-created the epic, three-hour Snooki/Deena make-out session! AAAAAAHHHHHHHHHHHHHHHHH! It was funny at first, but can you imagine being JWOWW sitting next to this in the backseat of a tiny car? They came back to the hotel and went right to bed. Just like the moon landing, we'll never forget where we were when we witnessed this — on the floor of our bathroom crying blood.
9. SWAGGER-JACKED!
Great catchphrase, Pauly! Now we know what it's called when somebody steals Mick Jagger's gift bag! It's not that, you say? It's when someone sort of copies your look and shtick? Never mind. JWOWW recaps the evening by wishing she had a Men in Black zapper to erase the things she saw the night before. Is she reading our recaps??? JWOWW totally swagger-jacked us!
10. WHAT HAPPENS IN RICCIONE, STAYS IN RICCIONE, AND IN YOUR BLOODSTREAM, AND NEEDS TO BE TREATED WITH ANTIBIOTICS
Everyone tries to piece together the events of the previous evening. Vinny says "it smells like sweat and regret in here." Hung-over Deena, who in the morning resembles Richard Lewis, has no idea what happened. "Usually even if I'm blacked out I know I did a sex," she says, to the dismay of Gloria Steinem and Strunk & White. The Unsolved Mysteries re-creations continue. JWOWW claims she saw one of them in bed with "knees up" — she should have looked for scabs, she'd have known those knees were Deena's. On the drive back to Firenze, the girls smell burning rubber in their car. Please write your own jokes for that one. Thus endeth the Riccione trip.
11. WE HAVEN'T SEEN CONTAGION YET, BUT ….
Is the opening scene in Pizzeria O'Vesuvio, with Snooki and Deena handling dough? Jionni's okay with Snooki's make-out, BTW. Phew. Anyway, Snook and Deena try to get out of work the same way that Fred Flintstone and Barney Rubble do: They hide under trash cans. What smells worse now, the girls or the trash cans?
12. SNOOKI REAR-ENDS A COP
No matter how you define this, it's not surprising. It wouldn't be a season of Jersey Shore without Snooki being hauled off in cuffs. After her fender bender, we're led to believe she's in huge trouble, but next week's promos show her at home waiting for Jionni's visit. Way to build suspense, promo department! By the way, between this car accident and Mike's wall accident, neck-braces are getting a lot of airtime this season. They're the new clogged toilet!
TO SUM UP: Great, fun episode featuring a road trip, unconscious intra-cast hookups, and a car accident!