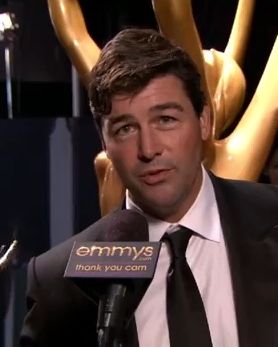 Friday Night Lights fans are still flying high after last night's Emmy wins for Kyle Chandler and Jason Katims, but the slight sting of Connie Britton not winning remains. Plus, in his flustered state, Chandler didn't thank her (though he didn't thank his actual wife, either, so surprised was the former Coach Taylor). Chandler attempted to rectify that on the backstage "thank you cam," but everyone knows that Coach and Mrs. Coach will probably have to crouch down under a table at a barbecue and whisper-argue this one out.
Julianna Margulies took a slightly different approach, giving a shout-out to her BFFs, the Teamsters:
And Julie Bowen thanked "the wonderful lesbians" who get her out of her trailer every day:
As a bonus, here are Connie Britton and Jason Katims presenting a creative arts Emmy last weekend. Why wasn't the presenter banter this good last night?