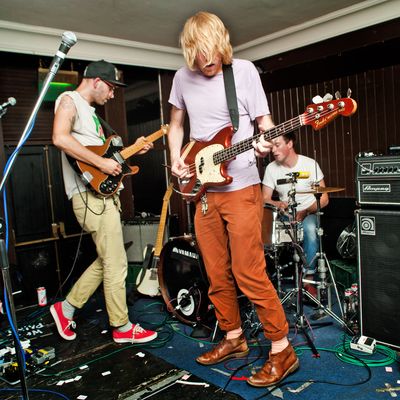 Photo: Ollie Millington/2010 Ollie Millington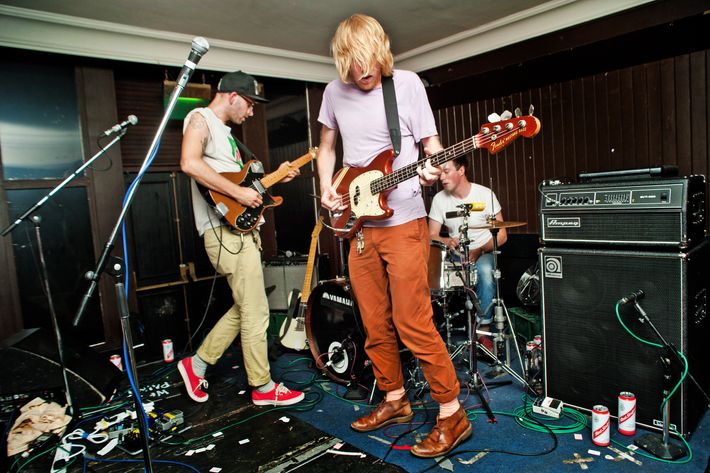 Endless Now, the new album from a London trio called Male Bonding, offers as good an opportunity as any to make a confession: Lately nothing sounds quite so nice to me as a big slurry sheet of guitar noise, the sort that puts a person in mind of dusty cinder-block basements full of beat-up instruments and diffident kids. This sound is Male Bonding's wheelhouse. They're an indie-rock band that careens wildly from one big melody to the next, fast and loud and loose, in a way that's easiest to describe with references to the early nineties, to the band's label (Seattle's Sub Pop), to basements, to slackers and flannel, to some happy-go-lucky act that very much enjoyed Nirvana. Their first full-length, last year's Nothing Hurts, was a jumble of emotions, possibly best typified by the way they named one very enthusiastic song "Weird Feelings." What those feelings actually were, and what specifically was so weird about them, wasn't really the point; the fun was in the fact of leaping around venting them. "I've felt like this for ages," it begins — "just didn't know how to say it."
Male Bonding is not the only band plowing these fields. The past couple years have seen a distinct uptick in the levels of shaggy, energetic rock on offer, to such an extent that I'm clearly not alone in redeveloping a big soft spot for it. You could say its all part of the much-heralded oncoming wave of nostalgia for the nineties, wherein everyone breaks out their old work-shirts and reminisces about grunge for a while. No doubt you'd be partially right about that. But you could just as easily say it's a valid reaction to the pristine sweatlessness of today's indie-rock bands, so many of which are expert explorers of elegant poses and dreamy sounds — exactly the kind of stuff that nothing cuts through like some big amps and shouting.
That craving — that sense that a certain energy has fallen by the wayside, and would be welcome back — is a big part of why Male Bonding's debut wound up one of my favorite records of last year. This wasn't always easy to explain: Nothing Hurts is a great and enjoyable record, but it can be hard to make a case for it in and of itself. Is it saying anything of immense importance? Not explicitly. Is it a towering sonic achievement, a grand push forward in what music can accomplish? Not exactly. But its energy and its grace felt useful, especially as a reminder that indie rock can sound like duct tape and shrugging, instead of worsted-wool sport coats and nightlife. My constant spins of the album weren't driven by any great aching need to always hear Male Bonding specifically — the bulk of them immediately turned into extended binges on every other rangy rock band that made a good segue, everything else that seemed to be coming out of the right basement.
For reference, here is a quick and not remotely exhaustive list of some things that have fit that bill: The slouchy Pennsylvanian punk of Pissed Jeans, whose video for "False Jesii Pt. 2" might be the new millennium's finest example of very clever people being sneery and disaffected. The noise-loving L.A. duo No Age (see "Teen Creeps"). Ropy, anthemic rock from the Brooklyn trio Mr. Dream (see "Crime"), then thicker noise and hoarser throats from their boroughmates, the Men (see "Bataille"). JEFF the Brotherhood with heaps of warm fuzz and seventies-rock melodies (see "U Got the Look"). The chilly racket of a Danish post-punk band called Iceage (see: "You're Blessed"). Slithery sounds from Indiana's TV Ghost (see: "Sleep Composite") and jerky, nervous ones from Atlanta's the Coathangers (see "Hurricane"). And big sheets of blissful, echoing noises from San Francisco's Weekend (see "Monangah, WV"). Not all of these bands are incredibly similar, or related — but for some of us, taken together, these things can add up to something like one big cool drink of water, no matter how many different directions it happens to be coming from.
How well Male Bonding's latest fits into that craving might depend on whom you ask. Endless Now is smoother and sweeter than the band's been before — the guitar lines don't veer off into spiky tangles, the tempos don't jolt and switch, the voices don't slur or yelp as much. On some level, it's an ingratiating pop record. But there's still something to the way its six-minute single, "Bones," coasts steadily through a long blur of chords, and asks you to just sink into the sound: The band is resurrecting the old shoegazer's vision of guitar noise as something hypnotic and tactile, something you let wash over you. Something that can be as comforting as a big fuzzy blanket or as achy and confused as you might be feeling when you put it on and crank up the volume. More importantly, the band hasn't lost any of its style — the strangely relaxed grace with which it can zoom through its songs, hitting each mark as if effort isn't even an issue. These aren't world-changing qualities for this act to have. For any act to have. But Male Bonding seem to have them at the exact moment when some of us have need of them, and that says a great deal in their favor.