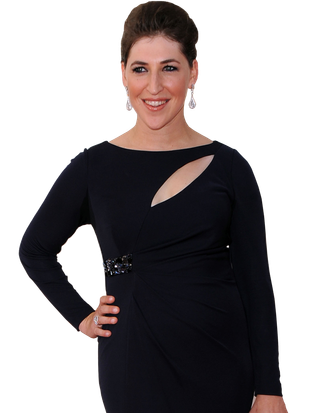 Mayim Bialik currently stars as Über-geek Amy Farrah Fowler on The Big Bang Theory, but fans of a certain age will forever remember her as Blossom Russo, the precocious hat-wearing teen from nineties coming-of-age show Blossom. After taking a decade off from acting to earn a Ph.D. in neuroscience and start a family, Bialik is back in the spotlight. Vulture spoke with her about season five of The Big Bang Theory, her secret Blossom crush (it wasn't Joey Lawrence), and how dissertation committees are a lot like TV executives.
Amy and Sheldon [played by Jim Parsons] shared a kiss in season four. Think they'll get to second base this year?
Oh no, I think that's pushing it way too fast. I like to joke that I also got to kiss Kaley Cuoco in that same episode, so I think it's more likely I'll get to second base with her.
When we first meet Amy, she's trying to fit in with the crew. Was some of that coming from a real place, since you were joining a tight-knit cast?
I hadn't thought of it like that, but yeah. I have different techniques to try and fit in than my character. I like to think I'm more suave, but everybody on the cast is pretty hip and I find myself not, so I think there's definitely a lot of awkwardness. Also, I'm one of the older people. Kaley and Simon [Helberg] and Kunal [Nayyar], they're like little whippersnappers with all their technology and iPads; and Jim and Johnny [Galecki] and I are the elderly cast members.
What made you decide to get back into acting?
I had my first son in graduate school in 2005, and my husband and I fell in love with being parents in a specific way — the umbrella term is "attachment parenting." For us, what that meant was we wanted me to be the primary body next to our children for their formative years. I got pregnant with our second son the week that I filed my thesis, and I knew that a research professorship or doing a postdoc wasn't gonna work. So I tried my hand at acting once our little guy was out of the infancy stage. We would all pile into the car and I would nurse him in the car and run into an audition and run back and nurse him again, and we'd all go home. I just sort of started auditioning for things, and The Big Bang Theory audition came in. I had never seen the show — I had to Google "Jim Parsons" — and then I got the job.
Was it hard going from a discipline that seems more merit-based to one that seems a little more arbitrary, like acting?
I think you'd be surprised by how arbitrary academia can be, especially in the dissertation process. There's a lot of ego and bureaucracy and luck involved. I think the personalities of my dissertation committee might as well have been a group of network executives. And also the process of getting a Ph.D. is a series of meetings and oral defense of a dissertation, which is very auditionlike in its nature.
When did the recognition start to taper off after Blossom?
I went to college right away and it was pretty hot and heavy; I literally walked off the television screen and into the UCLA quad. But I would say probably the first three years were the most intense, and by then I had retreated pretty far into my snail shell. Not that I didn't welcome attention, but I kept my eyes down more and became more of an introverted person.
Were you pining to be an introvert the whole time you were on Blossom?
Looking back, I was never entirely comfortable in large social situations. I think I'm one of those people that makes a much better adult than I did a teenager or child. And I'm a nervous performer. I always was an anxious performer. Before every scene, my heart is in my throat and I'm sure I meet the DSM-IV criteria for severe performance anxiety.
You also must have been nervous about the responsibility of carrying a show.
I think that affected a lot of different aspects of my psychology and personality. There's no way to know what it's like to be placed in an industry where at 11 years old you're being told to your face you're not cute enough, you're not tall enough, your voice is too weird, your nose is too big.
So I take it you won't be encouraging your kids to go into acting?
Uh, pretty much. Neither of my boys seems to have the personality that would be happy in that kind of environment. They're both cautious, and at this point very gentle and pretty slow to warm up. But also, yeah, I don't know if that's a lifestyle that I would choose for them, especially this young.
Joey Lawrence was quite the Tiger Beat heartthrob back in the day. Did you ever have a crush on him?
I actually had a crush on Michael Stoyanov, who played my older brother. He was much more my type, sort of the dark brooding type. He turned me onto Elvis Costello when I was 16. Joey Lawrence was much more the generic mainstream kind of guy; I went for very quirky guys.
You were away from television for more than a decade. How has acting on a TV show changed since then?
There's a lot less precision necessary. When I was on Blossom, things had to be done really perfectly. You had to hit marks perfectly. We did all of our own blocking, and now they have professional stand-ins so you don't stand under all those lights all day — which I think is kind of funny, because to me part of the fun is getting to work with the crew more. In some ways, there's more paper use than before. When I was on Blossom, we used to have to collate our own scripts, so if there was a script and you got changes, they would give you the stack and you had to insert them into the script. I'm shocked every day on Big Bang Theory when I get a brand-new collated script.
You've got a parenting book coming out in March. Can you give us some details?
It's called Beyond the Sling. It's basically a series of chapters anecdotally reporting on what it looks like in our family to practice [attachment parenting]. So there's a chapter on what breastfeeding looks like in our house; what sleeping with our kids looks like; what natural and home birth looks like. It's sort of a manifest of the natural parenting community. I feel like there's nothing original in the book. It's just, Wow, a celebrity who talks about holding her newborn over a potty instead of using diapers.