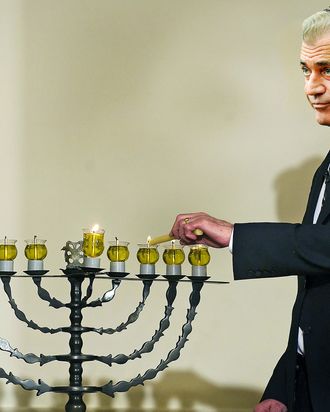 Photo: Mary-Louise Price; Photos: Kevork Djansezian/Getty Images (Gibson), JIM WATSON/AFP/Getty Images (menorah)/2008 AFP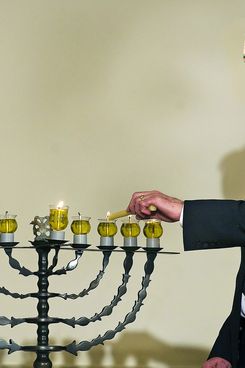 When news broke that Mel Gibson's Icon Productions had made a deal with Warner Bros. to develop a movie based on the story of Judah Maccabee, Hollywood, the media and many, many Jews reacted with bewildered astonishment at the cognitive dissonance: The same Mel Gibson who in 2006 drunkenly slurred that Jews were "responsible for all the wars in the world" now wanted to make a Jewish war movie? The story sped around the world as a fait accompli, but there are five major misconceptions about Dirty Hanukkah Harry (working title). Here they are, and why they're wrong.
1. Hollywood is ready to put Mel to work again.
After his ex-wife Oksana Gregorieva leaked tapes of his mouth-frothing, violent phone calls, he was fired by his William Morris Endeavor agents and declared a pariah. And it looks like he still is, at least on the agency side: While there have been some sub rosa conversations between Gibson's attorneys and the other two major Hollywood talent agencies, Creative Artists Agency and United Talent Agency, they have yielded firm thanks-but-no-thanks replies, and that hasn't changed. "It would be too problematic to represent this guy," explained one agency managing partner, adding resignedly, "There's potentially a lot of collateral shit you're signing up for." Representing Gibson would mean not only awaiting the next possible scandal or disaster, but the potential loss of clients who might take umbrage at sharing an agent with him.
It seems that the only people willing to work with him in Hollywood are at Warner Bros, which leads us to…
2. With major studio backing, he could lure some stars for his project.
"Setting this movie up is not the problem," explains one producer on the Warner lot familiar with the project. "Getting it made is the problem." Gibson has always been sought after as a filmmaker, particularly at Warner Bros., where current production chief Jeff Robinov - a former ICM agent who worked closely with Gibson's late agent, Ed Limato - has long tried to get Gibson into the director's chair. (After Passion of the Christ, Robinov tried to get him to direct Under & Alone, a Donnie Brasco-like story based on ATF agent Bill Queen's 28 months undercover infiltrating the Southern California Mongols biker gang. In the end, Gibson declined.)
But while Robinov is a maverick who cares only about the quality of the movies being made, many actors and directors on the Warner lot don't share his broad-mindedness. "I am not sure who you'd cast in this movie. Leo [DiCaprio] walked away from [Gibson's] Viking movie after the Oksana tapes surfaced," explains the producer, "Then Jeff tried to put Mel into Hangover 2, and even after he tried to press the other actors, everyone balked."
Then again, it wasn't like Apocalypto starred the cast of Ocean's 11: Are those Mayans still available, and can we get them scheduled for a yarmulke fitting?
3. This is a brand new deal
Insiders at Warner Bros. say that while news of the deal broke last week, the project was actually set up back at the start of the summer. We're told that Gibson and scriptwriter Joe Eszterhas met privately with Warner Bros. studio president Jeff Robinov and production chief Greg Silverman, and that the two execs bought the pitch "in the room." And, says our Warner's source, it's a project Mel's wanted to do for years, pre-dating his '06 DUI scandal.

So why is the news just leaking now? This is just conjecture, but the release did come on the heels of the Vatican's rejection of claims by the Irish prime minister that the Church stymied efforts by Irish bishops to report priests who sexually abused children to police. As TMZ has reported, Gibson sees this film as a chance to make a statement about corruption in the Catholic church; the Vatican's move might have motivated him to announce his intentions.
4. The Maccabee project is a blatant peace offering to the Jews.
It's easy to look at this like as a big-budget apologia for past comments hurled from the back of a police car. But its Hebraic genealogy may be incidental: Gibson told The Atlantic's Jeffrey Goldberg that he wanted to take on the tales because they're "ripping good reads," and Warner Bros. insiders tell Vulture that inside the studio, the top secret project is being referred to as "the Jewish 300." The goal is to create a film that mimics Zack Snyder's Spartan green-screen epic and connects with a huge, young male audience. So while it may have the side effect of convincing more people that Jews can be action heroes, that's likely not the first priority.
Also - don't panic, anti-Semitism watchers! - the tale of Judah Maccabee does leave wiggle room to insert nasty stereotypes if someone were so inclined: At the time of the Maccabees' uprising, many of the urban upper class of Jews of Judea wished to dispense with Jewish law and adopt the Hellenic lifestyle of their Syrian masters. As such, there's room in the picture for plenty of moneyed, corrupt and callow collaborator Jews amongst the revolutionaries!

5. This is gonna happen
Keep in mind: this is just a pitch. No script has even been written yet. It may not be finished, Mel may not like what is finished, Warner Bros. may not like any of it, or the Rapture could occur, rendering all filmmaking moot.