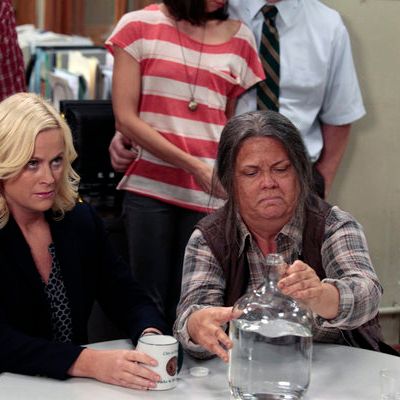 Photo: Chris Haston/? NBCUniversal, Inc.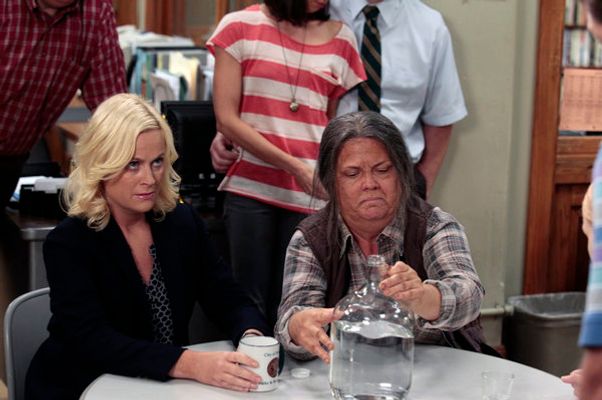 At this point, a Parks and Recreation episode that revolves around Ron Swanson's castrating (figuratively, and in Tammy 2's case, possibly literally, although it would be made to look like an accident) ex-wives has the feel of a Simpsons "Treehouse of Horror" — an event, and dependably stellar. The show's creators recognizes this by simply calling the episodes "Ron and Tammy," "Ron and Tammy 2," and now "Ron and Tammys," in honor of the unholy triumvirate of Patricia Clarkson, Megan Mullally, and now Paula Pell as Mama Swanson, Tamara (she goes by Tammy), and by limiting themselves to one major episode a season. It's a silly gag, and I wouldn't bet against Ron having a doomed relationship down the line with a new young sociopath whose name just happens to be Tammy, but the construct also makes for a master class in character development and, as if it even bears mentioning, Nick Offerman's acute Nick Offerman–ness. The fact that the show went to this in the season's second episode is a bold gambit and says everything about its confidence — a "Ron and Tammy" is not an event to build up to, but one to throw out there and then seek to surpass.

Clarkson deserves credit, if not seventeen Emmys, for making Tammy One meet the level of terror that the finale teased, before the show even knew who the character was going to be, much less played by. Her putdowns are chilling enough as she observes Leslie, Andy, and April try to sort through Ron's impossible pile of receipts and "receipts" as he prepares for the audit that could send him off to make toilet wine in a Terra Haute jail cell. ("Jail, Ron. Jail! Ron, jail!" "Ron! Jail, Ron.") April, for her part, is in awe of the cold, distant mother she never had. But the episode's boldest leap is also its most brilliant: Just as Tammy Two turns Ron into a demonic sex maniac, Tammy One turns him into an obedient milquetoast who thinks the government knows what it's doing. Sorry, a mustache-free obedient milquetoast who thinks the government knows what it's doing. It's an absurd stunt until you realize that, since he started dating Tammy One — who both helped deliver him and taught his Sunday school class — at age 15, this kind of regression to a helpless naif, just happy to be getting laid, actually makes sense. Like, as a human. The fact that it's funny is a bonus, but rather than start with the joke, this show starts with the reason and ends with the joke.
Tammy One isn't actually auditing Ron, but rather combing through his finances to find his buried gold stockpiles (or are they?), which, of course, is ridiculous. Andy, who can't tell a calculator from a Rolodex, actually has a winning idea, appealing to Tammy Zero to bring Ron back to form in time for the battle royale budget thunderdome. Over a jug of homemade mash liquor, which is also used to peel the varnish off speedboats, the two Tammys throw down for the soul of Ron Swanson, while Leslie nearly dies trying to keep up.
It says a lot about a show when the presence of Roy Hibbert, Detlef Schremp (again!), and Jean-Ralphio make for a distant B-plot. Tom needs Ben, now known as Jell-O Shot, to look at 7Wenty Entertainment's finances, or lack thereof. (Has any show ever made sloppy bookkeeping funnier? Should NBC just go ahead and option The Pale King for Greg Daniels and Michael Schur? That would be so Snapple.)
And the C-story, in which Chris shoots a diabetes-awareness PSA with a level of intensity that David O. Russell would think over-the-top, manages to make its one gag work, but also says plenty about Ann's complicated attraction to him.
Hump Day. Am I right?