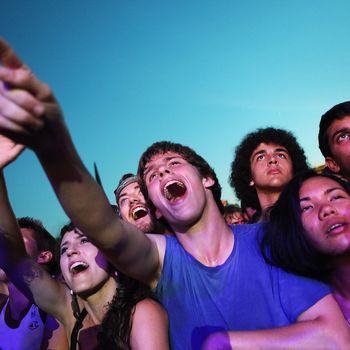 Photo: Roger Kisby/Getty Images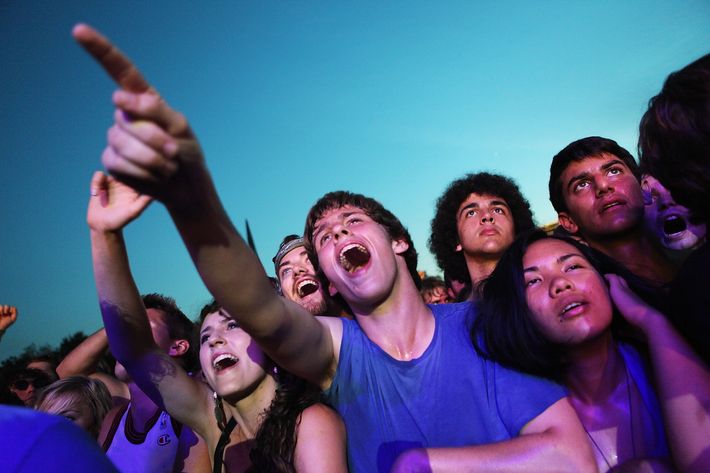 "What did we do to deserve Pitchfork?" Richard Beck asks at one point in his exhaustive review-slash-indictment of the indie-music behemoth in this month's n+1. His answer, which involves unfavorable assessments of Pitchfork, indie-rock music, and the twentysomething populations of most major American cities, is not available online; instead, Vulture did the heavy reading and picked out ten representative quotes to give you a taste of what happens when a Brooklyn literary journal takes on the Internet's biggest music site. One quick note before the harshing: In a nod to Pitchfork tradition, Beck assigned the website a numerical rating to accompany his review. That number? 5.4. We're a little afraid to imagine how a 2.9 would read.
On the site's early hip-hop coverage:

Reading through the archive, watching Pitchfork begin to discover thoughtful, politically liberal rap groups like A Tribe Called Quest and Jurassic 5, I felt a shock of white suburban recognition. In 1998, Lang Whitaker gave a 7.1 to the Black Eyed Peas, speculating that with "a line-up that looks straight out of a Benetton ad," maybe the group could "assume their mantle as hip-hop's street saviors."

On the site's "Edenic Phase":

It must have been nice to write on the internet and feel that the only people paying attention were your friends.
On the 10.0 review of Radiohead's Kid A:

Of course, the review told you little about Radiohead's music that you couldn't have heard on your own, but it told you everything about what kind of cultural company Radiohead was meant to keep. This technique became Pitchfork's signature style.
On the site's lack of commenters:

Perhaps Schrieber sensed that because Pitchfork's reviewers were themselves amateurs—in another context, commenters—a commenting feature would have threatened the fragile suspension of disbelief that powered the Pitchfork machine.
On whether indie rock "sucks":

Instead of producing music that challenged and responded to that of other bands, they complimented one another in interviews, each group "doing its own thing" and appreciating the efforts of others. So long as they practiced effective management of the hype cycle, they were given a free pass by their listeners to lionize childhood, imitate their predecessors, and respond to the Iraq war with dancing.

On Pitchfork's inability to produce a "significant critic":

Pitchfork couldn't develop intelligence on the individual level because the site's success depended largely on its function as a kind of opinion barometer; a steady, reliable, unsurprising accretion of taste judgments. Fully developed critics have a tendency to surprise themselves, and also to argue with one another, and not just over matters of taste—they fight about the real stuff. This would have undermined Pitchfork's project.
On the site's critical style:

Faced with readers who wanted to know how to be fans in the internet age, Pitchfork's writers became the greatest, most pedantic fans of all, reconfiguring criticism as an exercise in perfect cultural consumption. Pitchfork's endless "Best Of" lists should not be read as acts of criticism, but as fantasy versions of the Billboard sales chart.
On the site's "obsession with identifying bands' influences":

When a pop critic talks about influences, he's almost never talking about the historical development of musical forms. Instead, he's talking about his record collection, his CD-filled binders, his external hard drive—he is congratulating himself, like James Murphy in "Losing My Edge," on being a good fan. While Pitchfork may be invaluable as an archive, it is worse than useless as a forum for insight and judgment.
On Jay-Z:

But for all their corporate success, rappers knew where the real cultural capital lay. When Jay-Z decided, as an obscenely wealthy entertainment mogul, that he wanted finally to leave his drug-dealer persona behind, he got himself seen at a Grizzly Bear concert in Williamsburg. "What the indie rock movement is doing right now is very inspiring," he said to a reporter. One year later, his memoirs were published by Spiegel & Grau.
On indie rock fans:

In the last decade, however, indie rock has classed up, steadily abandoning these lower-class fans (along with the mid-sized cities they live in) for the young, college-educated white people who now populate America's major cities and media centers. For these people, indie rock has offered a way to ignore the fact that part of what makes your dead-end internship or bartending job tolerable is the fact that you can leave and go to law school whenever you want.
And a bonus, mind-bending footnote about M.I.A. and Lynn Hirschberg:

Lynn Hirschberg, writing for the New York Times Magazine in May 2010, finally made some of these points in a profile called "M.I.A.'s Agitprop Pop," but the best critique of of M.I.A. wasn't made by a critic. It appeared in the lyrics to a song by Vampire Weekend, in which frontman Ezra Koenig sings about a young woman attending what it seems obvious to me is an M.I.A. concert.