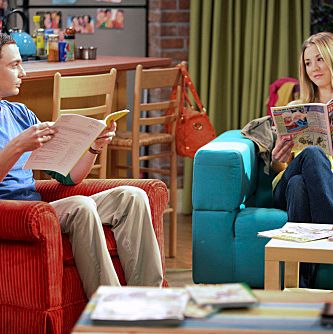 Photo: ADAM TAYLOR/©2011 Warner Bros. Television. All Rights Reserved.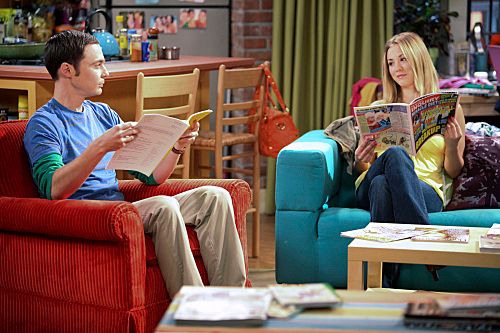 Tuned In
CBS has been touting Person of Interest as its hottest pilot and praying it breaks out in a big way. Well, it did get a solid sampling: Its overall audience of 13.2 million viewers was enough to win the 9 p.m. slot versus severe competition from Grey's Anatomy and The X Factor. But it skewed older than CBS would've liked, averaging a 3.1 in the demo and placing fourth. More disappointing, its debut was 9 percent below what CSI turned with its fall 2010 premiere. Over at NBC, the network's 9 p.m. hour did fine: The Office (7.6 million, 3.9 demo) was down just 10 percent from its 2010 premiere and in line with its post-Carell ratings last May. That helped the critically rejected Whitney attract a decent audience (6.7 million, 3.2 demo) and retain 82 percent of its lead-in. However, Outsourced also retained a similar level of its Office lead-in last fall, and it's since landed on a funeral pyre.

Meanwhile, after Wednesday's disappointing debut of X Factor, Simon Cowell's singing show managed to stabilize Thursday: It averaged 12.5 million viewers and a 4.3 with adults under 50, virtually matching tune-in for its premiere. This is a massive relief to Fox execs, though if Twitter buzz is a leading indicator, some fans seem to be tiring of the heavy dose of awful auditions the show is serving up. Finally, a shout-out to Chuck Lorre: Following the big debut of Two and a Half Men, his Big Bang Theory wowed on Thursday: Back-to-back episodes averaged a 4.9 rating with folks under 50 and ranked as the two biggest shows of the night, beating out X and big drama debuts. That's impressive.
Tuned Out
There's no pretty way to put this: Beloved (by Vulture readers, anyway) NBC comedies Community and Parks and Rec are going in the wrong direction. The former averaged a 1.7 demo rating and just 3.9 million viewers, down 23 percent in the demo from last fall and its lowest premiere yet. And without The Office in front of it, Parks managed only 4.1 million viewers and a 2.0 demo, 38 percent below its winter debut last year (and 30 percent less than 30 Rock did last fall in the slot). If you need us, we'll be in Ron Swanson's cabin, sulking and hiding from our problems.
As for new shows, the biggest dud of the night, surprisingly, was NBC's Prime Suspect. The Maria Bello–led remake of the PBS classic averaged 6 million viewers and a 1.8 demo rating. That's the lowest-rated Thursday night premiere for an NBC comedy or drama ever, but there's a slight silver lining: PS did improve on the dead-on-arrival number generated last September by the return of the civilian edition of The Apprentice. On the flip side, NBC execs probably aren't happy to know that the last edition of Prime Suspect on PBS a few years back averaged almost as many viewers (4.8 million) as its much more expensive remake.
Also failing to impress on Thursday was ABC's Charlie's Angels. Sure, its 2.1 demo rating (and 8.7 million overall audience) was up 31 percent from My Generation. But the latter was a narrowly targeted, dead-from-the-start Nielsen dud, while Angels had an iconic name and a massive amount of promotion. It's unlikely Charlie's will build from this number, and it will likely go down. ABC can keep the show in the time slot for a while if it holds steady, but it has not solved its 8 p.m. Thursday problem at all. What's more, Grey's continues to have no real lead-in, which may explain its 24 percent year-to-year demo decline (4.1 in adults 18-49, lowest-rated premiere ever). Lastly, over at the CW, The Vampire Diaries and Secret Circle, quite expectedly, took major hits against furious competition.
Crunching the Numbers
Fox and CBS have the most to be upbeat about this morning. Sure, two of their biggest hopefuls (X Factor, Person of Interest) are not the runaway smashes they might have dreamed of during the summer. But both are solid, and as one of our number-crunching sources told us recently, the big goal of premiere week these days is to not get left in the dust with a bomb-tastic debut. The challenge for both networks is making sure these numbers hold in coming weeks.
ABC, meanwhile, still has Grey's to keep it in the game on Thursdays, and if Private Practice does okay when it returns, the network will be able to soldier on for the season, even if Charlie's doesn't grow. The network with little upside today is NBC. Nobody expected its 8 p.m. comedies to suddenly explode, but the fact that both shows were down sharply — and below the Wednesday ratings for newbie Up All Night — cannot be described as anything other than majorly disappointing. The net's big hope has to be that some audiences return after sampling X or checking out the Big Bang premiere. As for Prime Suspect, look for NBC to air repeats of the show in other time slots as it attempts to build awareness. Because it's a procedural rather than a soap, NBC can be patient and hope viewers find it (as they eventually discovered ABC's Castle).