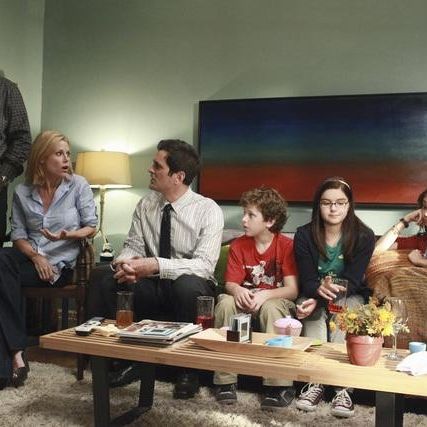 Photo: ABC/RICHARD CARTWRIGHT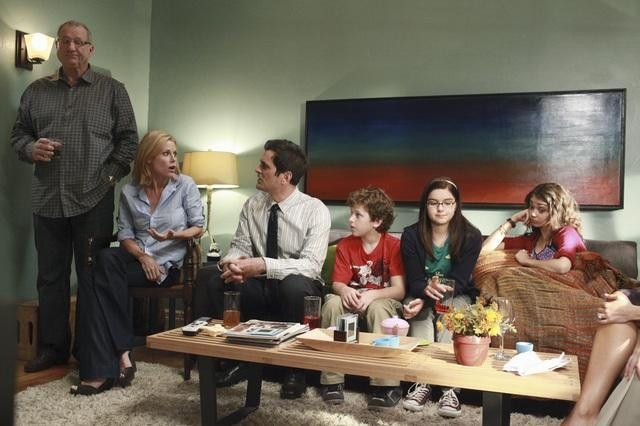 Tuned In
Modern Family dominated Sunday's Emmys, and last night's season-three premiere crushed everything else in the ratings, even Simon Cowell. MF (14.3 million, 6.0 in the 18 to 49 demo) actually improved on its season-two debut and had its best demo ratings ever. Even more stunning is that MF did this opposite the debut of Simon Cowell's The X Factor, a series Fox has been promoting since the Super Bowl (and talking about for nearly two years). As noted earlier, X did decent ratings (final numbers show it rose to a 4.4 demo rating and 12.5 million viewers), but it still finished behind ABC's two-hour comedy block and came in below the premiere of NBC's The Voice . ABC's comedy strength helped boost the premiere of the sudsy Revenge (10.1 million, 3.4 demo), which gave the network its best 18 to 49 debut in the time slot in four years. CBS, meanwhile, once again proved it's largely immune to challenges from other networks: Survivor held up fine at 8 p.m., while Criminal Minds and the relocated CSI did fine at 9 and 10 p.m., respectively. Finally, there's hope for NBC's Up All Night: Despite intense competition, it averaged a 2.3 rating in the demo and 6 million viewers in its 8 p.m. Wednesday time period debut. That's up 77 percent versus the various shows NBC aired in the slot last season.
Tuned Out
The rest of NBC's Wednesday lineup took a massive hit. Free Agents could only manage 3.9 million viewers and a 1.3 with folks under 50. Harry's Law, which has never skewed young, still posted an unimpressive 7.3 million viewers and a disastrous 1.2 in the demo. At 10 p.m., Law & Order: SVU had its lowest-rated season premiere ever (7.6 million, 2.3 demo). Over at the CW, H8R is proving to be hated buy viewers: Just one million people bothered to check it out.
Crunching the Numbers
It's impossible to call the debut ratings for X anything other than disappointing: Fox executed a relentless marketing campaign for the show, critical buzz from early screenings was positive, and it features one of the biggest stars in TV (Simon Cowell). With all that, it's hard to believe NBC's The Voice actually drew a bigger audience among folks under 50 when it bowed last spring. (It also underlines why NBC just promoted reality chief Paul Telegdy to president: He purposely fast-tracked Voice to get ahead of X, and his preemptive strike paid off).
But disappointing is hardly disastrous (that would be last year's Lone Star). And looking strictly at the numbers, and not expectations, the tune-in for X was solid. What's more, if it can maintain Wednesday's tune-in levels and do so two nights a week, Fox will have significantly strengthened its schedule (albeit at a huge price tag, since Cowell doesn't come cheap). Other networks are relieved today that they're unlikely to face another American Idol–like juggernaut in the fall, but that doesn't mean Fox might not yet end up with an autumn hit.
Elsewhere, ABC wisely counterpunched X by holding off debuting its new comedies by a week, thus maximizing the strength of its two existing hits. Revenge benefited from this, but while its debut was hopeful, it's worth noting the show dropped sharply at the 10:30 p.m. mark, indicating many folks didn't stick around. What's more, next week Revenge won't have the benefit of a Modern Family lead-in; instead it will follow the much lower-rated Happy Endings. At CBS, Ted Danson's arrival on CSI didn't dramatically boost the show, but his presence may have helped ensure its smooth transition from Thursday nights.
Finally, Wednesday's ratings may yet give us our first cancellation of the new season. H8R is just pathetic at 8 p.m., and it's hard to see the CW sticking by the show in its current time slot for even a week longer. Likewise, NBC must already be mulling changes on the night, with Free Agents now among the walking dead and Harry's Law a prime candidate to relocate to another night. NBC News can't get new newsmag Rock Center up and running soon enough.