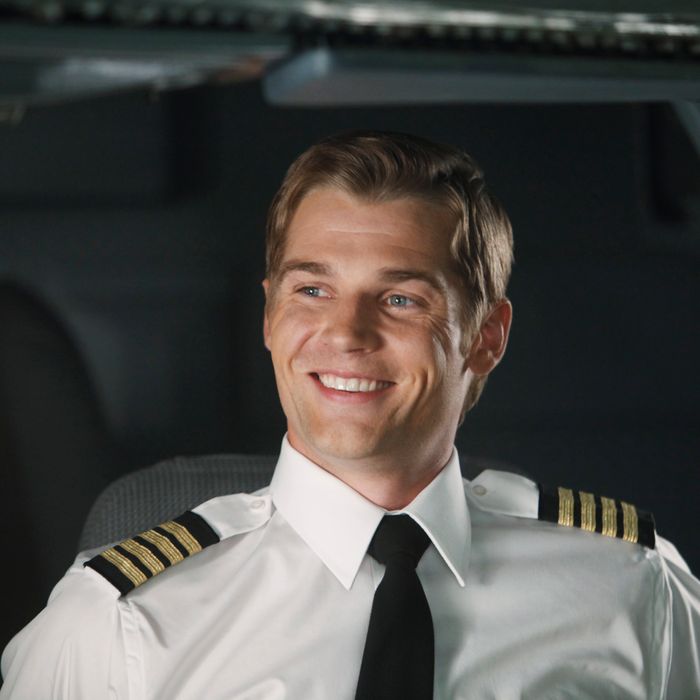 Photo: Eric Liebowitz/? 2011 American Broadcasting Companies, Inc. All rights reserved.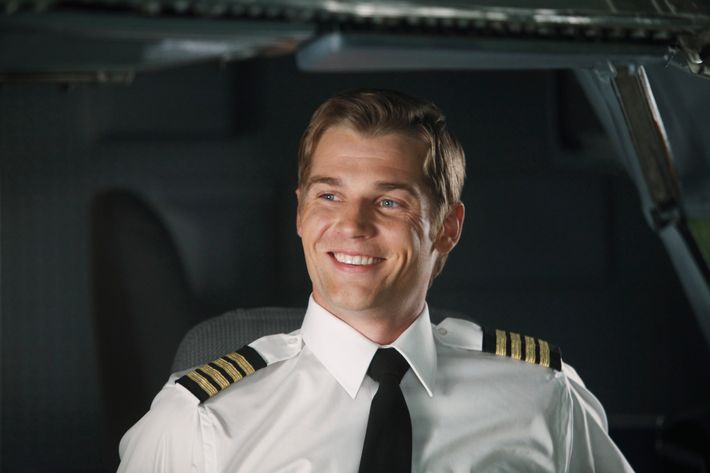 Tuned In
A full weekend of ratings to digest, starting with Sunday's stats and some good news for ABC: Pan Am opened to first class ratings. The sudsy drama's maiden flight averaged 10.9 million viewers and earned a 3.1 rating with folks under 50, easily beating its sole scripted competition in the 10 p.m. time slot (CBS's aging CSI: Miami) and improving upon last season's premiere of Brothers & Sisters. CBS also has to be satisfied with the numbers for The Good Wife in its first Sunday broadcast: It averaged 10.5 million viewers and beat ABC's longtime Sunday staple Desperate Housewives and Fox's 'toons in overall viewership. It still skewed older, however, ranking a distant third with viewers under 50 (though it improved on what Undercover Boss had been doing in the time slot last May). Sunday's biggest winner, besides NBC's football coverage (which almost always wins in viewers and adults 18 to 49), was Fox's cartoon lineup. Family Guy was the night's No. 1 scripted show in the under 50 demo with a 4.1, while The Simpsons averaged a 3.8 at 8 p.m. and improved upon its year-ago premiere.

Meanwhile, there wasn't much happening on Friday night, but we're going to narrowly declare CBS's A Gifted Man a winner. It attracted 9.3 million viewers and matched last year's debut of Medium in under-fifties with a 1.4 rating. If CBS can grow this number in the coming weeks, it will be happy; if not, it will likely try again with another show next spring. Over on Fox, Fringe did its usual okay demo rating (1.5); the network points out that's up 25 percent from the show's season finale last spring.
Tuned Out
ABC touted the fact that Pan Am is the first show to build on its Desperate Housewives lead-in since Grey's Anatomy in 2006. Unfortunately, that's partially because DH, now in its final year, continues to slide in the ratings: It averaged 9.7 million viewers and a 3.1 demo rating, the latter repping a 28 percent crash from last fall's debut and the lowest season premiere for the series ever. CBS also can't be thrilled with CSI: Miami, which also fell below 10 million viewers and averaged a 2.2 in the under 50 demo, down more than 30 percent from last September (cue Caruso sunglass dip). Another Eye vet, The Amazing Race (10.5 million, 3.0 demo), fell 21 percent from last season's fall debut, which is why it's in this category. That said, the Emmy-winning competition remains the network's biggest demo hit on Sunday by a mile and, given its age, remains a strong player for CBS.
Crunching the Numbers
One ratings watcher we respect keeps telling us that in the era of the DVR and cable competition, any 10 p.m. network drama that can manage above a 3 demo rating is a big hit. By that standard, ABC's Pan Am is all that and a bag of dry-roasted peanuts. Lots of doubters worried about the show's retro vibe, bringing out comparisons to Mad Men, but we've always found the show much more like The Love Boat in the skies. If viewers agree, the Alphabet may have found its Desperate Housewives replacement, though that will depend on both keeping viewers who watched interested and building enough buzz to lure in new fliers. Meanwhile, even though the transfer of Good Wife to Sunday was successful, it's pretty clear the show just isn't going to build into the big hit it ought to be based on its reviews, the passionate buzz which surrounds it, last week's Emmy win, or CBS's tireless efforts to get folks to watch. If it maintains current levels, however, there's no reason the show couldn't survive for four or five seasons, supplying the Eye with good PR and a classy, upscale addition to its lineup.