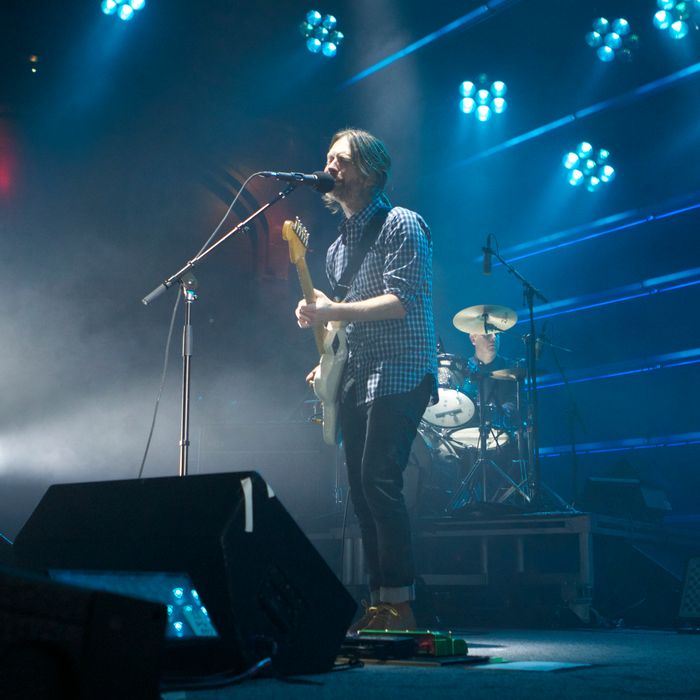 Photo: Cory Schwartz/2011 Getty Images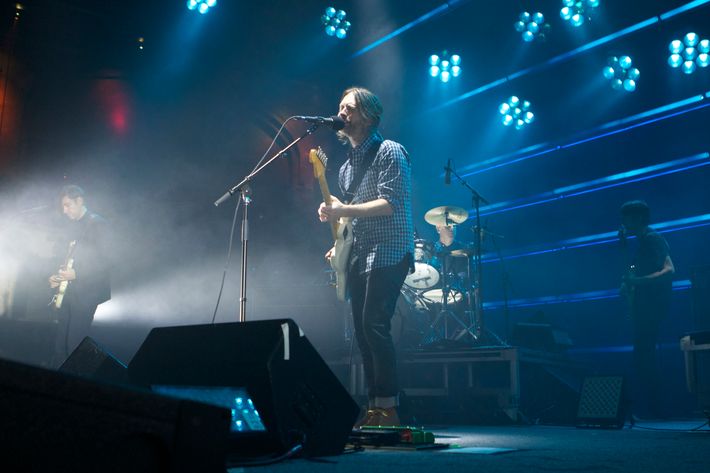 Somewhere in the course of Radiohead's weirdly revealing interview with Stephen Colbert on Monday night, singer Thom Yorke joked that the band was still waiting on its Beatles-arriving-at-JFK moment, in which the band is welcomed to New York with great fanfare and hysteria. The joke was meant to be self-deprecating. Of course, once you adjust for inflation — or, since this is the music industry, for deflation — it's easy to see that Radiohead did just get showered with exactly that much attention, or as much of it as is going to accrue to a rock band anytime soon. The Colbert Report is a popular show, on television — that medium where people are still vaguely aware of the same programming options — and it felt the need to double its running time to one hour to accommodate the band's presence. Radiohead's much briefer prior appearance on SNL was just about the least interesting thing they did all week. Their two insanely sold-out shows at the Roseland, which holds something like 3,500 people, are considered fairly "intimate," for this band. You get the feeling that if they were so inclined (and it were environmentally sustainable), they could have arrived in New York's harbor in some kind of special kelp-powered wooden Radiohead submarine, held a thousand-blogger press conference by the water, and lived out any Beatlesque dreams they might have brought with them.
It certainly felt that way at the Roseland, where the line for entrance wrapped around an entire midtown block and ended again at the entrance. Then, surrounding that, desperate seekers of extra tickets or unused +1s. So far, a Radiohead concert is the only place in the world I have ever seen young, well-dressed white guys standing around with hand-lettered cardboard signs and begging for something. Reports of the prices being offered for spares bounced around from $200 (actual sum offered) to $800 (actual sum requested) to $1,200 (oft-repeated rumor). For a moment on Wednesday, it began to rain, and one began to wonder if someone in line, anyone, might consider the weather, the length of the line, the amount of cash in the pockets of ticket-less fans, and think, for just one moment: You know, Radiohead aren't that amazing, are they?
Nobody would, of course. (People do not wind up with tickets to "intimate" Radiohead concerts without really, really wanting those tickets.) And it's difficult to argue that Radiohead aren't pretty extraordinary: Inside the Roseland, they took tracks from King of Limbs, a meditative headphone record possibly on the theme of Really Old Trees, and made them sound muscular and kinetic, like something thousands of people in a huge room actually should be getting excited about. Still: For $600, you could go see 24 different bands playing similar music with very nearly as much talent. Or you could see five of them and then buy yourself a really nice jacket. Something about the consensus surrounding Radiohead seems, to put it in economic terms, inefficient. Especially when the band's peers — the other artists they feel affiliated with, look to for inspiration, or might class themselves among — will never set foot on even the "smaller" stages Radiohead plays.
It always seems like Radiohead are keenly aware of this; surely it's part of why they've been open to releasing their own records online, selling fewer copies but pocketing more of the profits. It's a way of stepping back toward being the kind of band they clearly see themselves as — less of a consensus juggernaut, more of an extraordinarily skilled independent act. Colbert, speaking on behalf of all Americans, asked the band: "Why do we like you?" Thom Yorke, speaking on behalf of the band, answered: "We don't know." There's an amazing absurdity to it, one I can do nothing but respect: Somehow, this band you wouldn't necessarily expect to be that much more popular than three dozen other acts Pitchfork obsesses over has worked itself into a position where it is.
Ah, well: Sometimes music nerds can drift into thinking of artists as, to stick with the economic terms, just a little bit fungible — there's this awareness that no matter what one act is doing, there are always others just as creative, evoking similar feelings or working similar territory. If a Radiohead show is a bother to get into, and all you'll ever see during the course of it is the top of Ed O'Brien's head, well, there is a whole world of insanely creative music around to see. Of course, stardom works in the opposite direction — and people's desire to see shows, especially now that they're not spending money on records, has no fungibility involved. You want to see Radiohead because they're Radiohead, and because you want to know that you saw something that was maximally worth seeing, and because there's a rarity to this. A band down the street that's 98 percent as good is no substitute. Most people would rather have been in the back row for the Beatles at Shea Stadium than had a whole sit-down dinner and private show with the Swinging Blue Jeans and the Dave Clark Five. That's the kind of absurd consensus that surrounds Radiohead swinging through New York for two television appearances and two shows, and if that doesn't count as a kind of modern Beatlesque hysteria — a kind that doesn't even entirely surround huge pop stars playing Madison Square Garden — then I don't know what does.