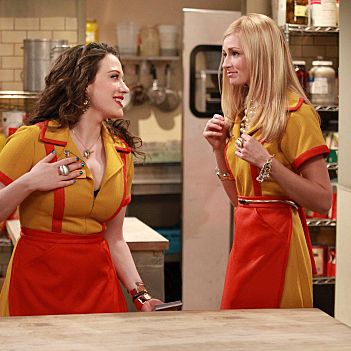 Photo: RICHARD CARTWRIGHT/?2011 CBS BROADCASTING, INC. All Rights Reserved.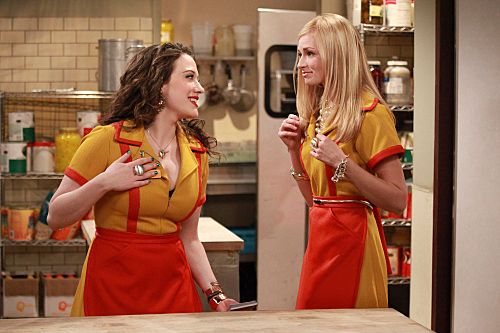 It's premiere week! Vulture's daily ratings reports will tell you which shows worked … and which didn't.
Tuned In
So the premiere of Two and a Half Men was ginormous. But the really good news for CBS was the massive halo effect one half-hour had on the rest of its comedy lineup. How I Met Your Mother , for example earned its biggest audience ever for a season premiere in both viewers (11.3 million) and adults 18 to 49 (4.7/13); the
8:30 p.m. episode did even better. At 9:30 p.m., Men delivered a massive lead-in to new comedy 2 Broke Girls (19 million, 7 rating in adults 18 to 49), allowing it to earn the best premiere numbers for a fall comedy since 2001 (NBC's Inside Schwartz, which didn't last). Sure, 2BG lost about 40 percent of its lead-in, but given how many people got a chance to sample it, CBS is very, very happy this morning. Perhaps a tad annoyed: Chuck Lorre, who almost certainly would've preferred CBS to have used the post-Men slot to air the second-season premiere of his Emmy-winning Mike & Molly.
Meanwhile, ABC had a mixed night: Dancing With the Stars brought in a healthy 18.6 million viewers, but its 3.9 rating with folks under 50 marked the show's lowest-rated premiere ever (and was down a troubling 24 percent from last season's fall debut). The good news for the Alphabet is that Castle continues to grow: Its 13.6 million tune-in and 3.3 with those under 50 repped a more than 20 percent gain from last fall.
Tuned Out
It's unlikely The Playboy Club will ever make it out of the sixties: Monday's debut was a complete non-starter with audiences. It attracted just 5 million viewers and earned a 1.6 in adults 18 to 49, falling below January's series premiere of Harry's Law in the same slot. Worse, it fell below the so-so debut of The Sing-Off (5.2 million viewers, 1.9 demo rating). Also disappointing: The season premiere of Hawaii Five-O , which averaged 12 million viewers and ranked below ABC's Castle in the 10 p.m. time slot.
Crunching the Numbers
So there's not much use trying to extract any big meaning from CBS's Monday ratings performance: The network took the lemons handed to it by Charlie Sheen's meltdown nine months ago and made sweet, sweet lemonade. Expert marketing and publicity around the episode, from calculated leaks of plot points to the naked dudes teaser ads, helped build on the already considerable curiosity surrounding Sheen's exit and Ashton Kutcher's arrival. The question now, of course, is how much Men drops off in the next few weeks, and whether the boosts delivered to 2BG and HIMYM last.
On the other side of the Nielsen coin, NBC execs have to be wondering if the weak ratings for Playboy represent a Lone Star–level flop or just the impact of CBS's massive ratings juggernaut. It may not matter: NBC's show is a serialized drama and folks who didn't catch the premiere may decide it's not worth the trouble to catch up. Still, there is a key difference between Playboy and Lone Star: While the latter was critically hailed and regarded as the big gun for Fox last fall, Playboy drew decidedly mixed notices and is one of several new players NBC is counting on this season.
A final note about the 10 p.m. hour: CBS cannot be happy about the weak ratings for Five-O . The network's been hyping the arrival of Terry O'Quinn for weeks; the show also had the benefit of the CBS sitcom tsunami that swept over Monday night. Despite all this, the season-two premiere still ended up losing to Castle by more than one million viewers.