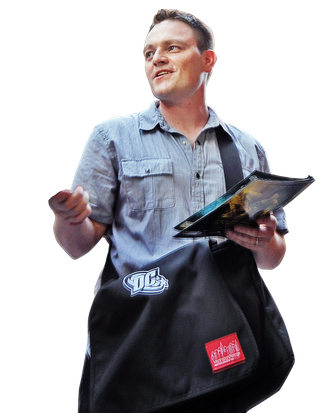 Photo: Michael Loccisano/Getty Images for DC Comics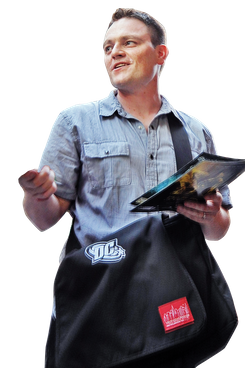 While Christian Bale's Batman has been idle for the past three years, his comic book counterpart has gone through a lot. He's died, been resurrected, and traveled through time to get back to his home in Gotham City, just in time for DC Comics' line-wide relaunch, which kicked off this earlier this month. Tomorrow sees the release of Batman #1, written by Scott Snyder and drawn by Greg Capullo (see a five-page preview here). Snyder sat down with Vulture to discuss what changes readers can expect to Gotham, the obsession that drives the man, and the pressure of writing the iconic superhero.
You've written Dick Grayson as Batman, and now Bruce Wayne. What appeals to you about the character?
What appeals to me, no matter who's in the cowl, is how Gotham City challenges them. Gotham is almost a nightmare generator, filled with villains that seem to represent an extension of Batman's greatest fears. A lot of his greatest villains feel like mirrors: the Joker is who Batman would be if he broke his rule and fell into madness; Two Face is a mockery of the duality of his life. But what I love about Bruce in particular, and the reason I'm so excited to be doing Batman, is he's a superhero that has no powers. He takes it upon himself to go out every night, punish himself, and be the best out there. To me, that is both incredibly heroic and exciting, but also really pathological and obsessive.
How is it different, writing Bruce Wayne as Batman?
The thing that was fun about writing Dick Grayson as Batman was that he is who we would be if we were Batman. He's a superhero out of a sense of responsibility, and out of a sense of almost civic duty. Bruce is a superhero completely driven by obsession and a self-lacerating drive. Writing Bruce as Batman, you're dealing with somebody who's probably the most competent superhero in the world. In my mind, Superman, Aquaman, all those characters would be taken down by Batman if there was a battle royale. He knows all their weaknesses because he's paranoid.
DC has pretty much relaunched their entire universe. Is this Batman different than what people are used to?
I think every time somebody takes up the mantle, and writes Bruce, he's their Bruce, and that's part of the fun. In terms of what has changed, barely anything has. If you're somebody whose followed him, all the stuff you liked historically, it's still there. Our story is really about this notion that Bruce doesn't know Gotham the way he thinks he does. To him Gotham is his oldest ally, his home, and his comfort zone. But the city is hundreds of years old, and Batman has only been Batman for a short while, comparatively, so what if the city belonged to another symbol before Batman? The idea is that a secret enemy has existed in Gotham for hundreds of years, and they're going to bring the whole weight of history to bare against Batman and the Bat family. To me what Gotham does best is that it tries to take your greatest strength and convince you that it's your greatest weakness as a hero. For Bruce, that's his confidence that he knows this city better than anyone and can be its ultimate protector.
Besides Batman, you've worked on other established characters, but also your own, like in American Vampire. Was Batman more pressure?
With Batman, people have so many expectations and versions that they adore in their own head. He's a cultural icon. There were some sleepless nights, which my wife can vouch for. I'm writing Batman! There's a level of intimidation and wonder that is particular to him being the greatest superhero of all-time. But at the end of the day, your approach has to be the same. You try and figure out what's most interesting or exciting about a character, and try to develop a story that challenges those aspects of their personality.
Now that you've tackled Bruce Wayne, are there other characters you want to write?
So many, man. I'd love to write Batgirl and get back to writing Dick Grayson at some point. Now I'd love to try Superman. Everyone teases me. They're like, Superman is too bright and I'd make him all dark and depressed. But I think I could do it. I'm a happy guy as well.