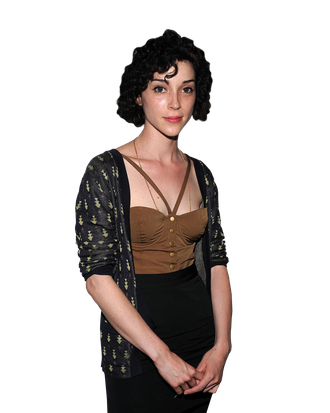 In conversation, Annie Clark drops F-bombs with casual ease. But as her onstage persona St. Vincent, she chooses her words with extreme care, and her new album, Strange Mercy, proves it. Like her previous albums (Marry Me and Actor), Mercy is peppered with swooning strings and ghostly backing vocals. But with fewer manic turns than its predecessors — you won't hear blissed-out flutes one moment, serrated guitar riffs the next — the album sees Clark's lyrics in greater focus. Vulture spoke with the 28-year-old singer-songwriter between concert rehearsals, and although her phone disconnected four times, we managed to get her thoughts on the new album, the "worst year in life," and the girl in her video for "Cruel."
Was that your phone or mine?

I don't know. Fucking AT&T, man. Anyway, so where were we?
We were talking about Cassidy, the little girl in your video for "Cruel."
O-M-G, yes, she is an incredible child. She's one of those kids who's 10 but already has this sardonic, morbid sense of humor — very much like Wednesday from The Addams Family. She sort of looks like Wednesday. She's just so bright, and I adore her.
Was this album easier for you to work on than your last?

Yes, it was tremendously easier. I actually didn't start Actor with John [Congleton, whom she also worked with as a member of the Polyphonic Spree]; I started it with another producer and it was just not the right direction at all. So I took what I had to Johnny and I said, "Johnny, baby, I need to make a record out of these tracks," and we basically started over. We took the woodwinds I had recorded previously, but we basically created an entire new skeleton. We recorded the drums, bass, guitar, everything around the woodwinds, so it was a real Frankenstein process. But [for Strange Mercy], John and I talked about it and said that we should just write songs and focus on making sure the music was in its simplest form; making sure that the music was first and foremost a song with an emotional core, an emotional narrative. I love Johnny. I just love him. I would give him my firstborn. I adore him. We have a very simpatico relationship. We complete each other's sentences. And sandwiches.
Do you remember coming up with the phrase "strange mercy"?

That's the first song I wrote for the album. That was one of the songs that came out pretty effortlessly. I remember singing those words, going, Oh, that's really something, and then trying to write songs along that theme.
What was the writing process like overall?
It was kind of a succinct process. I went out to Seattle. Jason McCeer, the drummer from Death Cab for Cutie, has a studio out there, and he was generous enough to let me be in it all alone for a month. So I went up to Seattle and I stayed in a hotel, and I don't know anyone there, and so I would just do the same thing every day: wake up and get coffee and go take a run and go to the studio for ten or twelve hours. So it pretty much evolved right in that period — that technological detox, loneliness.
The album really hit home for me at "Year of the Tiger." What does that song mean to you?

I talked to a lot of people who said that 2010 [the Year of the Tiger] was the worst year of their lives. I remember talking to a friend who was telling me in early 2010 that it was supposed to be really turbulent and traumatic. "The highs are supposed to be really high and the lows are supposed to be really low." I thought, Okay, yeah, yeah, whatever — and it turned out to be possibly the worst year in life. So I was trying to make something productive and useful out of it, making it into a song.
Do you have a favorite song from the album?

I'm partial to — I'd hate to say which ones in case it ruins other songs for other people. But, oh God, I don't know! I really am partial to the guitar solo in "Surgeon." That's definitely one of my favorite moments of the record. That weirdo solo at the end.