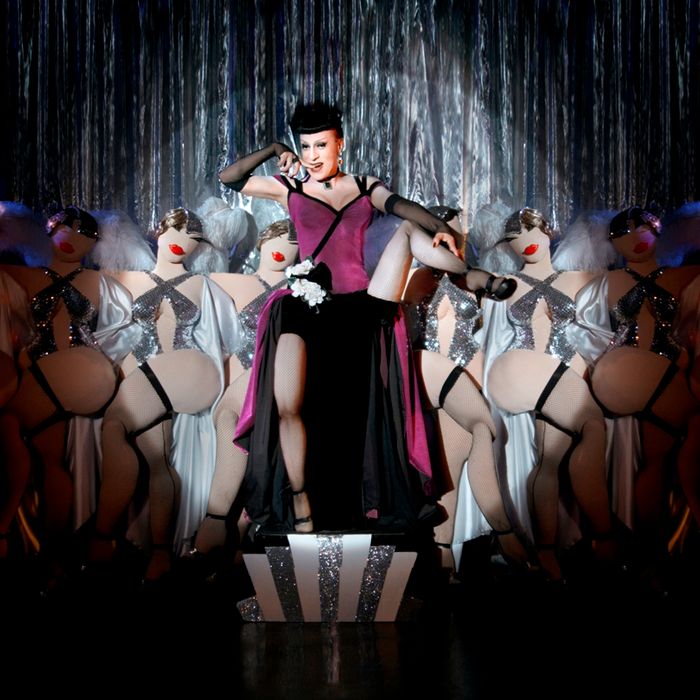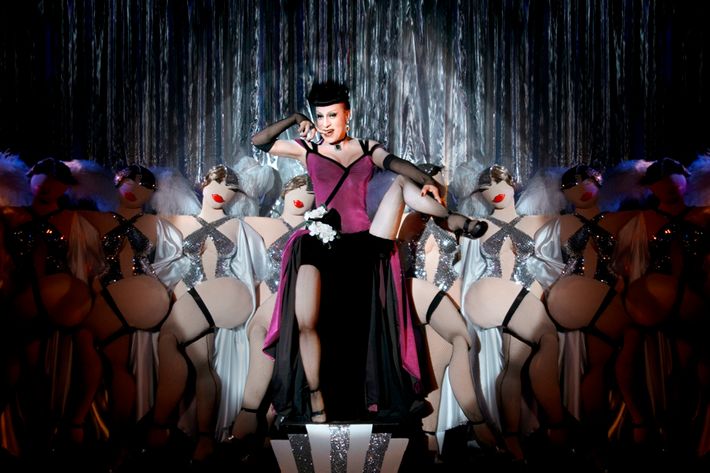 With Broadway about to unleash its fall season, here's a quick rundown of what's going on off the grid: Some of it fine (Septimus and Clarissa), some of it feathered (Arias With a Twist), some of it failed (The Wood), and all of it worth the theater omnivore's consideration.

SEPTIMUS AND CLARISSA
Mrs. Dalloway's London (just recovered from one war, already tingling with premonitions of the next) is an urban landscape of anxiety — and, it turns out, an ideal springboard for a modest dance-theater masterpiece. With the ghostly great Septimus and Clarissa, playwright-performer Ellen McLaughlin and director-choreographer Rachel Dickstein propel Virginia Woolf's ecstatically unhappy hostess (McLaughlin herself) through a patently mundane yet psychologically hectic day-in-the-life, as she almost crosses paths with Septimus (Tommy Schrider), the shellshocked veteran whose manifest insanity mirrors her muted inner turmoil. Carrying (sometimes literally) these two extraordinary depressives over the impossible distance between dawn and dusk is an ensemble that includes such familiar and always welcome faces as Tom Nelis, Henry Stram, Craig Baldwin, and Susan Pellgrino, all beautifully deployed: Together, they ripple across the stage like a quiet blast wave, to the glassine strains of Gina Leishman's delicate score. If you see one faithful page-to-stage adaptation of a high-modern classic this season, see this. Playing at the Baruch Arts Center through October 8.
LUCIA'S CHAPTERS OF COMING FORTH BY DAY
Like a great many guilt-ridden English majors, I've never read Finnegan's Wake — which perhaps makes me uniquely unqualified to spend an hour with the logorrheic shade of the institutionalized woman who was its chief muse. Mabou Mines co-founder Ruth Maleczech plays Lucia Joyce, James's beloved daughter, a dancer weaned on multiple languages and a ceaseless household traffic of modern masters, among them Ezra Pound and Samuel Beckett (with whom she had a brief love affair). Lucia had many tongues in her head, all speaking different languages. She was a compulsive utterer of portmanteaus, nonces, and neologisms, and Joyce, in writing Finnegan's, is said to have taken dictation from her (along with making her a key character). He considered her a genius; medicine diagnosed her as schizophrenic, and she spent 50 years in an institution. In Lucia's Chapters, playwright-director Sharon Fogarty picks up with her directly after her death — death doesn't stint her stream of consciousness — and attempts to make sense of her. Maleczech, at 72, is a formidable actress, using everything she brings onstage with her, including her own physical frailty. Her Lucia is postmodernism itself — broken, wry, recursive — the straggly long-tail of Joyce's great experiment in breakage and recombinant thought. But she's also a trap for a playwright: Gifted with such a symbolically swollen subject, Fogarty swings wildly between Wikipedia entry and word salad. This is her second approach to Lucia (the first was 2003's Cara Lucia, which I missed), and textually, it amounts to (irony of ironies) a middling, muddling Beckett pastiche. But it's too furtive and formally fussy to free up the trapped humanity inside the literary mystery. In performance, it's got its transcendent moments, thanks to the music of Carter Burwell, the designs of scenerist Jim Clayburgh and projection artist Julie Archer, and the magnetism of Maleczech. Playing at 150 First Avenue (P.S. 122), 2nd Floor Theater through October 2.
THE WOOD
Publicist, producer, and documentary filmmaker Dan Klores has written a hagiographic play about his late friend, the Daily News columnist Mike McAlary (John Viscardi), who died of colon cancer at 41, leaving behind a Runyonesque career in New York metro journalism and a Pulitzer-winning series on Abner Louima (Vladimir Versailles), which he completed more or less on his deathbed. McAlary's life was complicated and eventful: He was a balls-out bleeding heart, a brass-knuckles liberal, a chronicler of police misconduct who nonetheless cultivated a great many friends on the force, and his own record, as a journalist, was not unstained with scandal. He's certainly worthy of bardic treatment. But Klores's play, though utterly sincere, is also utterly incompetent — there is, unfortunately, no other word for two-hours-plus of expository prattle, clumsy biographical footnoting, and dead air. Director David Bar Katz has absolutely nothing to work with and seems to have thrown in the towel — the scenes, such as they are, unfold arthritically, with characters entering and exiting practically at random as dramatic urgency dissolves. Hospital beds move on and off; characters spout off and confront each other with the sort of tough-guy bluster one associates with old G-man matinees. What a mess. A life this thrilling and strange deserves a real play; perhaps Klores could commission one. Playing at the Rattlestick through October 9.
THE COMPLETE & CONDENSED STAGE DIRECTIONS OF EUGENE O'NEILL: VOLUME ONE - EARLY PLAYS, LOST PLAYS

O'Neill's stage directions are famously florid, obsessed, and almost Herzogian in their pseudo-cinematic control freakery. Jeez, imagine a contemporary director's reaction to this: "They all turn to an old, wizened Irishman who is dozing, very drunk, on the benches forward. His face is extremely monkey-like with all the sad, patient pathos of that animal in his small eyes." How the hell do you get an actor to play small-eyed, monkeylike pathos? Or consider this edict: "The chorused word has a brazen metallic quality as if their throats were phonograph horns. It is followed by a general uproar of hard, barking laughter." Yikes. O'Neill — especially the young O'Neill — probably wouldn't get past the literary intern at today's theater companies. But his tyrannical parenthetical decrees provide those expert reductionists, the New York Neo-Futurists, with good, solid bones for a comic CAT-scan of O'Neill's early work. In one brisk act, six dead-eyed actor-automatons perform six plays, wordlessly enacting only the stage directions, as they're read out by an insistent narrator (Jacquelyn Landgraf). There's probably nothing funnier than watching good actors attempt to play the unplayable — in this case, to embody all of O'Neill's sumptuous, operatic moral poetry, normally subconscious onstage, without benefit of his dialogue. All that stark, micromanaged, impassioned naturalism turns to laughs, but the joke isn't cheap: The Neo-F's — brilliant minimalists, all — actually get the plays across, in all their fatal glory, even as they're racking up guffaws. Playing at the Kraine Theatre through October 8.
ARIAS WITH A TWIST
Back in 1998, I heard Basil Twist's swirling underwater fabric ballet Symphonie Fantastique described, by one prominent theater professional, as "an hour of watching a drag queen get flushed down a toilet." I disagreed with that (rather superbly worded) assessment then, and I do now, but if you're looking for an accurate description of Arias With a Twist, Twist's naughty, nifty, occasionally noisome Über-cabaret, just imagine the "toilet" is the size of a galaxy and the drag queen is Joey Arias, downtown empress and, it turns out, a fearless fellater of felt. (Attention, bachelorette parties: Even Lucky Cheng's can't furnish you with a female impersonator, in fetish garters, getting spit-roasted by a pair of six-foot, fully erect Satan puppets.) High-decibel karaoke camp tires me out fast, even when it's handled by a talent as assured and indefatigable as Arias. (Who is, I should note, exceptional at what he does, even if what he does often overrides my clenched glitter filters and double-thick double-entendre firewall.) But I'm a sucker for Twist's wit, his crazy-quilt sense of nonsense, his good taste in bad taste. He brings a B-movie elan to each scenelet: an outer-space sequence, a jungle segment, an acid tip. (My favorite: a perspective-julienning sequence in which a Godzilla-size Joey destroys New York street by street, coming closer and closer to the audience with the help of progressively enlarging puppet doubles.) And hats off to his team of operators, who display a collective sense of comic timing seldom seen outside the Henson universe. Playing at the Abron Arts Center, 466 Grand Street, though October 16.

AFTER
Exonerated of a wrongful felony charge after seventeen years in prison, Monty (Alfredo Narciso) tries to readjust to an outside he's never known: He was imprisoned at 17, sprung by DNA in his mid-thirties, and is now dizzily out of step with the post-Millennial world, with all of its one-click choices and hidden pitfalls. He takes a job in doggie daycare; he relates better to canines than humans, having spent most of his sentence training service dogs for the state. Is he a bit servile himself - and, after what he's been through, can he be anything but? Is his passivity a symptom of his incarceration or the fullest expression of his true self - and, either way, does it amount to a sentence to second-class citizenship? Chad Beckim's play is as humane as it is basic, and if it doesn't answer its own questions in especially challenging ways, it does lay down a solid footing for some truly exceptional performances. Narciso is spectacular, an actor of prismatic nuance - he takes us from fearing him to fearing for him, and back again, in two nervous blinks - and Jackie Chung, as Monty's love-interest, takes what might've been a stock neurotic-pixie-dreamgirl role into thrilling new territory. (Her Susie is a CVS salesgirl simultaneously exhilarated, empowered and stymied by life's many picayune options - the scene where she picks out a toothbrush for Monty is a tour de force, a blind-alley Google search transformed into comic performance art.) Partial Comfort Productions made a big splash last year with the Obie-winner A Bright New Boise, a pitch-perfect piece of strip-mall naturalism that erupted into something larger and spookier, seemingly without effort. (Its star, Andrew Garman, returns in a small role.) After, as a follow-up, isn't a barn-burner - just a gentle, rectilinear story of damaged people in slow recovery. Like Monty, this play doesn't attack its core problems with much vim, nor does it fully unpack its target metaphors (dogs and masters, the service economy, the spectre of malaise). But, like Boise, it's a showcase for what Partial Comfort does well: Human-scale social drama, approached quietly, one foot in front of the other, with compassion and courage. Playing at The Wild Project through Oct 8.