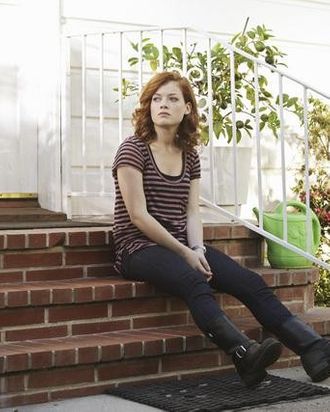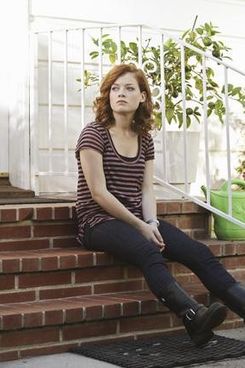 The second Wednesday of the new TV season saw several shows suffer ratings declines, as well as a promising debut for ABC's Suburgatory. The family comedy attracted nearly 10 million viewers and earned a 3.3 rating with viewers under 50, building big-time on its lead-in (The Middle) and up almost 30 percent from the show that briefly aired in the same time slot last fall (Better With You). Perhaps we will not have to send cans of sugar-free Red Bull to ABC in order to save this fine show after all. However, the five people who're still watching NBC's Free Agents might want to get crackin': The Hank Azaria newbie fell to just 3.1 million viewers and a 1 rating in the demo. The Peacock will either pull the plug on the show or move it to the TV-land hospice by week's end. So how'd Wednesday's other shows do?

Up All Night (5.3 million, 2.1 demo) fell about 13 percent from last week but is still doing way, way better than most of what NBC aired Wednesdays at 8 p.m. last season, and it will thus be rewarded with an order for more episodes (and soon). Fox's The X Factor, meanwhile, drifted down about 7 percent to what Fox estimates will be a 4.1 final national rating in the under-50 demo (it earned a 3.9 in preliminaries). Fox has been hyping the fact that the audition round of the show ends this week, which means it hopes it can get viewers to sample the show again next week (although, be warned: Live episodes don't start until November). Over at ABC, after another massively rated Modern Family (13 million plus viewers, a 5.6 rating with adults 18–49), Vulture-approved Happy Endings did … okay. It lost half of its lead-in's overall audience, drawing 7.4 million viewers, and finishing fourth in the 9:30 p.m. half-hour (Harry's Law drew more eyeballs). Results were a bit better in the demo ABC cares most about, people under 50: Happy averaged a 3.2 rating, good enough for third place but 6 percent below what Cougar Town premiered to last fall.
Meanwhile, in the 10 p.m. hour, ABC's Revenge was impacted by not having the benefit of an hourlong Modern Family lead-in, and fell 18 percent from its premiere (8.5 million and a 2.7 demo rating). After winning the time slot last week, the show fell behind CBS's CSI (11.6 million, 3.0), which ranked first. NBC's Law & Order:SVU is on life support, falling 17 percent to a 2.0 demo rating and less than 8 million viewers.
Related: Premiere Week Ratings: Modern Family Wins the Night
Related: Network Status Report: With Its Past Hits Fading, Can ABC Rebound With New Soapy Ones?
Related: Vulture's Fall TV Preview: What to Watch and What to Flee From