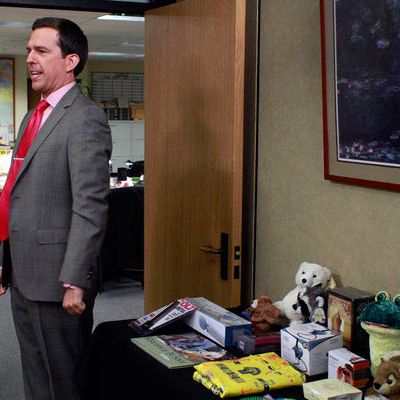 Photo: Ron Tom/? NBCUniversal, Inc.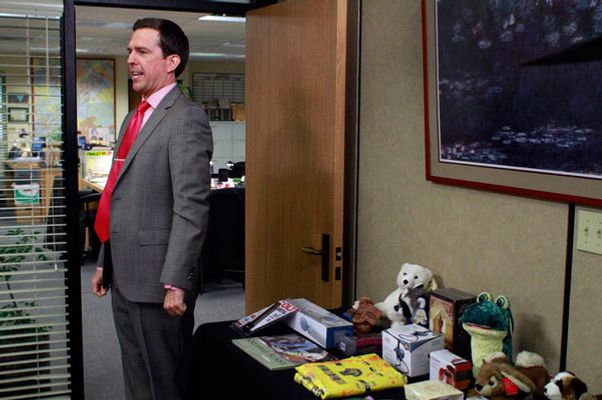 We now know that Andy Bernard is the new Michael Scott: Thursday's season premiere of The Office revealed the long-awaited executive announcement in a decidedly low-key manner. So why did Ed Helms's Andy get the gig as Scranton branch manager over other high-profile candidates, including Darryl (Craig Robinson) or Dwight (Rainn Wilson)? In his first interview since the promotion was made public, Office showrunner Paul Lieberstein tells Vulture that Andy shared one trait with Michael that ultimately made him best suited for the role: They're both people persons.

"The Andy character is very different from Michael, but one of the things they have in common is that they both put people first and relationships first," says Lieberstein (who also plays HR chief Toby Flenderson). "And at the end of it, that's why he won the day." Andy's need to be pals with his co-workers was clear in Thursday's season opener: In his meeting with Robert California, he was most concerned with getting approval for a four-day Columbus Day holiday. "His last priority in the meeting was the fact that [the branch] had lost its biggest client," Lieberstein says, adding that Helms has been having a good time in his new post. "He's been doing some hilarious stuff on set, just killing it," he says.
The producer notes that he and the other Office writers "talked about a few different characters" for the role, always with the intent to promote from within (even before deciding to recruit James Spader as the new CEO of Dunder-Mifflin). While Robinson is "amazingly talented as a performer," his character didn't "have the requisite neediness to drive the comic story lines," he says. "We kind of felt Darryl was too rational and smart to be the manager," Lieberstein explains. "He can't get into the same bad situations." Likewise, after last season's episode in which Dwight temporarily ran things, "We realized a lot about the character and decided that he would destroy the office," he says. "It would be very difficult for the office to continue being what it is under his leadership."
Producers have long had an idea of the general direction they wanted to go post-Michael Scott, but Lieberstein said external forces meant specifics weren't nailed down until the summer. "We have a creative partnership with the network, and during this time [after Carell's spring 2010 announcement that he was leaving the show], the network changed over; Bob Greenblatt took over [as head of NBC]," he says. "So the discussion had to be had anew, and the decision was constantly being made and remade. But the outcome actually ended up being the same." Lieberstein says he "took Ed to lunch in June" and told him the news. "He was happy. He already knew he'd be doing more [post-Steve Carell]. Just maybe not this much more."
While putting the most Michael-esque character in charge might indicate The Office team doesn't want to shake things up too much this season, the series will be quite different in one important way: No one character — including Andy — will dominate the way Michael did. Even Spader won't be in every episode (he's signed up for about two-thirds of this season). That means lots more screen time for many more characters. "Even though the first group [of episodes] focuses on Andy, we're getting into all of them more," he says. "It's a very happy set right now."
Related: The Office Recap: A Change Is Gonna Come
Star Market: Can Ed Helms Ride The Hangover to Solo Glory?
See the Preppiness Explosion That Is Andy Bernard's Tie Collection