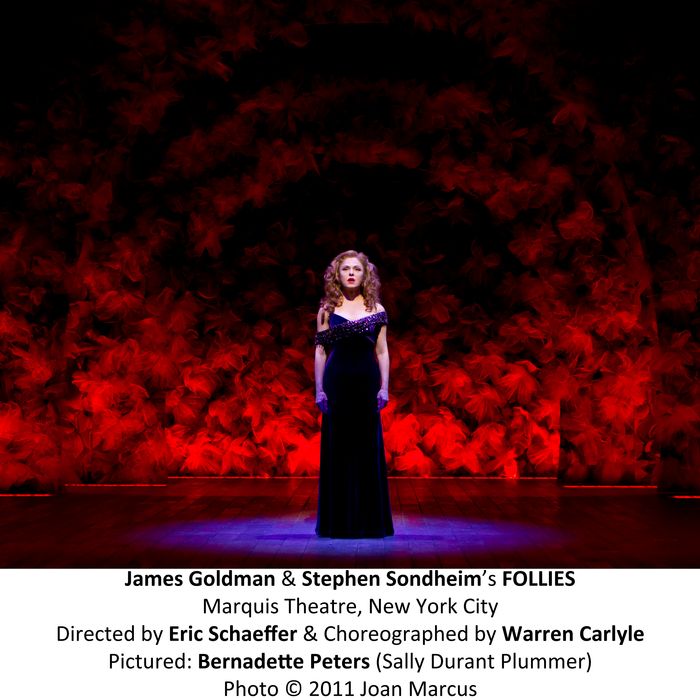 Photo: Joan Marcus/?2011 Joan Marcus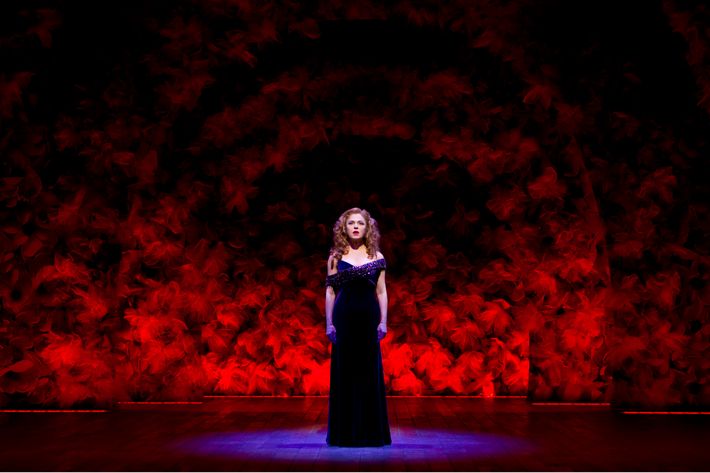 Follies, Stephen Sondheim and James Goldman's 1971 anatomy of nostalgia, has itself become a talisman of nostalgia. More energy seems to go into venerating it than producing it (this is only its second Broadway revival), probably because it's a tall order: a show that genuflects to the Golden Age even as it seeks to exorcise it. Follies is set the year it opened, 1971, at the first and last gala reunion of the Weismann Follies, a Ziegfeld-like operation that is said to have reigned in the first half of the twentieth century. The theater's about to be demolished, and looks like it's well on its way to oblivion already — time's already done most of the advance work for the bulldozers. (Derek McLane has draped the loges in what appear to be bolts of denim, but his work onstage is stronger, more convincingly sepulchral, even as the cryptlike mood is in a losing war with the Marquis's sunny, self-satisfied ugliness.) In attendance are two 50ish showgirls, Sally (Bernadette Peters) and Phyllis (Jan Maxwell), and their husbands, Buddy (Danny Burstein) and Ben (Ron Raines). All are unhappily married: Sally, having settled for Buddy back in the day, still pines for her true love, Ben, an up-from-nothing power broker and ex-politician with a soul so battened down, he can't really reach it anymore. (Raines, a lifelong soap-opera actor, has a wry inaccessibility that will likely divide audiences — personally, I liked his unsympathetic, almost stunned-looking Ben, all the old charisma turned to taxidermy by years of hollow striving.) Phyllis, meanwhile, laments a life wasted trying to be the polished hood ornament Ben always wanted on the prow of his limousine. Maxwell plays her with attenuated rue, letting the full force of her bitterness build gradually to its crescendo: the stinging Coward-esque waltz "Could I Leave You?"
All regrets in Follies — Sondheim's formal good-bye to the forms and composers who'd made him who he was — come wrapped in pastiche. Peters's "Losing My Mind" — performed with that tremulous, bird-on-a-wire brokenness she continues to refine and deepen — is the torch song to end all torch songs. Burstein's attack on "The Right Girl" — a hurtling dance number that threatens to derail itself at every turn, then turns tender, then furious again — bursts forth in a brilliant series of emotional wind sprints that knock the breath right out of you. It's quite a ride, and Burstein proves, to anyone who didn't know it already, that he's one of our great stage performers — a guy who holds nothing back, yet never wastes a drop of energy on insincerity, who shoulders into every scene soul-first, yet never pushes. He's a great gift: an honest musical-theater actor, and a Sondheim natural. Also? Whatever pieces of your heart are left after Bernadette's through, Burstein will kindly grind to powder for you.
Follies, which in its first draft was an inside-out murder mystery (with two crisscrossed couples, each plotting their spouses' demise), is essentially plotless and entirely dependent on mood. It opens with a parade of showgirls past that elicits awkward bursts of applause from the crowd, as they register their familiarity with the actresses. (Occasionally, I found myself thinking guiltily of the Oscars' notorious "In Memoriam" montage, with its asymmetric spasms of "appreciation.") Look, there's Bernadette! Jan! And here's none other than Elaine Paige, who shows up, more or less, to handle the Elaine Stritch Moment: Her "I'm Still Here" delivers the goods, though more than half of it consists of Paige being, well, There. It's all a tad unwieldy, and the first twenty minutes are perhaps a shade more funereal than they need to be, in tone and pace. (Did I mention how much I hate the Marquis, with its uncanny, energy-snuffing force field?)
Of course, Sondheim himself, in Finishing the Hat, has called the show "crippled by its size, ambition and mysteriousness, and thus always worth the effort of experimentation." Director Eric Schaeffer has opted mostly to steer the ship, not reinstall the keel, and, as far as I can tell (which, to be honest, isn't very far), he and choreographer Warren Carlyle have preserved the spirit of Michael Bennett's original hoofery. Speaking of which: I'd tell you to look for Terri White, who anchors the past-present dance-off showstopper "Who's That Woman," but that would imply you need to look: She's unmissable and undeniable. As for the great Jayne Houdyshell's "Broadway Baby," it's a wrecking ball of a number, delivered in belts and body blows, by a performer of such focused life force, such irrepressible comic timing, such bulletproof un-self-consciousness, we're momentarily transported — but not, it should be noted, to some Golden Past. Houdyshell's Hattie is perhaps the only character who isn't positively septic with nostalgia. She may not be the heart of the show (it has enough hearts, all of them plagued with murmurs and echoes), but she constitutes its lifeline to the Present. She's an ideal treatment for the subjunctive mood, which is something we're all a little vulnerable to these shaky days. Follies is the disease and the cure in one package: I'd advise you to catch it.