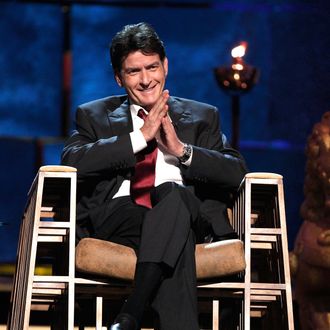 Photo: Christopher Polk/2011 Getty Images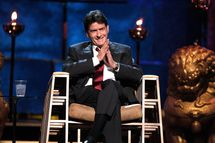 Though rumors of a Charlie Sheen Emmys appearance began making the rounds this afternoon, tiger blood addicts might want to manage their expectations: Deadline now says that Two and a Half Men creator Chuck "Contaminated Little Maggot " Lorre has asked TV Academy chairman John Shaffner (who happens to act as production designer on Two and a Half Men and Lorre's The Big Bang Theory) to cut Sheen from the broadcast. Warner Bros Television Group president Bruce Rosenblum has also reportedly made an effort to keep Sheen off the air by placing a call to Fox chairman Peter Rice. Rice may have refused to commit, prompting Rosenblum to ask that Sheen not be given an open mike, because everyone knows how that usually works out.
Meanwhile, Deadline has confirmed that a pretaped bit featuring Alec Baldwin has been pulled from tonight's show. Apparently, Fox, which is owned by News Corporation, made the decision to edit a Rupert Murdoch/phone-hacking joke from the sketch. (The network claims the cut was made not out of fear of Rupert, but fear of making light of the hacking allegations.) When Baldwin heard about the change, he requested that the clip not air at all. (Not out of hatred of Rupert, but because he thought the scene wouldn't make sense without the joke.) Leonard Nimoy was brought in as a replacement and rerecorded the bit without the offending dig.
EMMYS: Fox Nixes Alec Baldwin Joke About News Corp Phone-Hacking Scandal In Opening Bit; Baldwin Walks, Replaced By Leonard Nimoy [Deadline]