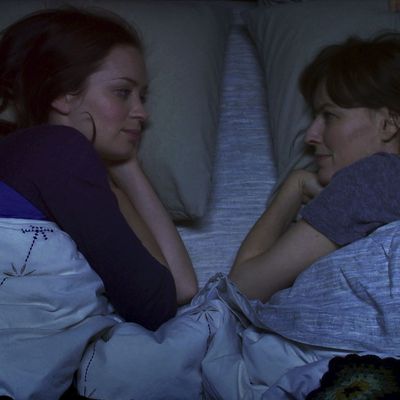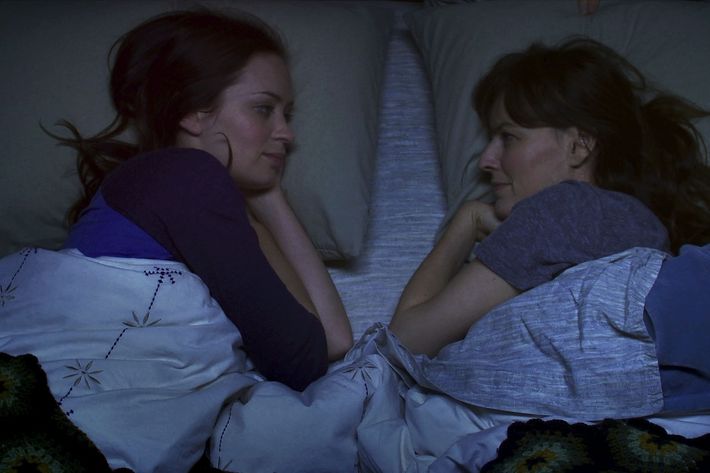 The Toronto Film Festival has a deserved reputation for glitzy Oscar season premieres, but there are a few films here that don't star George Clooney. It's true! Below, reviews of three.
Your Sister's Sister
Lynn Shelton's excellent improvised comedy Humpday cast Mark Duplass as a straight dude who decides he should have gay sex with his best straight friend just to prove that he can conquer his own hang-ups. He gets into even more trouble in Shelton's new film. Based on an idea by Duplass and almost entirely improvised as a cascade of terrible decisions and awkward moments, the film stars Duplass as Mark, a depressed wise-ass who, one year after the death of his brother, is falling apart. So his best friend Iris (Emily Blunt), who used to date his brother, suggests that he take a sabbatical in her family's cabin to have some alone time. Only, when he arrives, he's surprised to meet Iris's attractive lesbian sister, Hannah, played by the eternally unimpressed Rosemarie DeWitt. Hannah and Mark end up in bed together, and, the next morning, Iris arrives, confessing that she's madly in love with Mark. As in Humpday, Shelton queers your typical sex comedyby handing her cast a broad premise and letting them create all kinds of surprising little improvisations within it. With this convoluted set-up in place, three actors with extraordinary chemistry play it all out to the end, and somehow the feeling deepens, even as the jokes spiral out of control.
The Loneliest Planet
Brooklyn director Julia Loktev's Day Night Day Night was a taut, paranoiac Rorschach thriller about a mysterious woman with mysterious motivations who straps a suicide vest to her chest and takes the subway to Times Square. Her latest film is even more willfully abstruse but just as unsettling. Gael García Bernal and newcomer Hani Furstenberg play fiancées on vacation in the harsh landscape of Georgia. At first, the couple is introduced in close-ups as tourists on a lark, eating foreign foods and tousling in the bed. They're living the backpacker's dream, dancing in club's with strangers, grinning dumbly in response to foreign tongues. Then they meet up with a haggard tour guide of grizzled features and morbid humor (the magnetic and bizarre Bidzina Gujabidze), who takes them off into the mountains on an isolated hike. Shot with fearsome clarity and enormous scale by Inti Briones, their slow, steady march (think: Old Joy) catches the deliberate pace of hiking through vast landscapes – the way walking through such huge spaces changes and decelerates the way you see. Often, the camera is fixed on enormous vistas, as these tiny figures creep across the screen. Without any Herzogian theatrics and very little dialogue, Loktev gets at nature's enormity, and very subtly strips away the duo's pretenses. After a sudden incident in the middle of the film, Bernal and Furstenberg abruptly drop their goofy tourist word games and are subtly, gracefully revealed to be guided by more elemental forces. Loktev's slow-burning film is fit for the art house, but, like a long hike, it rewards careful, patient attention.
From Up on Poppy Hill
Hayao Miyazaki is perhaps the world's most brilliant animator, with a string of brilliant anime films, from Castle in the Sky and My Neighbor Totoro to Ponyo to rival Pixar's. So, perhaps, it's no surprise the second film by Hayao's son Goru Miyazaki comes with huge expectations and a massive set of Oedipal issues it can't quite overcome, beginning with the title credit "Planning and screenplay by Hayao Miyazaki." Goru directs his father's tale, which happens to be about the grip that history has on the present. In the post-WWII idyll of Miyazaki's youth, an energetic school is caught up in Japan's rebuilding frenzy. The school's old club house – a claptrap catacomb of debris and tiny rooms, pitched halfway between Hogwarts and Howl's moving castle – is home to all the kids' most beloved afterschool clubs, and it's in danger of being shut down. So a charming girl, mourning the death of her father, meets up with a showboat boy who yells at a school meeting, "There's no future for people who worship the future and forget the past!" Together, they set out to save the clubhouse – but the execution is as obvious as his cry-for-justice speech, and the film gets utterly derailed by a maudlin plot twist involving the kids' fathers. A few sequences in that overpopulated clubhouse that recall the genius of Ghibli's best films, but bound to old melodramatic clichés, Goru never finds a way to make the past feel new,or to animate this more modern story with that old Ghibli pixie dust.