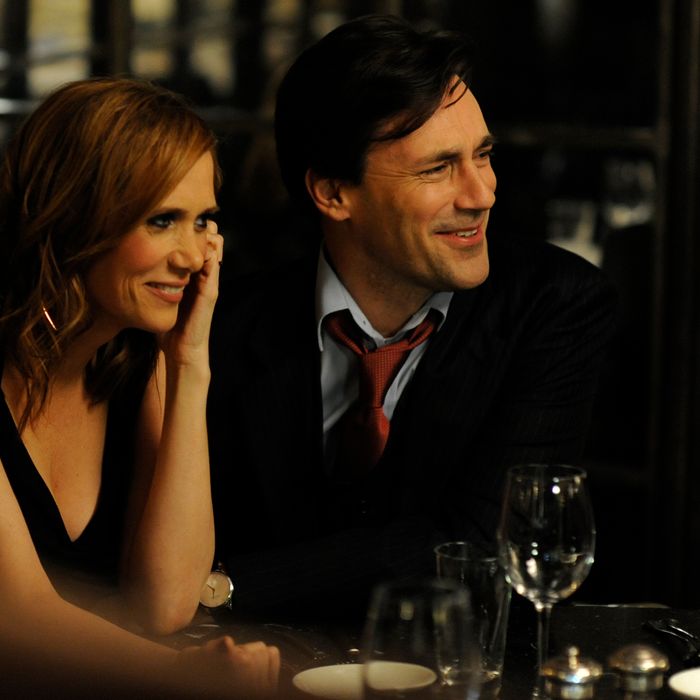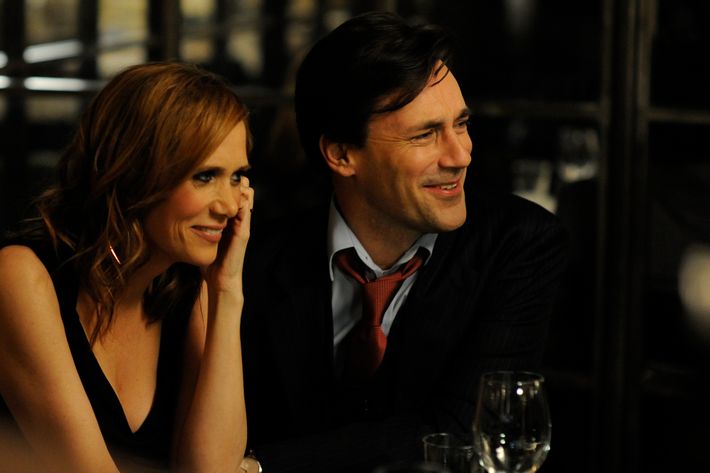 So far, for an event jam-packed with an unusual number of major films, the Toronto Film Festival has produced surprisingly few high-profile bombs. The Best Actor race, for instance, seems to be shaping up quickly, with Michael Fassbender (Shame), George Clooney (The Descendants), and Jean Dujardin (The Artist), all contenders before the festival, locking in spots on most Oscar watchers' shortlists. But with films like Drive and Shame having already earned their laurels elsewhere, and big premieres like Moneyball getting strong if unspectacular reviews, the slot is still open for a film to make a big Toronto splash, and Jennifer Westfeldt's rapid-fire crowd-pleaser Friends With Kids, which stands to land a major deal and an advertising campaign that bills it as Bridesmaids II (even if it isn't that), just might be it. It also just might make "Fuck the shit out of me" the new "You had me at hello."
Friends With Kids
After the premiere of this wildly funny comedy about the temporary insanity of new parents, one of the first questions at the post-screening Q&A was about Bridesmaids, and you can see why: It, too, was written by a woman (Westfeldt, pulling double duty), and the jokes are fast, furious, and very dirty. The film's protagonists are two happy singles played with easygoing deadpan-zinger chemistry by Westfeldt and Adam Scott. When they trek out to Brooklyn to visit their titular friends with kids (the Bridesmaids alum pairings of Jon Hamm and Kristin Wiig, and Chris O'Dowd and Maya Rudolph) and find them miserable, stressed, and bickering, the two unencumbered pals devise a way to have a baby but not become mean and unhappy: They'll have one together, but share custody so they'll each get to keep half a social life, allowing them to date studly lovers played by Edward Burns and Megan Fox (who's fine as a flexible sex-bomb dancer). Of course, it's not that simple, and the way these three couples' relationships evolve and devolve are anarchically hilarious. Westfeldt's script is eminently quotable, especially if you're from New York ("Once, she gave me a blow job on the Taconic," Jon Hamm screams in one scene. "Now look at us!"). Sharp, quick, and energized by tremendous chemistry, this film should reboot Westfeldt's career and make Adam Scott a bigger star. Despite Westfeldt's indie bona fides, the film has a broad appeal and delivers a fresh new take on the troubled woman-who-struggles-to-have-it-all genre, partly by reminding us that men want to have it all, too.
Take This Waltz
The most high-profile Canadian film of the festival is beloved Canadian actress turned writer-director Sarah Polley's return. The last film she directed, Away From Her, was an elegant, controlled piece about a woman's unraveling mind, in which she coaxed a magnificent performance from Julie Christie. The new film is far less finely calibrated, though it does inspire lovely moments from Michelle Williams as a young wife who, not unlike her character in Blue Valentine, falls out of love with her adoring husband for no particular reason. Seth Rogen plays the cuckolded husband as a sweetheart lout who spends all his time working on a chicken-dish cookbook, and if there's a lack of chemistry between he and Williams, that's part of the point: Williams is addicted to the headlong rush of love, and growing bored, so when she meets a rickshaw-pulling, attractive painter who lives across the street, she falls hard. The film has its moments: There's a virtuoso flash-forward that kicks off the film's third act that's one of the most audacious scenes you'll see in any contemporary romance. And it's full of ideas about modern love. But the script is overly literal at points: You feel the actors reading paragraphs. And Luke Kirby, as the bohemian love interest, is utterly miscast: Flat and humorless, the film falls apart without his support.
360
One of the most high-profile premieres of the fest is also one of its most disappointing: Fernando Meirelles's neoglobal anthology take on La Ronde jumps all over the globe and unfortunately plays like Babel meets Love, Actually. Horrible things happen all over the world and terrible sacrifices are made, but all the good guys get their happy endings anyway. The cast is strong but the roles, scripted by The Queen's Peter Morgan, are paper-thin: There's an evil pimp, a hard-on-her-luck prostitute, a well-meaning sex offender (Ben Foster), a stressed businessman (Jude Law) with a wandering eye, a sad father with a missing girl (Anthony Hopkins), a wife (Rachel Weisz) with a boy-toy. Instead of digging deep into any one story, the film — though beautifully shot and well acted — glosses over them all. We get thumbnails instead of full pictures. It seems this film was meant to be about love in its many modern permutations, but instead, it plays like another example of how our superficial, globe-hopping condition distracts us: modern love rendered as frantic channel-surfing.
Sarah Palin: You Betcha!
Nick Broomfield's lazy, indulgent documentary does the unthinkable: It manages to make Michael Moore, and even Sarah Palin, seem downright humble by comparison. Without digging up a single new piece of information — it leaves Palin unscathed and makes Broomfield look like a clueless Borat as he reheats the most familiar, overused critiques of Palin. His uses useless megaphone stunts, faux-objective narration, and an insincere interview style to mimic Moore, but illuminates nothing but his own metastasized ego. He asks a blogger to repeat detailed hypotheses about Palin's plastic surgery, finds fired ex-colleagues to gripe about being fired (shocking!), and affects offended outrage when Palin's parents say they don't think they should help Broomfield because they sensibly believe he's going to make a hit piece. When he finally gets to ask Palin a question directly at a public forum, he shouts out, "Is your political career over?" It's a moronic question: Of course her political career isn't over. Whether she runs for office or not, she's going to be a fund-raising force for years, at the very least. If this is the worst critique Palin has to fear, she may have a very long career, after all.
Dark Horse
In this fitfully funny, uncomfortably itchy comedy, Todd Solondz takes a break from rebooting his own characters to take on one of the most common archetypes in contemporary film, the manchild. In the Ferrell–Rogen–Jonah Hill role, Jordan Gelber plays Abe, an overgrown, lazy, and obnoxious live-at-home thirtysomething who collects Thundercats toys and blames all his problems on other people. He woos a girl (Selma Blair), challenges his dad (an underused Christopher Walken) at work, and takes money from mom (Mia Farrow). The tone is bleak: Abe says he's always seen himself as a "dark horse" with the swagger of a frontrunner, which is a pretty nice summation of cinema's underdog manchild heroes (and a whole lot of today's populist politicians). The big difference between this film and Step Brothers or Cyrus is that Abe never self-actualizes in the third act. His charm doesn't make up for his very many faults; he doesn't change. He's still all empty bravado, and as such, Solondz delivers a timely, critical parable of unjustifiably overconfident American exceptionalism, which makes Solondz's uncomfortable cynicism even more disturbing than usual.